As you might have seen in yesterday's video I do indeed have a new addition to my handbag collection.  Girls, meet my very first Vintage Chanel.  Chanel is one of those labels which has always been way out of my price range, in fact the bags still are.  But vintage Chanel not only holds a much more reasonable price tag but also some character and history.  Of course I have always wanted a Chanel handbag, what girl doesn't?  I even bought one a couple of years ago, well a WOC if that counts as a 'handbag'.  But I bought the bag in a moment of frivolous madness at Heathrow Airport (duty free) and it just wasn't the one for me.  I picked silver hardware, a massive error as I wear gold jewellery, and it was so small that I couldn't fit anything inside, the clue is in the name; Wallet on a Chain.  I kept hold of the bag for a few months and decided to sell it on, and it went to a very loving home and I lost out on no money at all.  That is the beauty of Chanel, we can accurately use the term 'investment' because they hold their value, in most cases their value even increases, kerrrrrching!
Fast forward a couple of years and I found myself once more re-visitng that want, that need for a Chanel handbag.  Thanks to one of my style icons and the founder of one of my favourite brands; Anine Bing, I was inspired to research Vintage Chanel.  You might remember that Simon took me to Paris in September for my Birthday and we looked around a few vintage stores but nothing took my fancy so I bought some shoes from the flagship store instead.  A lot of the bags I came across in Paris were in heavily used condition, leather peeling off, gold tarnishing etc and I wanted something which had been cared for, loved and cherished.  When purchasing any Chanel handbag this should be a thought out process, to ensure you get 'the one'.
Simon and I had our usual Christmas budget discussion where we set ourselves a budget with enough time to save before the festive season and as much as I wanted to buy a Chanel for myself I decided to put it on the table as my desired Christmas present.  Simon has so many incredible qualities but I just couldn't trust him with the task of finding this bag himself.  So my task for the next few months was to find 'the one'.  I set myself an alert on Vestiaire and trawled several other pre-owned sites daily but no luck.  There were hundreds of bags that I looked at over during those few months and some I even fell for, but they all fell at the last hurdle; a slight bit of tarnishing here, a dishevelled serial sticker there.  Christmas came and went, and bless Simon because he felt awful that I had nothing to open on Christmas day but that was fine with me, I had a task to complete and I knew it would be worth it.  Anyway, a week ago I found 'the one' and I won't say any more because the story from there on is in my latest video which is at the bottom of this post if you haven't already seen it and if you're wondering how to buy a bag on Vestiare.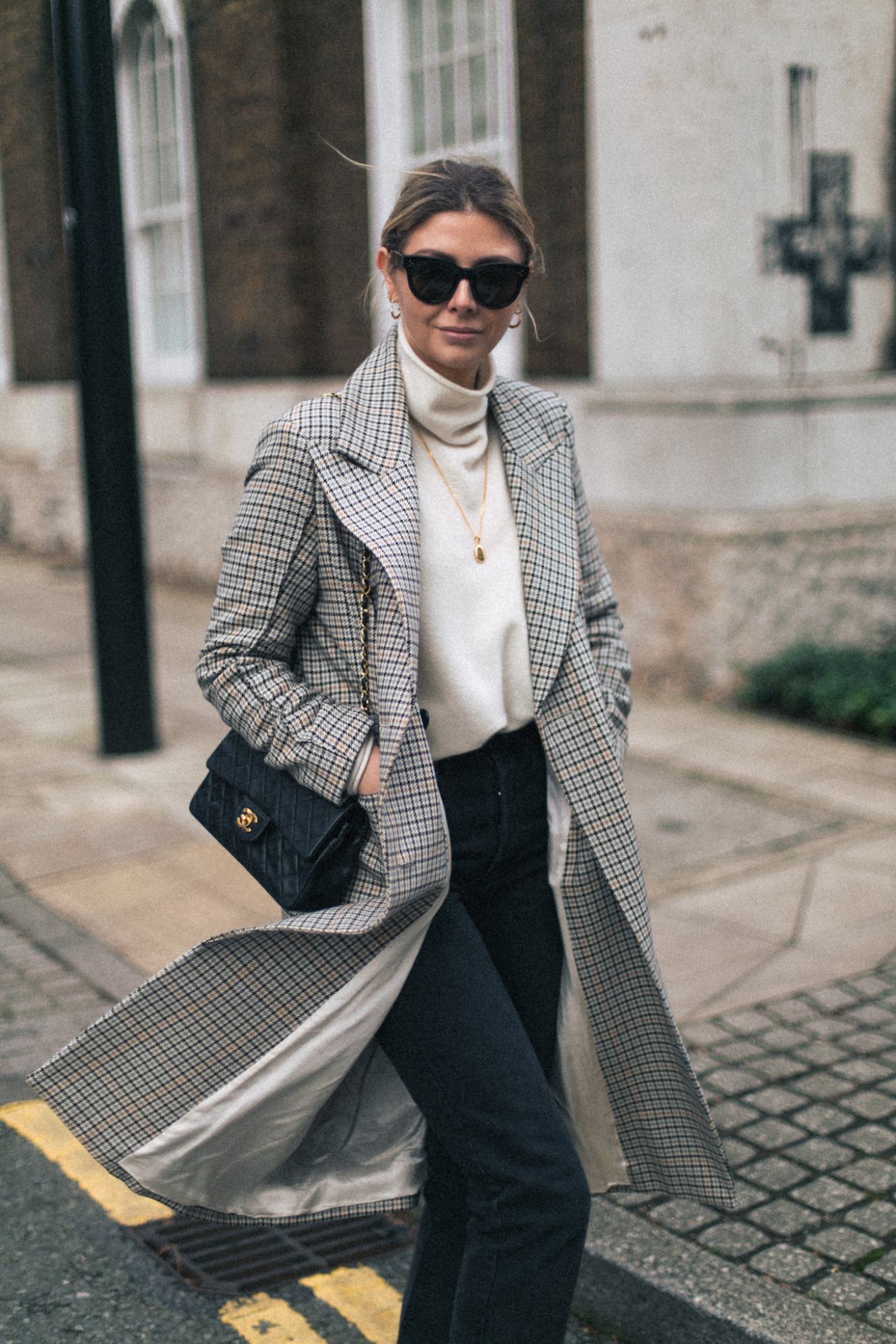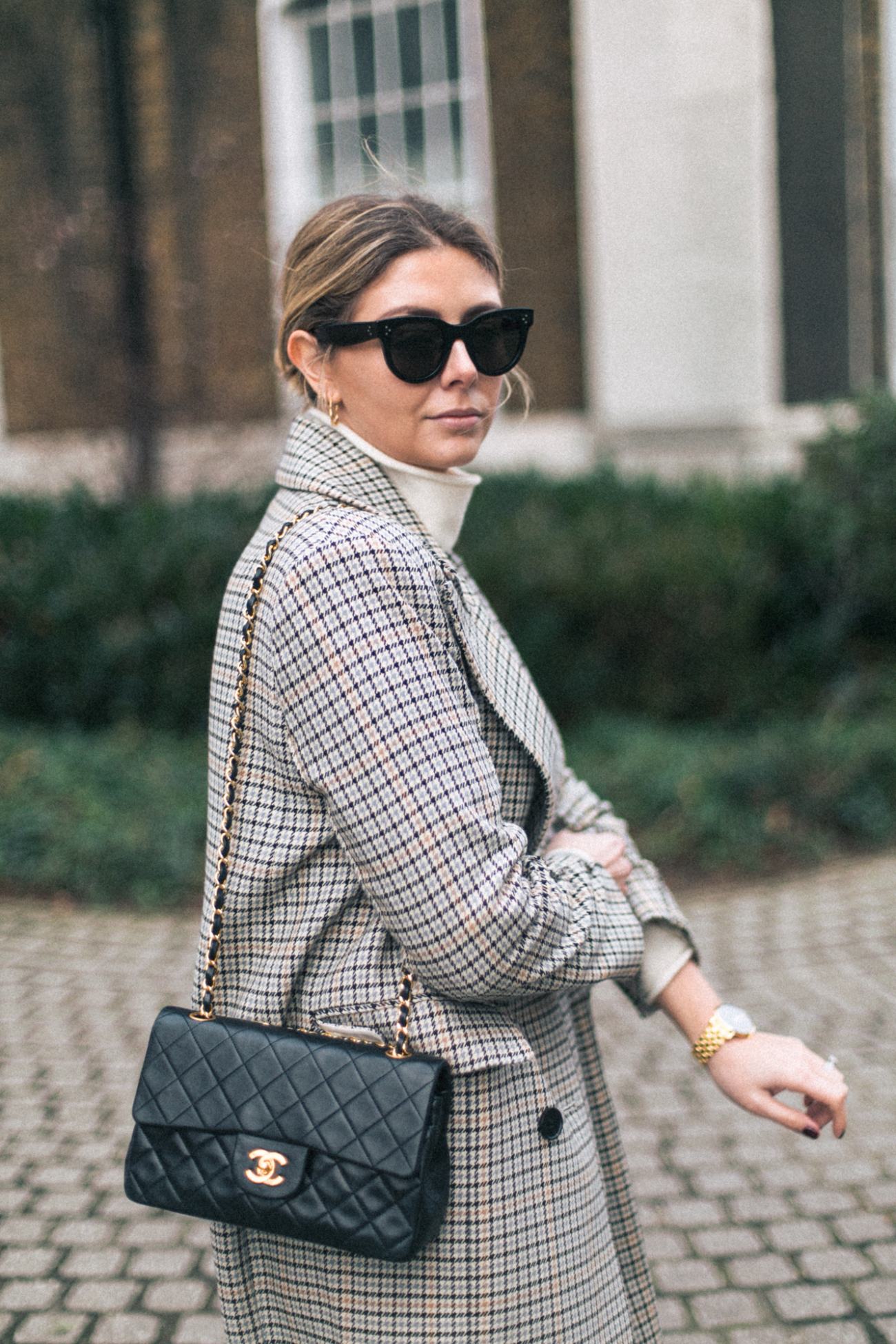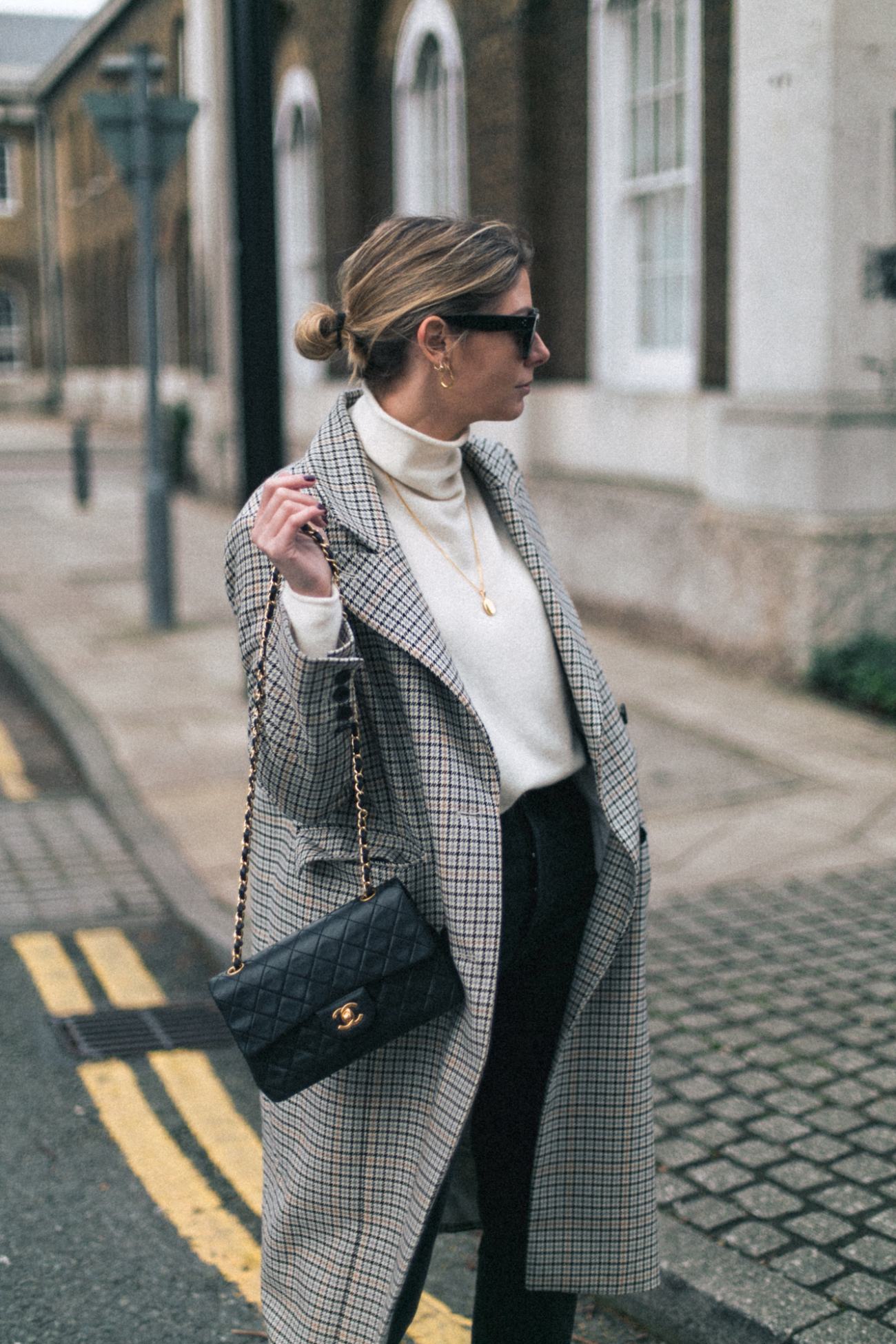 Outfit Details
Coat - H&M (Similar here)
Sunglasses - Celine (Similar high street version here)
Earrings in First Holes - Cinco
Earrings in Second Holes - Shashi NYC
Earrings in Third Holes - Maria Tash
Shop the Post