Weekend style.  I think we all have a weekend style or at least a few go-to pieces that we whip out for those lazy days.  More often than not mine's pretty casual and slouchy, after all comfort reigns supreme on a weekend.  Here are a few of my favourite weekend wears:
Boyfriend jeans
I've lost count of the numbers of times I've referenced boyfriend jeans as my all time favourite cut of denim but it really is and nothing is more suitable for a weekend than a pair of trusty bfj's.  My usual Levis have been given some down time this week as I recently purchased these super slouchy jeans from Topshop and sweet baby jesus are they comfortable!  The low slung fit bodes well with me as I love to feast on a weekend and these jeans give me plenty of stomach-expansion room.  They take me back to my surfer days (we'll go into that another time!) growing up in Cornwall where none of us gave a shit about what we looked like so long as we were comfortable, little did we know that hip bone skinny jeans, a crop top and a tan were actually pretty hot.
Slouchy Top
I think as we've learnt from the above paragraph I'm all about the big 'slouch' on a weekend and nothing beats an oversized top…which can also conceal a multitude of sins, hurrah!  There's no real limit to my slouchy tops, they can be a tad more bohemian like this embroidered crop top, or maybe a sweatshirt (as seen in this post) or a loose fitting white shirt.  Whatever the style, make it oversized, I often buy my tops one or two sizes larger to maximise on the 'slouchiness'.
Flat Footwear
I think this is a given, unless of course you're off on a night out, weekends were made for flats.  If you follow my escapades on Snapchat then you'll recognise these nude sandals from a haul I did a couple of weeks back (yes, I also have them in black).  Come summer I live in sandals and this season I have really gone to town with building up a pretty hefty collection, you know just to make sure I'm covered for all eventualities 😉  Sandals and the 'will they/won't they cause me to blister' scenario may not be your jam but there are some amazing ballet flats circulating the fashion world at the moment (these Chloe's being my personal fave).  Or maybe you're a Converse kinda girl?  I like to dabble in a bit of everything from ankle boots (like these) to gladiator sandals but the golden rules remains…flats rule.
What's your go-to weekend style?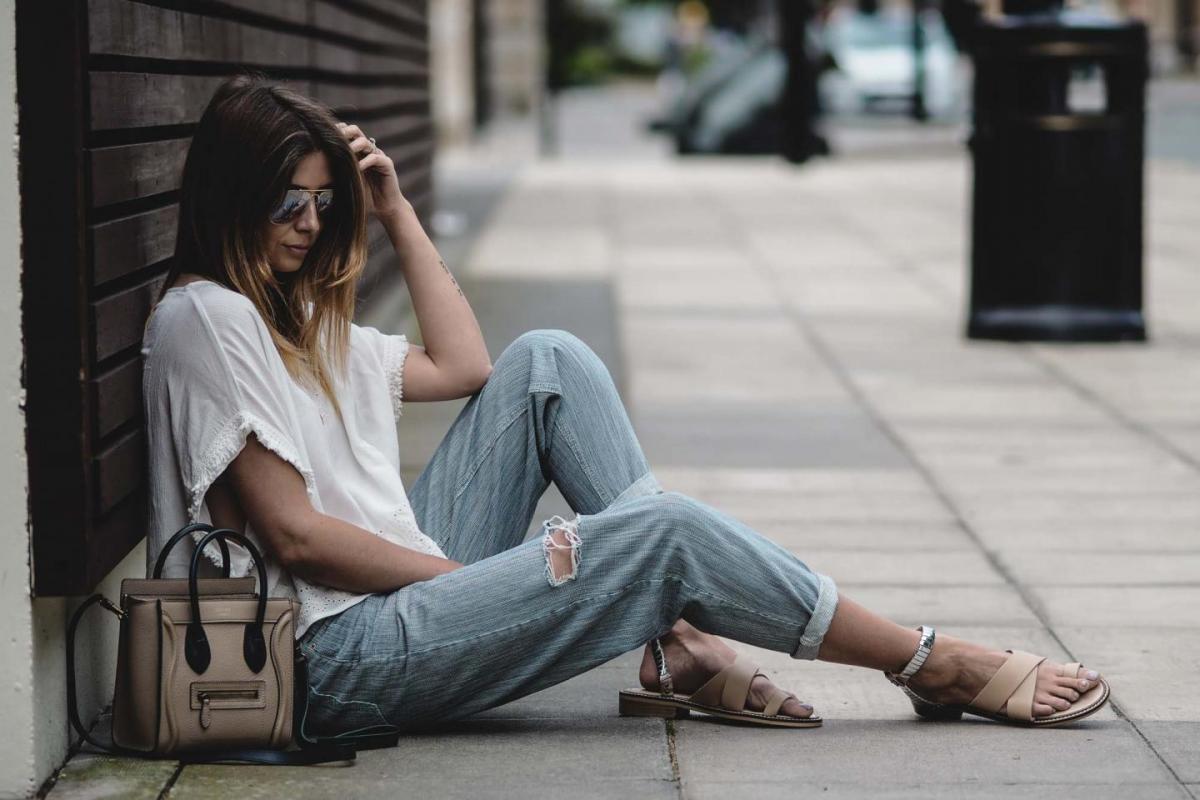 Outfit Details
Sandals – ASOS (Also available in Black/Gold)
Shot on the Olympus PEN E-PL7 with the 75mm Lens
Shop the Post