All the outfits, places and food…here's what I got up to on my recent trip to Texas!
As you may have seen across my social channels I went off to Texas earlier on this month.  The first part of my trip was based in Dallas as I was attending the annual RewardStyle conference.  My travel companions were Claire and her husband Paris.  So upon landing in Dallas we opted not for a bus or taxi, oh no, we went for a drop top Mustang!  As our trip was stretching beyond the conference we wanted to travel in true USA style.  However as you may have seen on Snapchat, we failed to consider the luggage issue, as Mustangs are super cars they're all about power not the ability to accommodate 6 rather full suitcases.  With our feet and luggage stuck out of the roof of the car we headed for downtown Dallas.  Claire and I were booked into the Joule Hotel which is right in the heart of downtown Dallas, it was also the hub of the conference so everything was within easy reach for us.  We arrived at the Joule at around 5:30pm, quickly checked in, registered for the conference and ran to our room to get showered and changed for the Missguided Pool party which was hosted on the roof of the hotel.
Everyone deals with jet lag differently.  I seem to have a different experience every time I visit the States.  This time around I was pretty wired so the lack of sleep didn't seem to catch up with me until I returned home a week later.  I would find myself waking up at 1am (Dallas time) and to keep myself occupied I would very quietly try and clean up the mass explosion of Claire's many suitcases, do a little work on my laptop and of course do some location scouting for potential shoot locations.  My advise for dealing with jet lag is to power through the first day, going to bed as late as possible.  If you have a flight during the day like we did (our flight departed Heathrow at 12 noon) then try not to sleep, it will throw your body clock completely out of sync.
Day 1 of the conference was fuelled by copious amounts of diet coke, as I don't drink coffee this is my source of caffeine, and my source of life haha!  We sat and listened to various talks about certain topics within the blogging industry, followed by a delicious lunch hosted by luxury skincare company Rodial.  In the afternoon everyone's schedules were different, there were classes and one on one brand meetings to attend along with networking opportunities a plenty.  In the evening we were invited to attend a garden party hosted by Joe Fresh, in the sculpture garden opposite the Joule (the home of THAT giant eyeball).  We ended the night with a feast of Mexican food with a few of the RewardStyle girls, this is exactly the recipe I needed to ensure a good nights sleep.
Day 2 of the conference was a little more flexible and relaxed.  We actually made time for some breakfast so naturally I hit those american pancakes without a second thought.  I had a few more brand meetings in the morning and a couple of classes to attend and we enjoyed a lunch hosted by LuisaViaRoma in the sculpture garden.  In the afternoon we did a spot of shopping in Neiman Marcus and we made some time to venture out to shoot some outfit pictures and maybe we also grabbed a burger…and fries…ok, and an Oreo shake.  OMG the food is amazing!  The finale party was the event everyone was building up to, with an all white dress code and killer venue, the Winspear Opera House, excitement levels were running high.  RewardStyle really do know how to throw a party and this was no exception, I hope you all enjoyed my snaps from the night! 
My whole experience of the conference was incredibly inspiring and motivating.  I feel very proud to be part of a community who are revolutionising the fashion industry day by day!
But this Texas journey didn't stop there…
Drinks at the Finale Party held at the Winspear Opera House in Dallas
Shirt – Topshop  //  Jeans – Topshop  //  Bag – Chloe (Small version here)  //  Shoes – Chloe (Dupes here)  //  Sunglasses – YesStyle  //  Watch – Larsson & Jennings
Shirt – Marks & Spencer  //  Skirt – Marks & Spencer  //  Shoes – Public Desire  //  Bag – Chloe (Small version here)  //  Sunglasses – Topshop
Lunch with Rodial
Bag – Chanel  //  Illuminating powder compact – Rodial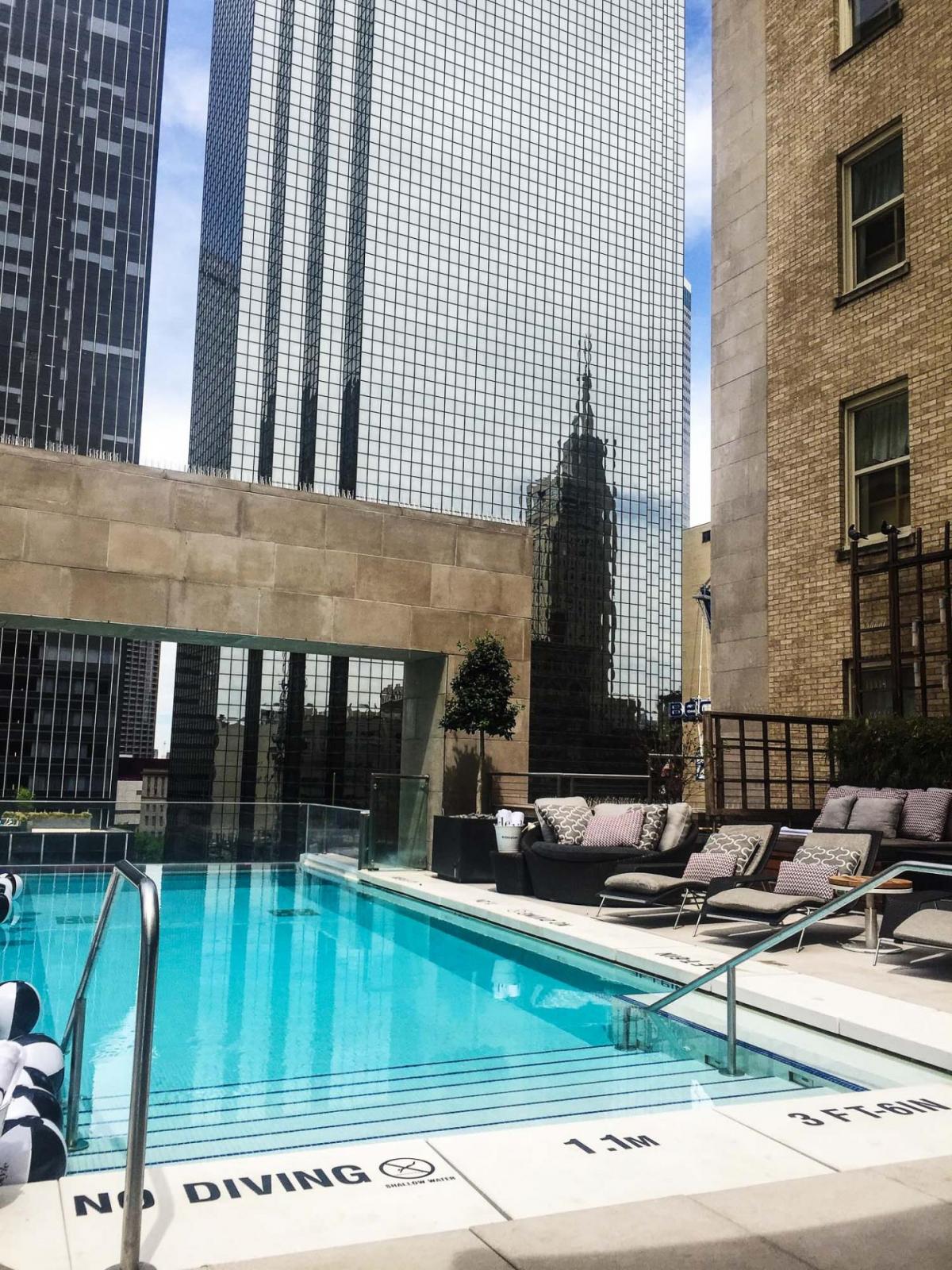 Picture perfect! The roof top pool at the Joule Hotel
Cocktails at the Missguided Pool Party
Jacket – Zara (Similar here) // Dress – Boohoo // Shoes – Aquazzura // Sunglasses – Ray-Ban via Sunglasses Shop // Bag – Chanel
Shop the Post

On to San Antonio!
We decided to make the most of being in Texas and rather than suffer from Jet Lag for the sake of a 3 day conference we thought we'd stay on for an extra 3 days and experience a little bit more of this southern state.  We packed up the car and drove off looking like something out of The Clampets.  San Antonio was our destination but after about 2 hours driving hunger got the better of us and we stopped off in Austin to grab a bite to eat, and when I say a bite I mean a trough!  We found a BBQ restaurant called Stubbs where the food keeps coming and diet coke is served by the gallon (slight exaggeration but I swear the glass was almost as big as I am!).  I completely stuffed my face with pulled pork, authentic American 'slaw', sweet potato fries, spicy sausage and BBQ ribs.  It's safe to say that I could have lived in Stubbs' for ever and ever amen, although after a week I'm sure diabetes would have come hand in hand with the grim reaper!
Back in the car, stomach bulging, I quickly slipped into a food coma.  After about another hour in the car we arrived to our San Antonio hotel, La Cantera.  It was such a peaceful resort, very quiet at this time of year and surrounded by rolling countryside.  We had a very relaxed evening, wandering around the pool areas to take in the magnificent views before finally settling in front of a giant fire pit.  It was our full intention to make more of the evening but exhaustion got the better of us!  The following day we were up bright and early to head off in search of a Sephora (obvs!), a cowboy boot shop and yet again, more food.  We had some breakfast at the hotel before we checked out, after all shopping requires serious fuel.  The area of La Cantera has all sorts to offer including a theme park and a shopping village so it's the perfect all-rounder if you like the peace and quiet but don't want to travel too far for some civilisation.  After picking up 'the necessities' in Sephora, creating and inhaling one killer ice cream and rampaging the cowboy boot shop we head into the centre of San Antonio to experience the River Walk.  It's so beautiful, like a little tropical oasis…only with the looming smell of BBQ food, mmmmm BBQ food.  The temperature had soared to around 32 degrees but it felt much higher when standing directly in the sun so the shade from the trees along the river was welcomed relief.  Admittedly we didn't get too far along the river walk before we were (yet again) lured into a restaurant by the sweet sweet smell of meat.  Saltgrass Steakhouse was our pitstop for lunch and another fine triumph in the delicacies of southern food!
To Infinity and beyond! The adults only pool at La Cantera Resort
Fire pits and seating areas adorn the La Cantera grounds, you can even roast marshmallows as the sun goes down
Breakfast at La Cantera: Brioche french toast with vanilla butter, maple syrup and crispy bacon
Calories? What Calories? 😉
Ice cream from Marble Slab Creamery
A MUST: San Antonio River Walk
The Saltgrass Steakhouse, now this was Texan food!
A giant plate of season fries loaded with cheese, sour cream, bacon and onion…and this is classes as a starter…for one person!
Shop the Post

Last stop, Houston
Houston was roughly a 3 hour drive from San Antonio. Admittedly the sights of the American highways lost their novelty after our first hour in the car, once you've seen one Wendy's you've seen them all.  However it is a bonus to have so many 'rest stops' along the way because the heat encourages you to drink gallons and gallons of water so luckily there's always somewhere to pee!  Unlike the UK where you pass a service station and then don't see another one for an hour, I'll save the story of when I had to pee in the dogs' bowl for another time.  Out last stop was the Hotel Granduca, the clue's in the name, it was pretty grand!  Although not in a stuck up, Ritz kind of way but there was a medieval twist to this hotel which really gave it some character.  The pool was certainly the selling point of the Granduca, I mean c'mon, that's the most 'instagrammable' pool I've ever seen!  The concierge arranged for us to have a trip to the local designer shopping centre, River Oaks, with the added bonus of being chauffeur driven in the Hotel's Maserati, schweeeeeet!
We spent an hour relaxing by the pool with some drinks before heading across the road to TTR Gourmet for some dinner.  I think we would all like to have seen a little more of Houston, the NASA Space Station was definitely on our agenda but sadly we didn't have enough time to explore!  Luckily for me I'm headed back to Texas with my Hubby  as part of our 5 week American road trip in August, so I've added a few things to our 'to-do' list.
The stunning pool at the Hotel Granduca
Luxurious lounging
Jacket – Zara (Similar here)  //  Vest – Calvin Klein via FarFetch  //  Jeans – Levis  //  Bag – Chanel  //  Sunglasses – Ray-Ban via Sunglasses Shop
Breakfast at Hotel Granduca: Jalepeno, cheese & bacon waffles with fried chicken and maple syrup – don't knock it until you've tried it!
Texas cruisin'
All the designer shopping you need at River Oaks
Shop the Post