If you follow me on on any of my social media channels then I'm sure you will have seen a barrage of pictures from my recent girls weekend in Morocco.  My travel companions (Lindsay and Anna) and I began planning this trip at the start of this year, quite frankly we just wanted to have a relaxing weekend in the sun and escape the hustle and bustle of city life in London.  Our humble (HA!) abode for the weekend was the rather stunning Royal Mansour hotel in Marrakech.  Now I have to admit, I am no stranger to a luxury hotel as I was very spoilt (being an only child) as I was growing up with amazing trips around the world, however…this place was beyond anything I have ever experienced!
We arrived into Menara airport early on Saturday morning and before we had even reached airport security we had our own guide to usher us through the queues, VIP style.  After a brief wait for baggage we were greeted again by another escort, our driver Sebastien.  After riding in the lap of air-conditioned luxury for all of 10 minutes we pulled up to the Royal Mansour.  Well, 'breathtaking' isn't even the word to describe this place, it's absolutely incredible.  Pinching ourselves we emerged from our 4×4 and were instantly greeted by an entire team from the hotel including one guide each, it was such a 'Sex and The City' moment and as we all absorbed in our surroundings I noticed I wasn't the only one with my mouth down to the floor.  Our guides gave us a tour of the hotel with a little history on each area and how long it took to create some of these magnificent spaces.  The intricate carvings and tiling alone took years, I daren't think how long they'd take my husband if I gave him that as a DIY task 😉
You can shop my outfits and accessories at the bottom of the post
Our guides led us out of the main section of the hotel into the grounds which are beautifully adorned with all sorts of greenery from palms to banana plants (everything my Instagram loves!) and these gorgeous trailing purple flowers which we clocked immediately thinking 'perfect photo backdrop'.  The doors to each of the Riads (meaning Moroccan house) were huge and painted a minty shade of green, the Instagram opportunities were already swirling around my head by this point.  There was one Riad for each of us, which I had assumed was a room but as I just explained Riad means Moroccan house and let me tell you…I want to move there if this is what their houses are like because it was bigger than my own house here in London haha.  My guide showed me around each part of the Riad, across four floors, think London townhouse but with a heck of a lot more tiles!  Nothing failed to amaze me, and as we ascended up the stairs it just seemed to become even more luxurious.  We're talking the biggest bed I've ever seen, a floor to ceiling marble bathroom, touch screen operated music system and lighting and the pièce de résistance…the private roof terrace with plunge pool.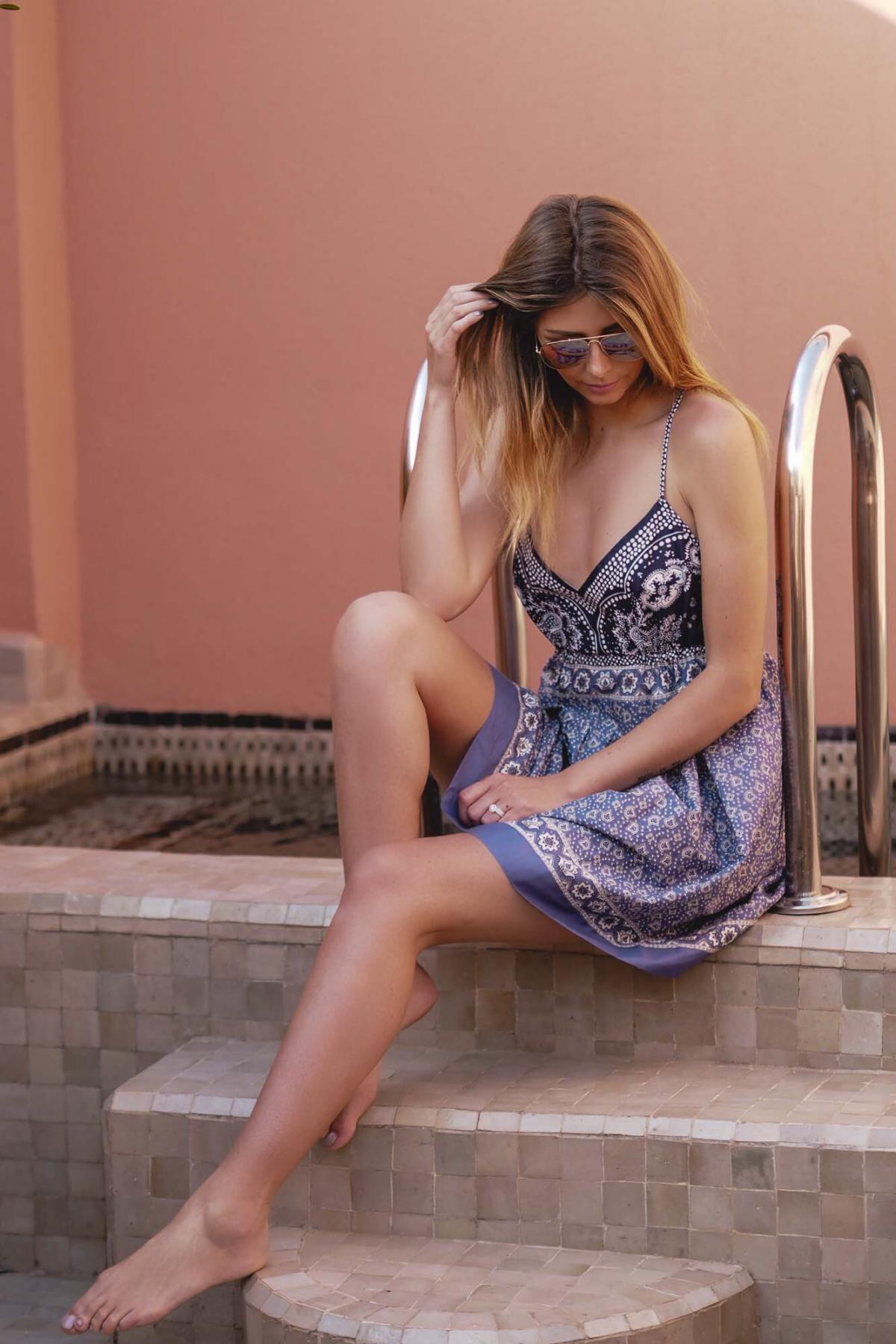 The hotel had arranged for us to have a couple of spa treatments in the afternoon so once I was settled in my new pad I head off to meet up with the girls so we could get in some pool time before our mani-pedis.  The outdoor pool is rather modest but you know what, I prefer it that way.  I'm not a fan of overcrowded resorts with giant pools and rows of sunbeds, so this set up was pretty perfect for me and as it turned out we had the pool to ourselves.  Alongside the spa there is also a pretty impressive indoor pool which is slightly bigger but again, loungers and day beds are dotted around so as not to be overcrowded.  The spa itself is probably the most impressive architecture I've ever seen and a photo shoot hot spot for anyone that even knows what Instagram is.  Yes this was the famous white room which so many of you screenshot from my Snapchat.  It was like walking through a giant white honeycomb although instead of bees busying around, it was beauty therapists of the highest order.  I quickly settled into my robe and pointy slippers in preparation for the best mani-pedi I have ever had.  The Royal Mansour are currently partnered with super podiatrist Bastien Gonzalez who is famous for creating the Rolls Royce of pedicures.  The unique approach to this normally standard treatment involves a scalpel and before you start to wince at the idea, let me tell you, it's pretty darn amazing.  I was in for the ultimate luxury treatment; The Bastien Duo, which is an award winning treatment involving a synchronised manicure and pedicure and when I say synchronised, it literally was down to the second. 
We were treated to some truly exquisite food during our stay at The Royal Mansour.  We were booked into La Grande Table Marocaine on our first evening and we dined like Queens.  Renowned for it's traditional Moroccan dishes 'La Grande Table Marocaine' did not disappoint.  The service was faultless and the cuisine aroused even my (Mcdonalds loving) tastebuds.  I lost count of how many courses we had but it's always been a 'must-do' of mine to try traditional dishes in whatever country I am visiting and I'm pretty sure we covered ALL dishes in this one evening alone.  Now as I don't drink alcohol I can't comment on the wine selection so I'll leave that to the girls who had no problem finishing off a bottle, or two but what I can say is that the staff always went out of their way to create the most delicious fruit 'mocktails' for me.
We enjoyed breakfast on Anna's rooftop terrace and again we gorged on a volume of food that could probably have fed a small country.  Fruit plates, salmon, pancakes, granola and a pasty basket which quite frankly puts Le Pain Quotidian to shame.
I must offer a massive thank you to all the staff at The Royal Mansour for their hospitality.  They really did go above and beyond to make our short stay there a truly unforgettable one.
Images shot on the Olympus PEN E-PL7 with a combination of the pancake lens, 45mm lens and 75mm lens
Shop the Post