One of my favourite places in LA is Venice, it has so much character and so much to offer.  From the beach boardwalk which is a whole crazy world of it's own to the historic Venice canals, a visit to this district won't leave you unsatisfied.  This was the first time that we properly walked along the Venice canals, over numerous bridges and having a nosey at the beautiful properties that line them.  This is definitely somewhere I can see myself living but that said, LA has a lot of offer.  The weather started out a little nippy as we had a dose of the 'June Gloom' and this is always worst along the coast.  A foggy haze (a chilly one) descends across the coastline and often fails to lift until late afternoon, if at all.  Your best bet is to stay central if you want some sun as the fog tends to lift much earlier in the city.  
For our day in Venice I wore this stripe dress from Reformation, a brand who have shot straight to the top of my must-buy list.  Yes they are a little pricey but their values are worth it, being a fully sustainable brand their pieces are amongst some of the most-wanted of the season.  When it comes to customs fees I'm not sure on those yet as I ordered my pieces to one of my LA hotels but they would depend on your order value.  I ordered 3 dresses and 2 tops and each of the pieces are as equally as jaw dropping as on the website.  This stripe linen mini dress went down very well with you guys on the gram so I can't wait to share my other pieces with you all, and hopefully encourage you that this sustainable brand is the way forward.
If this dress is a little too racy with that deep deep V neckline then maybe you might like this stripe linen playsuit from Next which is very similar.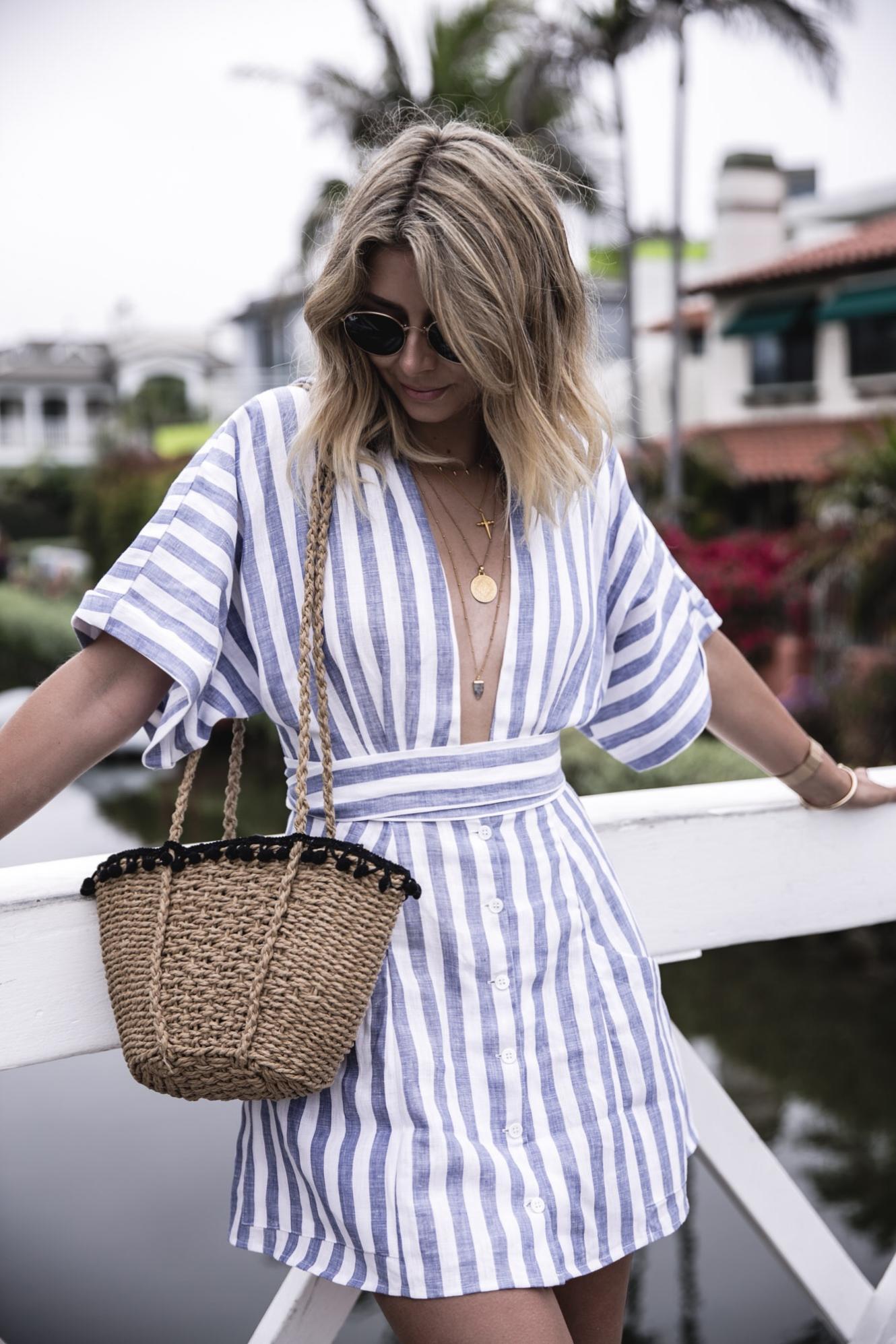 Outfit Details
Coin Pendant worn on Medium Chain - Monica Vinader & Missoma
Labradorite Pendant worn on Long Chain - Missoma
Shop the Post