Not at all content with this English Summer (or lack there of) me and my hubby decided to leave it behind in search of warmer climes.  California has been on our travel hit-list for some time now and we just thought, why the heck not?!  We went for 6 days and split the trip across 2 cities we wanted to explore; Los Angeles and San Diego. 
After a not-so-bad 10 1/2 hour flight with British Airways (from Heathrow) we landed in LAX.  This airport is horrendous.  The system for Non-US visitors is super long and unfortunately this single part of the trip took us an hour to get through, 95 mins of which is spent standing in a queue.  I hate to start of on a negative note (and this is the only negative) but if you have a trip to LA coming up and haven't been before then I just want you to be aware of the time it takes to get through Passport Control.  For us it ate away into our first day along with the faff of collecting our car.  You may have seen our bright yellow car on Snapchat if you followed along with our trip, shall we discuss this situation?   Funnily enough I had said to Simon on the plane that we had to get through customs and get our luggage fast so that we could haul ass to the car rental place to make sure we get first choice of the cars as we both had our hearts set on a Mustang.  I relayed a tale of another blogger who had a bright yellow car whilst on a trip to the states and how it was the worst colour of car because it doesn't fit in with anyone's Instagram theme…priorities haha!  90 mins after landing we finally made it to Avis and we were in pretty high spirits because we had just driven past a dozen Mustangs in their 'lot' whilst on the courtesy bus.  Unfortunately our spirits and our time dwindled, as we went back and forth with the rental clerk who said they had no available Mustangs.  We were told we could wait until one was available but this could have been 20 mins – 3 hours.  We were offered an upgrade to a Corvette which we did have to pay for (an extra $100 but we got her down to $50) and were about to go ahead with until her magical little phone rang with the news that a Chevrolet Camaro convertible was available.  We had no idea what this car looked like so asked to see a picture and she whipped out a laminated posted which displayed all their available car models…in black.  It looked just like the Mustang so we said yes as we didn't want to waste any more of the day and off we strode to the collection point.  Can you even imagine the look on my face when we were greeted blinded by the bright yellow paintwork of this transformer.  After a very mild tantrum I decided to embrace 'Bumblebee' as Simon clearly loved it and if truth be told, I really became very fond of this car after only a few hours.  But just so you guys know, that if you book a Mustang, the fine print actually says that you might not be guaranteed a Mustang.
Driving in the States is not my cup of tea, which is unfortunate as I will be sharing the driving when we return in August for our 5 week Road Trip Honeymoon.  But I would certainly advise brushing up on a little highway code before you go because their rules are very different to ours and this teamed with driving on the wrong side of the road, in the wrong side of the car is just a recipe for disaster if you haven't got a clue.  We also incurred a parking ticket for the most bizarre reasons; parking too far from the curb (we were about 6 inches away) and parking in the opposite direction of traffic.  Both of which would be fine in the UK but over there we were whacked with a $55 fine.  With all that said the most fun way to get around LA is definitely driving, despite all the traffic.  We had record breaking temperatures while we were there and we were the only 'idiots' to have the top down in the scorching heat, it took us a day to realise that Air-con is king but hey the sunburnt scalp was well worth it.
Where to stay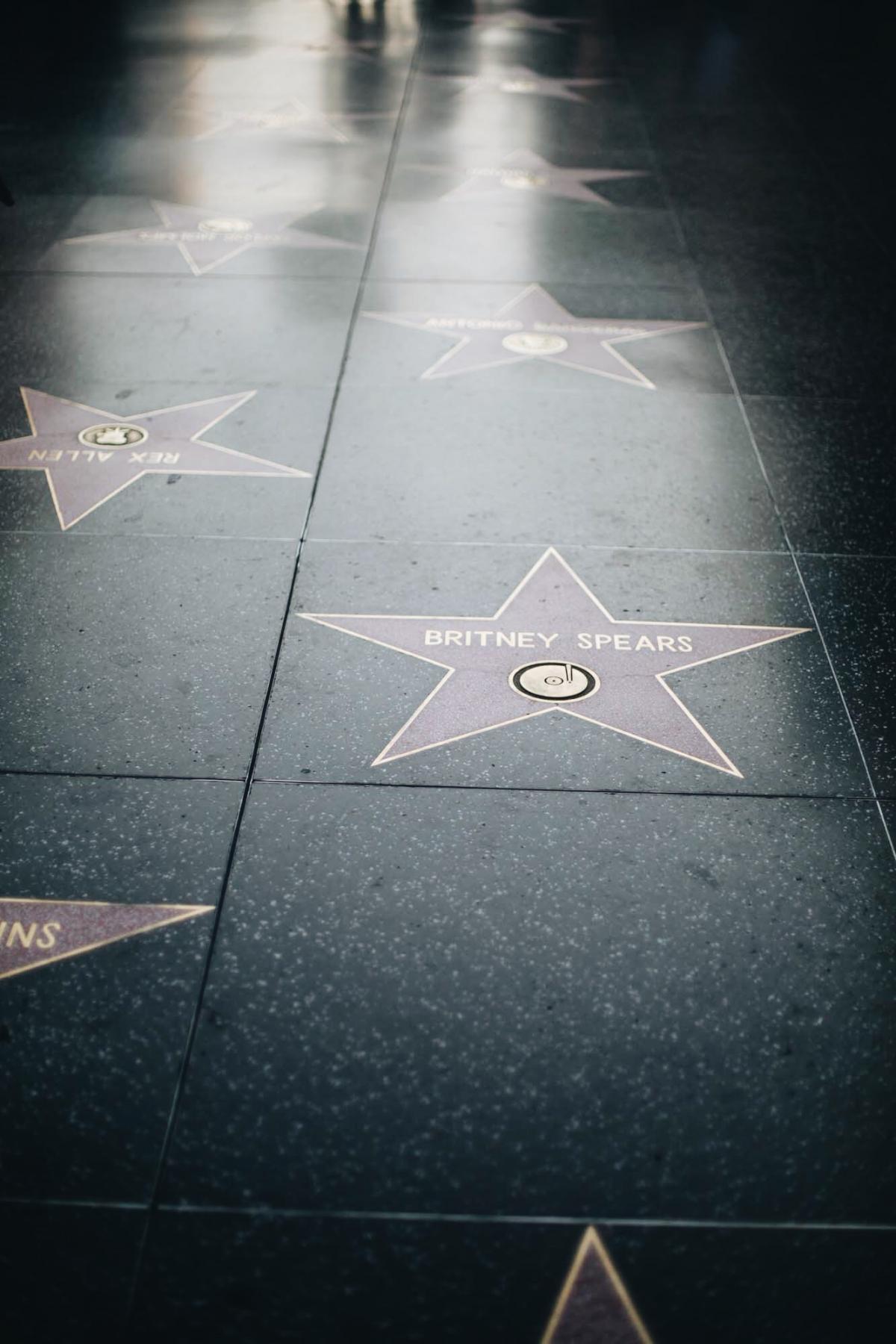 Venice
One of the biggest tourist spots in LA is Venice and I just love it there.  We walked along the beach so Simon could dip his feet in the sea and then we sat and watched the surfers while soaking up the sun.  There are loads of places to hire bicycles, roller blades and even those death traps which you strap to your feet and bounce along in (what are they even called?).  We hired a couple of bikes and cycled up and down the strip taking in the sights, sounds and smells.  As with most places in LA, it's the perfect Instagram spot with photos ops around every corner.
For breakfast we went to the cool kids spot of Abbott Kinney and dined in the courtyard of a cute eatery called Gjelinas.  It was here that I tucked into my first batch of pancakes which were so fluffy and exactly the fuel I needed for the busy day ahead.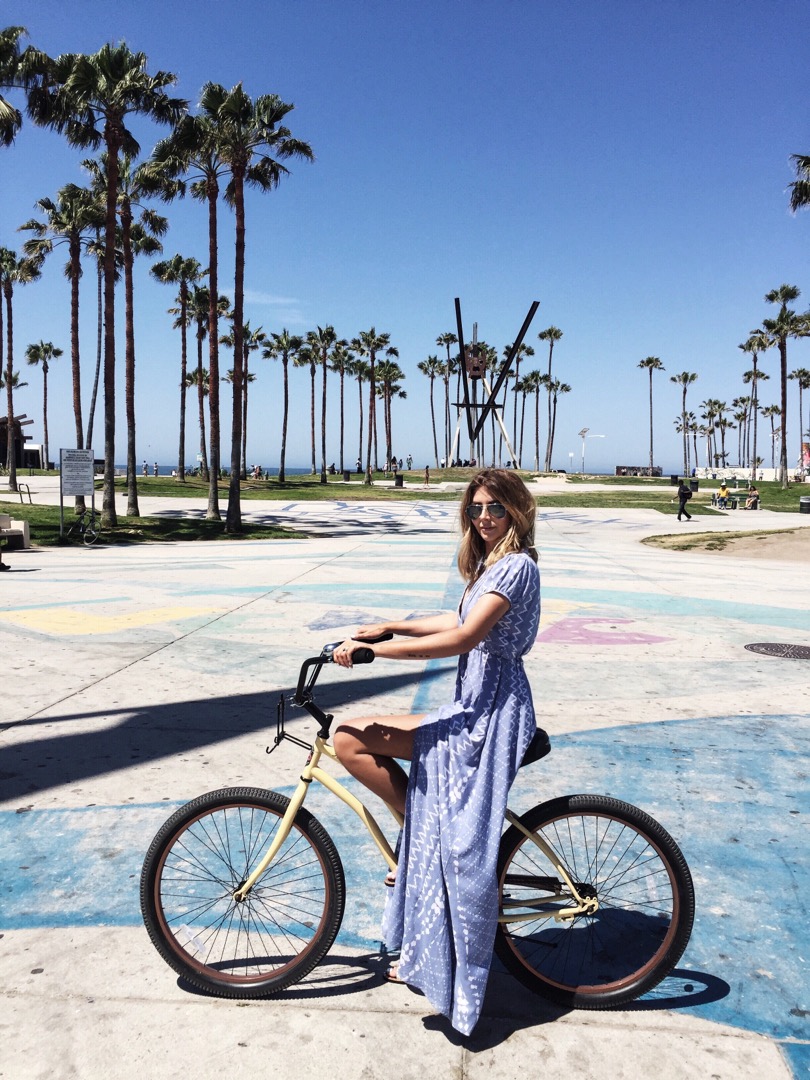 Beverly Hills
It was on my bucket list to go the the Beverly Hills Hotel for lunch and the staff there were so accommodating and gave us one of the best tables outside in the famous Polo Lounge that I ticked this off with such enthusiasm.  Now as I'm a fussy eater I had checked out the menu before we arrived and scoped out the burger, which btw was just delicious but not as delicious as the fries which were seasoned to perfection.  I'm sure many of you will think it's quite a waste to go to the Polo Lounge and have a burger but hey this is America; Home of the Burger.  Simon had the McCarthy Salad which he said was also delicious and comes very highly recommended by the staff.  Price wise our bill came to $107 and we had a bottle of Evian along with 2 diet cokes and a beer for Simon so it wasn't that bad just to have the experience.  I would definitely advise saving some money to go for lunch or dinner here because this Hotel is iconic and is renowned for it's impeccable service and signature style.
After lunch we drove a few blocks down to Rodeo Drive, another must when visiting LA.  The street itself really isn't very long but if luxury shopping (and taking Instagram cliches) is on your agenda then this is the only place to go.  
Hollywood
You just can't visit LA without seeing a bit of Hollywood.  We had some sat nav issues and ended up climbing narrow streets of the Hollywood Hills hunting for the perfect photo spot for the The Hollywood Sign and when we found it, we were pretty chuffed.  However we did get some odd looks driving around these multi-million dollar streets in a bright yellow convertible…we clearly did NOT belong haha.  Whilst we were driving we also stumbled upon a little place called Sunset Ranch where you could go right up the Hollywood Hills on Horse Back which looked like the best thing ever but due to the ridiculous (and record-breaking) temperatures we had we decided to give it a miss…after all this gives us an excuse to go back.
The area of Hollywood itself is very busy, obviously, but in an evening when the temperature is more bearable there are some pretty cool bars to hop in and out of and some uh-mazing restaurants.  Parking is a rip off anywhere in close proximity to Hollywood Blvd so we decided to park in a multi-storey car park a few blocks down and saved ourselves around $30.  We got to the Hollywood Walk of Fame at around 6pm and it was still super busy, but there was enough space to check out all the names and find our faves…Errr hello Elmo! Don't act like you all don't love a bit of Elmo now 😉  As we walked further down the street toward 'the good stars' we noticed that large crowds had started to gather outside the theatre, as it turns out it was the Independence Day 2 premier and that hot Hemsworth dude had just rocked up so the crowds were going mental.  I on the other hand had spotted the words 'Buffalo Wings' on a large sign on the other side of all the mayhem.  I wrapped my arms protectively around my 5D as we pushed through the crowds, I really wanted those bloody wings!  We emerged from the screaming teenagers victorious as the smell of Buffalo Wild Wings lured us in.  If you're a proper foodie you probably won't love this place, however if you're anything like me and have a love of fried food then you're going to want to visit this place.  It's a Sports bar with the biggest choice of buffalo wings I've ever paid eyes on, spoilt for choice is an understatement.  I had 2 lots of boneless wings with Honey BBQ sauce and Parmesan Garlic sauce, along with a sharable side of bacon & cheese fries…and yes I did share the fries.  As sad as it sounds I was in my element in this place and this was my favourite meal of the whole trip.
Malibu
Simon is a huge fan of 2 and a Half Men and because he's watched this programme for years, over and over, he was dying to see where Charlie, Alan and Jake lived.  Of course I had to break it to him gently that it was of course all set in a studio but nonetheless he wanted to see the beach houses of Malibu.  We parked 'Bumblebee' and took a stroll to Malibu Lagoon State Beach.  The clue is the name with this beach because en route you walk past a huge lagoon which is home to all sorts of wildlife, however, much to my husbands dismay (and my relief), there are no Alligators.  Wandering down to the beach we spot one of the large lifeguard stations which to Americans must be so boring but to us their shabby chic pastel exteriors make for some great photo ops!  As we walked down to the water we realised there were 2 halves to this beach and we had walked down right on the border.  On the left was the public beach, scattered with parasols and beach towels but on the right the beach stretched out in front of the most beautiful beach houses I've ever seen.  We asked a local if we could walk down this section of the beach as there was no signage and he told us it was fine so long as you stay 10m away from the beach houses themselves.  Jackpot!  Finally Simon got a taste of where his favourite TV programme was based and of course I got some great snaps.  Many of the people from the beach houses were out on the beach itself and were super friendly, they didn't at all mind that we were essentially strolling in their front yard.  As we walked further along the beach we watched flocks of grey pelicans soar and then dive into the ocean for their lunch. Minus having David Attenborough there was was like a live viewing of Planet Earth.
This day was the day England had their second match in the Euros and Simon was insistent that we find a sports bar to watch this utter shite.  Well, when we stumbled upon Dukes I happily agreed to sit there for 2 hours while he hailed abuse at the TV because this place was just beautiful.  I love how the restaurants in Malibu are all so laid back, there's no pressure to be dressed up, in fact our windswept, sweaty and pretty disheveled appearance fit right in with the locals and other tourists.  Dukes is set right along the coastline and features an outdoor deck overlooking the ocean, where there were pods of Dolphins playing and showing off for all the onlookers.  As you may have seen on my Snapchat I ordered a Pulled Pork Sandwich which was just divine and was accompanied by the best 'slaw' that hath ever entered my mouth, and trust me, I'm quite the slaw-connoisseur.  I want to go back to Malibu just to experience the atmosphere and culinary delights of Dukes again, I would definitely recommend going.
Long Beach
On our last day in LA we decided to drive a little further down the coast to Long Beach in search of breakfast.  It turns out the people of Long Beach are pretty lazy and we found a lot of places didn't actually open until 10am, and as we were suffering from a severe case of jet lag, this was not good news.  We wandered down the Pine Ave Pier and spotted rows of colourful wooden restaurants and shops, sadly all of these were closed but I can imagine that during the day it would have been a perfect spot for lunch or some Fro-Yo.  We were told by some locals that there is an amazing atmosphere in the evening along the boardwalk but sadly for us, we were limited to a couple of hours in the morning.  After much mooching and picture taking I was beginning to get pretty h-angry and finding a spot for brekkie along the sea front proved impossible so we started to head back in amongst the high rise skyline.  Luckily Simon spotted a sign for 'The Breakfast Bar' which in actual fact turned out to be the best darn place I've ever eaten in my life.  I ordered the 'Hung Over' (pictured below) which despite the fact that I don't drink alcohol really hit the spot.  With 2 scrambled eggs, cheese, sausage and Nana's sausage gravy smothered over a bowl full of french fries…this really was the meal for me.  I washed it down with this rather instagrammable watermelon lemonade, which was actually meant to be a cocktail but I find Americans to be so accommodating and anywhere we went they always offered to make me these delicious fruity cocktails minus the alcohol.
Shop the Post