I think you've all realised by now that my colour palette of choice is always very neutral toned.  I love earthy tones, especially in Winter and of course I'm no stranger to a bit of beige and grey but one colour and it's moody shades have stolen my heart this season and that colour is green.
Khaki, Olive, Army, Forrest.  Whatever the shade I'm loving it!  I'm sure you spotted the Olive green coat from Monday's post, and well I couldn't wait to don some more of my current colour crush so today I'm coordinating my accessories in the shade of Khaki.  I had this Khaki Chloe Faye bag from Farfetch last year and sadly this colour is now impossible to find, my advice is to set up an alert on Vestiaire and keep those eyes peeled.  When shopping in my local shopping centre I walked past Office and spotted these Khaki New Balance trainers and despite not being a frequent 'trainer-wearer' I had to have them because they are the perfect colour match with my Faye.
I wore this outfit last weekend and it was the perfect 'off-duty' casual look for mooching around some markets in London and having a good English pub lunch.  Although I wear heels the majority of the time I think it's always handy to have some chic trainers, and yes trainers can be chic.  My rule of thumb when styling trainers is to add at least 1 piece of tailoring to the mix, whether it be a crisp white shirt, a tailored blazer or coat or a pair of tailored trousers (as seen in this post).  I came from a generation of 'trainer-lovers' and in my school years trainers were of the utmost importance to me, I had to have a new pair every term and they were the core item in ALL my outfits....how the times have changed.  Anyway my point is that I'm very conscious not to ever replicate the outfits I used to wear from my teenage years.  Now I'm a fully fledged adult I like to style my trainers in an adult way and by adding in some tailoring it's pretty easy to achieve this.
If you share my love of these moody green shades then you might like these...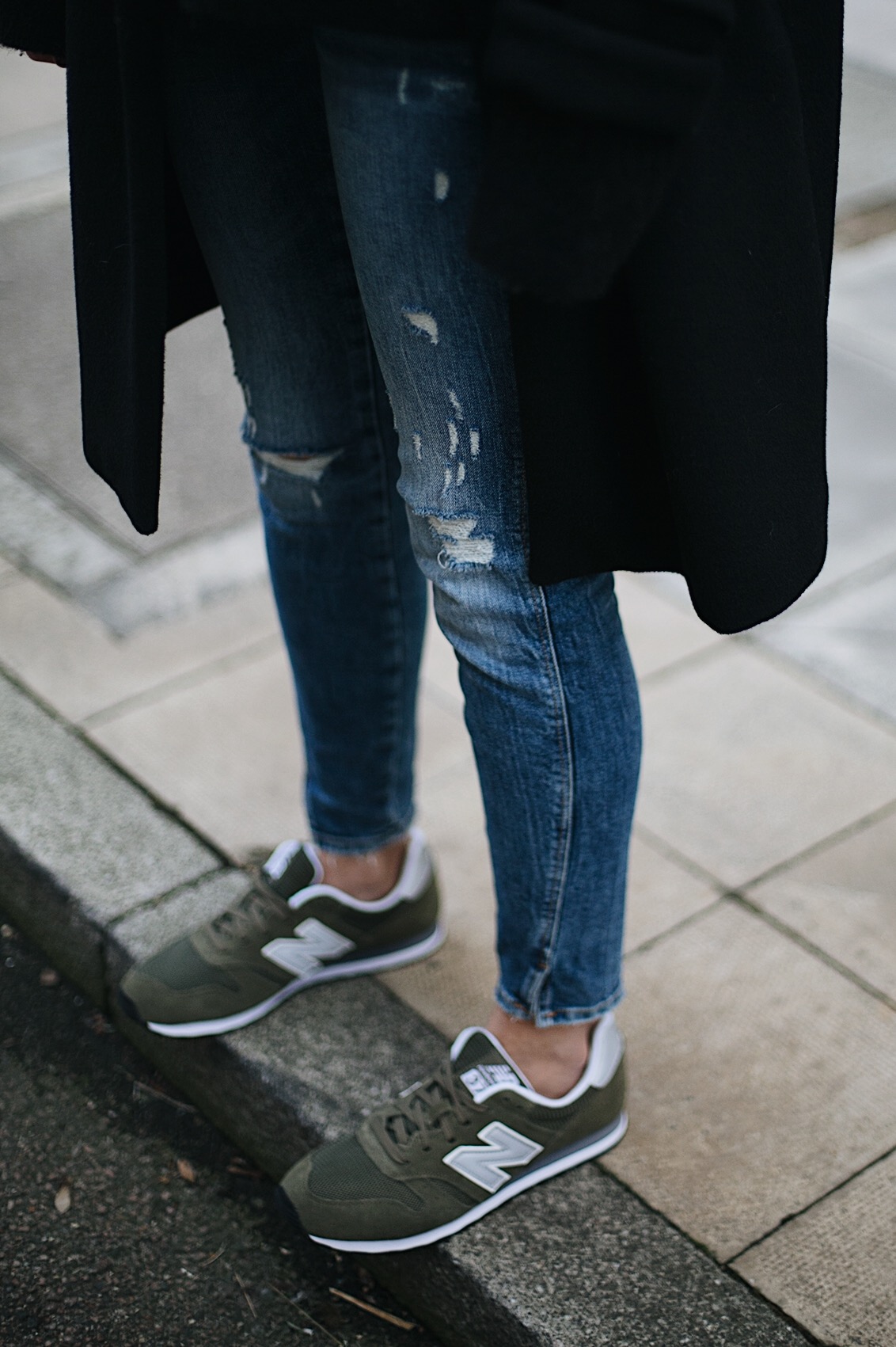 Outfit Details
Coat - Zara
(Old but similar here)
Jeans - Zara
(Sale so may be sold out, but similar here)
Sunglasses - Rayban via Sunglass Hut
Shop the Post