I'm back with another EJ Eats but this time coming to you all the way from Malibu California.  Now that Travel will be more of a frequent topic here on the blog I'll also be featuring some international EJ Eats because if there's one thing I get asked when I'm on my travels, it's where to eat!  We shot 3 different EJ Eats (although I could have done so many more) whilst in LA so I'll be bringing you those over the next couple of weeks but today we're starting with Duke's in Malibu.
Where
Duke's became one of my favourite places to eat in Malibu after eating there for the first time last June.  I've been dreaming of the pulled pork sandwich since I booked our flights back in March.  Located on the pacific coast highway Duke's overlooks the ocean which is the perfect scenery for this laid back Hawaiian surfs-up style eatery.  It often get's overlooked with Nobu being literally just down the road but I think you all know me well enough by now to know that that's not my kind of place.  I prefer a more relaxed atmosphere and as you can see I rocked up in denim cut offs and a t-shirt and I certainly didn't feel out of place.  
With 2 bar areas, a terrace and a reasonably sized main eating area we've never had to wait for a table, having said that we've always visited during the week which I can assume is classed as off-peak.  The tables along the window and on the terrace are by far the best seats in the house because you can quite easily play a game of 'first to spot' any of Malibu's sea life.  We ate here twice on this recent trip and on both occasions we saw dolphins, small whales and sea lions swimming past our window.
The Food
At first glance the menu at Duke's might seem a little limited but I can assure you that there is something on there for everyone.  As Malibu is a coastal city seafood tends to make up most of the menu anywhere you go, and as a non-seafood eater this can sometimes prove to be an issue for me.  However at Duke's this isn't the case because their saving grace for me is the Kalua pulled pork sandwich…which I have every time I go 🙊  It's pretty sloppy as the pork is lathered in sauce but that's how I like my pulled pork.  My only bug bear is that the sandwich is served with crisps which don't really taste of anything and I'm a real fries lover so if I had my way I'd serve it with fries instead.  I must add that there are no side dishes on offer on this lunch menu otherwise I would have added them as a side.
Luckily I have Simon to test out any seafood and he opted for the fish tacos.  You have the option to have battered or grilled fish or one of each (as you get 2 tacos).  For review purposes (or so he says) he went for one of each, but after the taste test he can confirm that he preferred he grilled over the battered fish.  The tacos are served with tortilla chips and a spicy sauce on the side.  We only ate here for lunch but they do have a slightly different dinner menu which I'd like to hope is a bit bigger.  As I'm not an alcohol drinker I can't really comment on the drinks menu, but they had diet coke so I was happy.  Simon always likes to try local beers from wherever we go and he was impressed with their selection.
When it comes to desert the menu again is short but sweet (pardon the pun) but in my eyes there's only one contender, the Hula Pie.  This giant desert is similar to an Eskimo pie, it's mainly ice cream with hard chocolate on the outside and they change up their Hula Pies by using different flavours.  We tried the smores version which was bloody delicious! Its definitely a sharing desert, even I couldn't polish off something that big alone, although I did give it a good try 😬
General
As with the majority of places in LA there is valet parking (the only option) which is $5, which obviously adds onto the price of your meal along with tips and tax.  The thing I find annoying about eating in the US, LA in particular is that it's never just looking at the menu and paying that price, you always end up paying another $20.  I can't hold this against Duke's because it's just the way the country works and we weren't on a budget so it made no difference but you know me, I like to have a moan about these things.  The staff are super friendly and very attentive, the positive about the US is that they are very big on service, but again that's because their suggest tips tend to be 15%+. Sorry I'm just not big on tipping because I worked in retail for 8 years and we never got any tips for providing our service, we just got paid (moaning again).  There are big screen TV's around the bar area so if you're big on sports you can head to Duke's to catch that game you want to watch.  I'm very pleased to report hat their toilets are immaculate and they smell amazing, this is always very important to me because if their toilet standards are high I know their kitchen standards will be amazing. Price wise we both agreed that it is a little overpriced for what you get however the location definitely makes up for that. I mean we sat there eating lunch whilst watching dolphins play, that's pretty awesome. You can't beat this place for location and it's perfectly situated so you can drive up into the hills of Malibu which we did one afternoon to nosey at all the cool Malibu houses (really Simon just wanted to see where Kaitlin Jenner lived, but we failed on that one).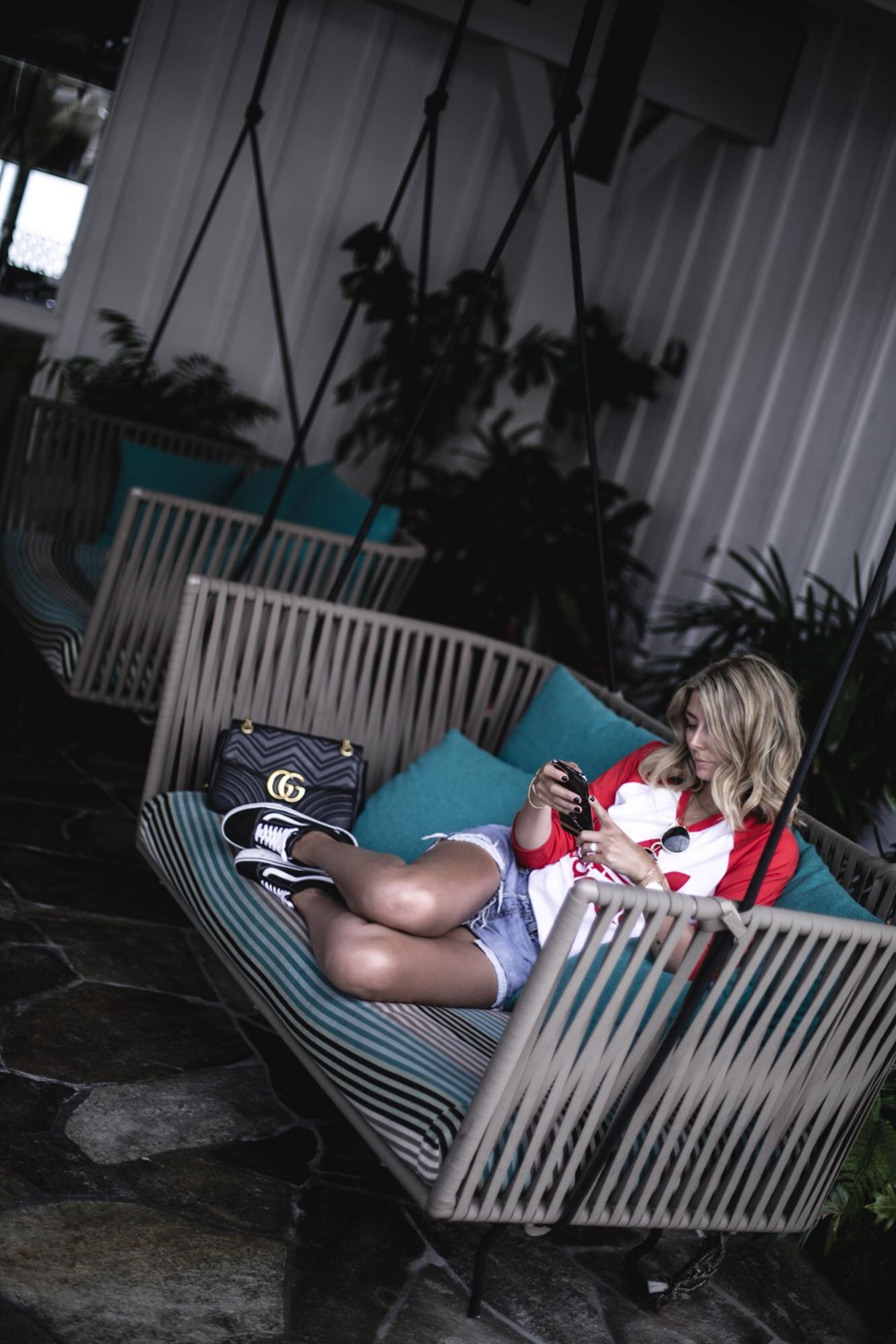 Outfit Details
Shop the Post