With a heatwave just around the corner (well at least for those of us in London) Summer outfits have been on my mind.  I often say I prefer Winter to Summer when it comes to fashion but then after what seems like an eternity of Winter months, I can switch just like that.  I'd be lying if I said I wasn't looking forward to wearing lighter outfits, my skin needs to breathe and feel the warmth of the sun (underneath all that SPF 50 of course).  I think lots of women fear Summer because for them it means less clothing and more body on show, and for those of us who aren't body confident (for one reason or another) this can bring on very unwelcoming views towards this glorious season.
This is where I would like to re-introduce to you the world of linen.  You'll all know what linen is, some of you may love it, some of you may loathe it, some of you might not have tried it before.  Linen can have a bit of a stigma about it, that it's all oversized smocks, sack dresses and tablecloths but alas, some of the coolest brands all use linen in their collections and it's not always about flashing the flesh (covering up is cool).  Sustainable brand Reformation, my holiday go-to Faithfull The Brand and Summer style all-rounder Free People all have some seriously beaut linen pieces in right now.  I understand not everyone has the budget for these brands as they are a little on the pricey side (there is a reason for that, see below) but as per usual I have taken the liberty of scouring the internet (a task I thoroughly enjoyed on this occasion) to find the best linen pieces for all budgets.
But what is linen, where does it come from and what are the benefits of wearing it?  Similarly to cotton linen is manufactured from a plant, the Flax plant, so this makes it a fully natural fibre.  Flax is also cultivated for it's seed (linseed) and can only be harvested once a year.   Linen is made from the cellulose fibres that grow inside the stalks of the flax plant and it's a long old process of going from plant to garment, this is why linen is often a costly fabric to purchase, costing twice as much as cotton to produce.  There are so many advantages of wearing linen in hot weather conditions which is why you'll always find plenty of linen clothing when you're on holiday.    Linen is woven from larger fibres and this means that it's quite an open fabric...basically there are larger gaps between the fibres because it's not at tightly woven as cotton.  So in terms of breathability, linen is the best possible fabric for ventilation and it's also heat conductive which I know might sound like a bad thing but actually it's quite the opposite.  Linen fibres can disperse and release heat, which in turn reduces your skin's surface temperature and makes you feel cooler, winning!  In terms of the environment linen is way up there with the most sustainable fabrics available, and if left un-treated (not dyed) it's fully biodegradable...but remember to check those labels because linen manufactured in China can be treated with chemicals and is often a lower quality.  I love linen for all these reasons, from sustainability to it's carefree and laidback vibe.  Yes it creases, sometimes even just by looking at it, but for me that's actually all part of the appeal.  Nothing says Summer like linen does and I'm really looking forward to growing my collection over the coming months.
I'd love to know your thoughts on linen and if you have any favourite items in your wardrobe or maybe have spotted something from this post that you love?...Whatever your thoughts, let me know in the comments below and if you're in need of more linen inspo check out my Linen Mood Board on Pinterest HERE x
LINEN DRESSES, PLAYSUITS & JUMPSUITS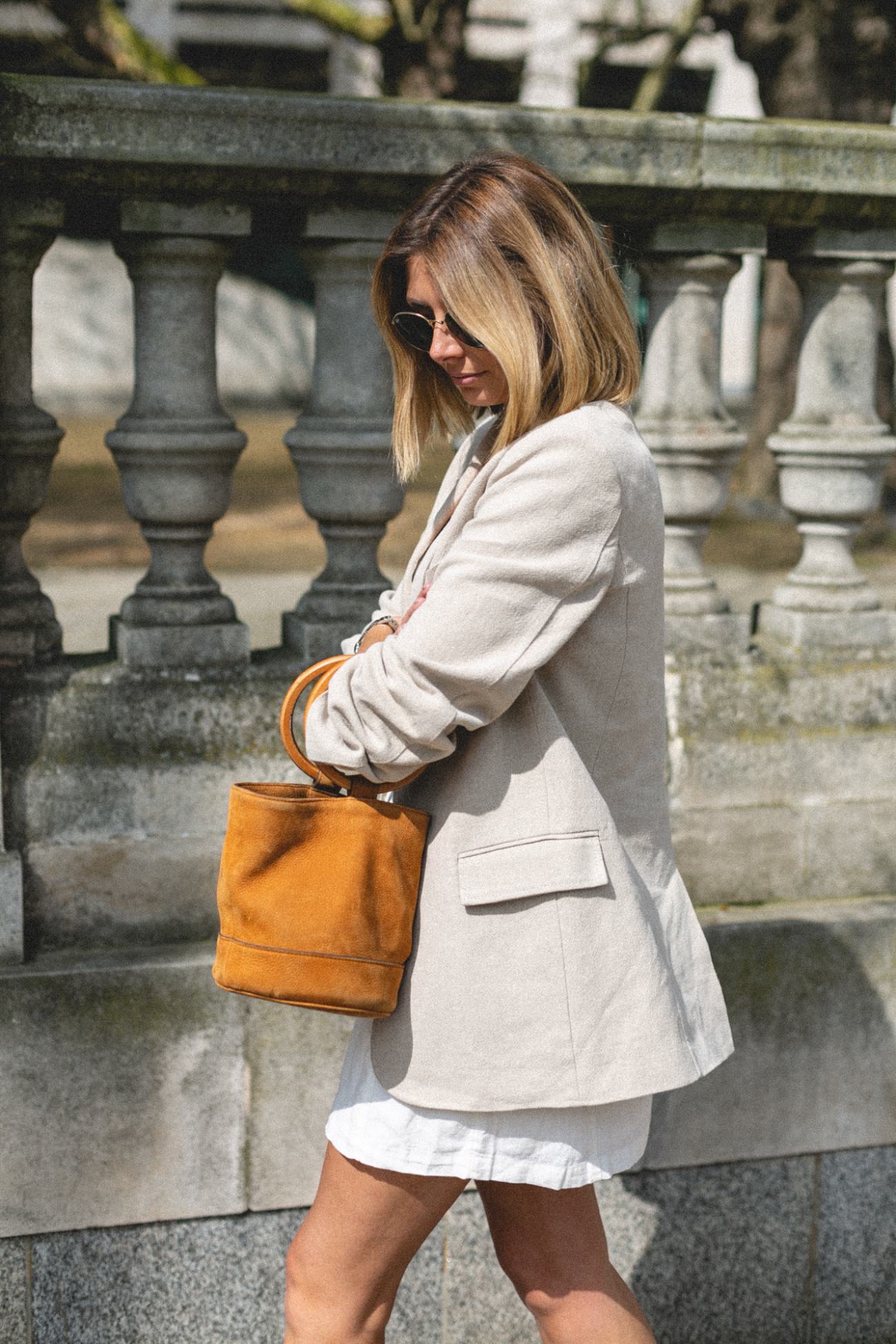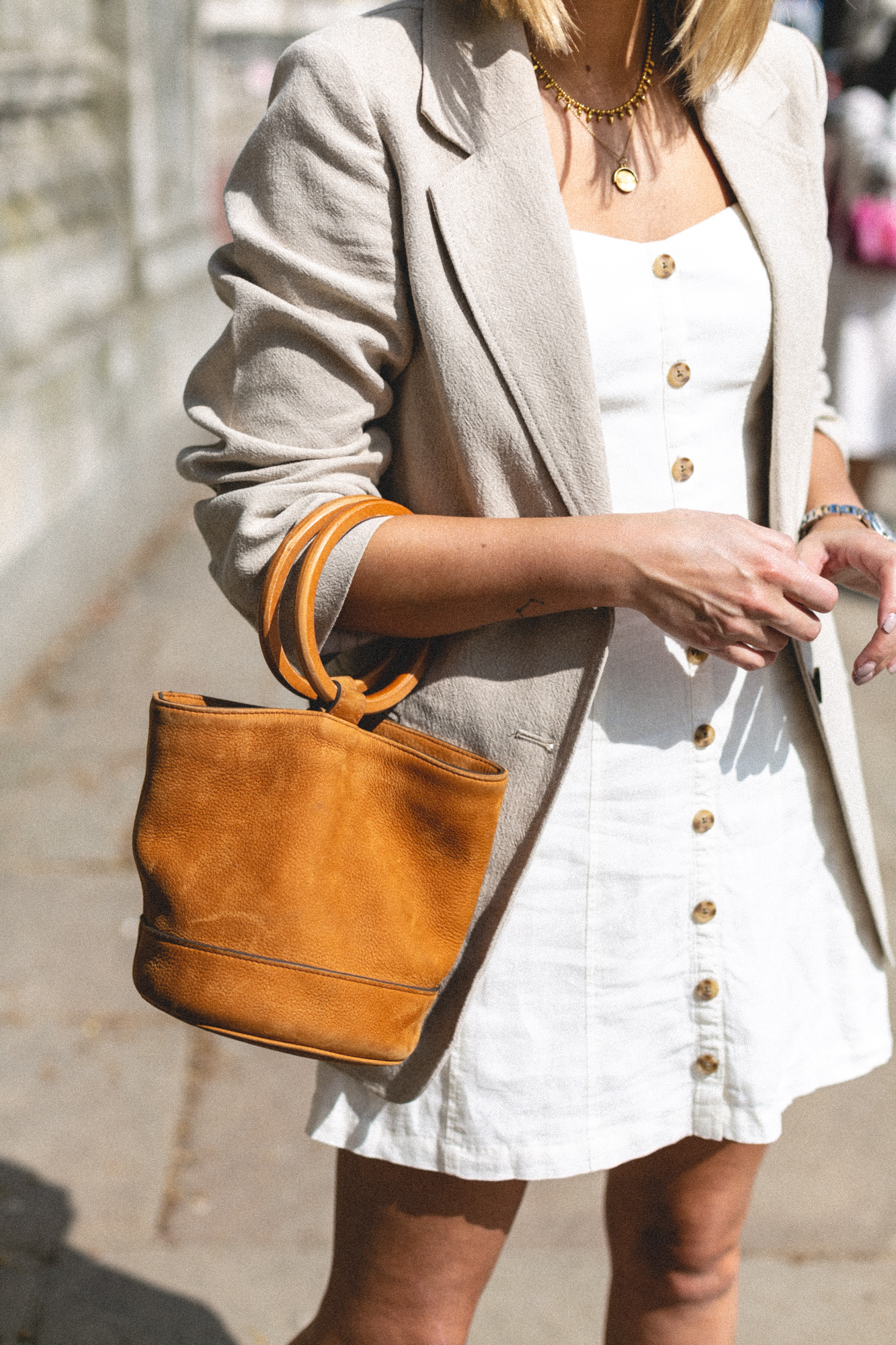 Outfit Details
Blazer - H&M (Also similar here)
Dress - Urban Outfitters (Similar here and here)
Espadrilles - ASOS (Old, but similar here)
Sunglasses - Ray Ban (also similar here and here)
Shop the Post