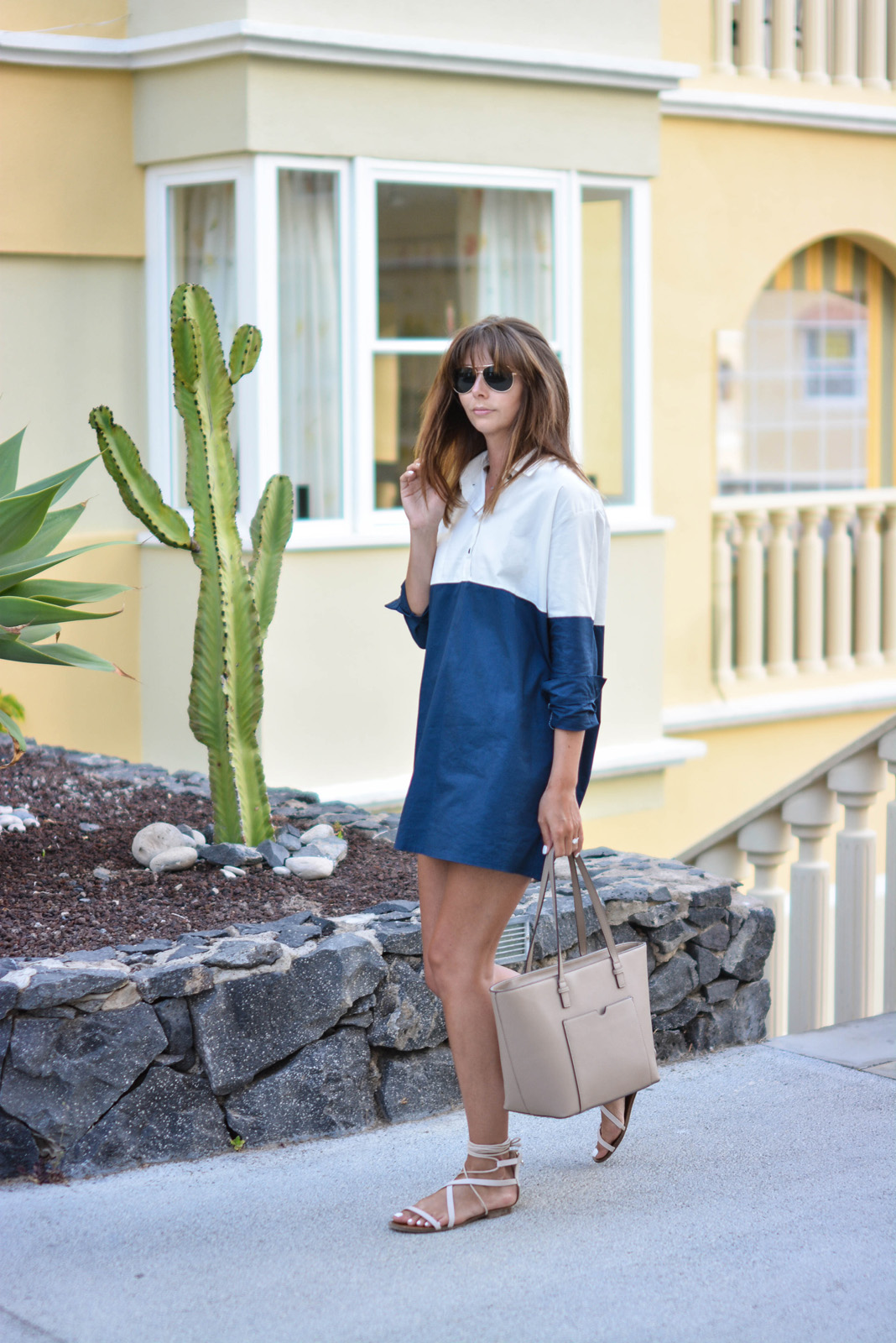 I've been banging on about Romwe for a few weeks now and I'm pretty sure I've converted a lot of you into serious Romwe-lovers!  I'm a huge fan of getting a good bargain and Romwe certainly delivers bargains by the bucket load.  I placed a huge order about a month before I went away, full of holiday/summer pieces, I think in total I got ten items for £70….insane!  This shirt dress for example is only £13.34 (If sold out on Romwe I have listed alternatives stockists at the bottom of the page in the scrolling bar) and is quite possibly the best summer dress I've ever bought!  Lots of you have been asking questions about Romwe, sizing, delivery, customs, service etc and so I'm going to try and answer all those questions now.  If there's anything I haven't covered then do leave me a comment and I'll get back to you!
Sizing: This site is china based and so their sizing is ultimately much smaller than US or UK sizing.  I would always advise to use the measurements they provide and measure yourself to gauge which size would suit.  I do this every time I buy something from Romwe and it hasn't failed me yet.  If in doubt, buy bigger, you can always take something in.  I have never bought trousers or jeans because I know at 5ft9 they are not going to fit my inseam of 34″, so if you've got long legs like me, avoid the trousers, unless they're cropped!  Shoes are the same, they run very small so check the size chart for measurements.  If you're a UK size 7 or 8 like me, forget shoes, they ain't gonna fit 🙁
Quality: Let's be realistic guys, these items are so cheap they aren't all going to be amazing quality but I personally have never had an issue with the quality.  It's difficult to tell what kind of fabric something is made of when online shopping on any site so read the descriptions carefully.  As you might notice they do stock a lot of items which are also available in Zara.  I have ordered these before and they are not the exact same as what they have in Zara, the design is the same but the fabric is always different, it's always thinner in some way, especially with coats & outerwear.  I had a skirt which arrived recently which had button holes but they hadn't been cut open, I did that myself with a seam ripper and I had a pair of denim shorts where the top button pinged off, but they were £4 so I just put another one on.
Delivery & Customs: I've made more than 10 orders from Romwe (plus around 8 additional orders which have been gifted) in the past couple of years and never once have I had any issues with their delivery service.  On occasion with my bigger orders they have been held up in customs for a week or two but this is out of the hands of Romwe so it shouldn't be held against them.  When you buy things from outside the EU you need to be prepared for customs delays.  In terms of customs charges I have never had any.  I have placed a few larger orders over £50 and even they haven't had any charges.  If you are placing a really big order and fear you might get charged by customs due to the value, why not split up your order to spread the value.  Romwe shipping is free so you won't incur any extra shipping costs 🙂  I always allow for one month for items to arrive, baring the possible customs delays in mind, however I would say on average my orders have arrived within 2 weeks.
Service & Returns: They do offer a returns policy but if I'm being honest I have never used it and probably never would.  The cost of their items is so cheap that I wouldn't bother paying shipping to send an item(s) back, I'd sell it or give it away if I couldn't alter it myself.  My orders have always been the correct items I ordered and always the correct size so I've never had an issue with having to send something back because of their own mistake.
As with all companies I'm sure Romwe has had it's fair share of bad reviews, but I have never had any issues with them at all and I will continue to shop with them so long as they keep their prices as bargainous as they are!
Fancy having a peek at what Romwe has to offer, check out my best picks of what they currently have on their site…
Dress – Romwe (If sold out it's also available here)
Sandals – Mango
Bag – Mango
Necklace – Astrid & Miyu
Sunglasses – Forever 21
Colour on Nails – OPI in 'Alpine Snow'