Welcome to the second instalment of my Wedding Series aka 'Wedding Wednesday'.  Last week's post was all about how to create affordable Wedding invites but today we're focusing on 'The Dress'.  Most of you will have seen snippets of 'The Dress' on Instagram or Snapchat if you followed along on the day but I this is the first time I've posted the full dress in all it's glory.  I'm going to discuss going through the stages of what to expect when choosing and buying a Wedding dress and my own experience and emotions behind the whole affair.  For any of you BTB's (Brides to be) out there I hope that you might find this useful, or maybe if like me you're big day has been and gone (until the next one 😉 ) maybe you can relate to my experience.
I'd love to hear your stories so please leave a comment below x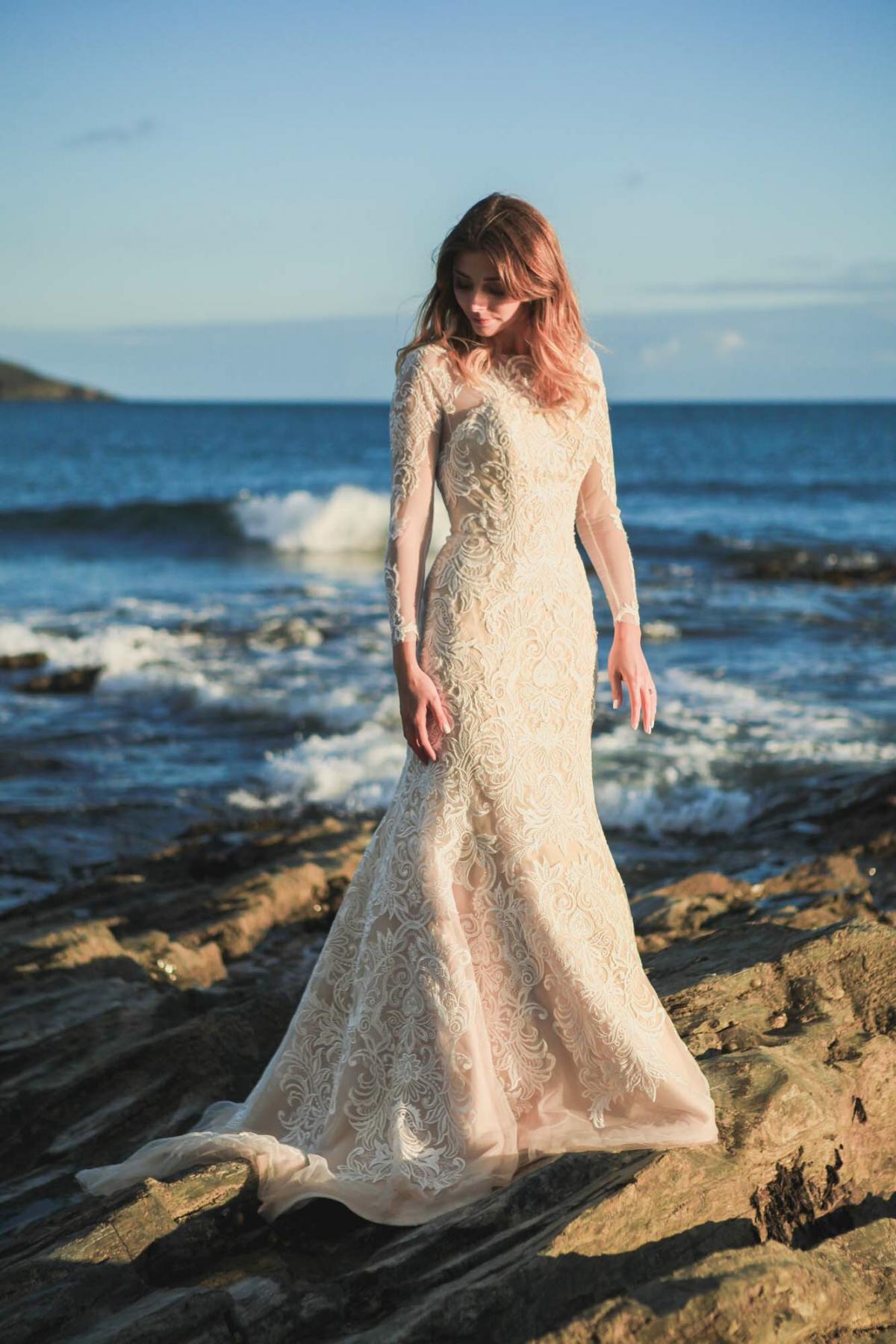 Choosing the Style
Ok so you're getting married, that's a big deal in itself but the pressure on Brides these days is insane, especially with the eyes of social media looming around every corner.  But with this internet generation comes the best tool ever for Weddings…Pinterest.  Pinterest was both my best friend and my worst enemy when planning our Wedding.  On one hand there's all the inspo you'll ever need from 'The Dress' to table plans, centre pieces and bouquets, but, and let's be real about this, a lot of the pins are completely unobtainable.  The sooner you realise this the better.  Don't get me wrong, it's great to dream and it's great to come up with ways to achieve some of these incredible looking Weddings with some more budget friendly DIY ideas BUT stay realistic.  
It was on Pinterest that I found the dress style that I wanted.  Of course I had a Wedding Pinterest board (or 5) since before I was even engaged (that's pretty standard these days) and below you will see the pins of the dresses that I was lusting after.  Most of them are by Israeli bridal designers such as Berta, Inbal Droor and blah.  I wanted long sleeves, lace, figure hugging, a train and a flash of flesh.  It was when I started to Google these designers that I soon realised they were way above budget and I can tell you now, I cried.  I am 100% one of those people who see's something and becomes besotted with it, in my head I already own it so the adjustment to the realisation that I will never own it is crippling.  Not ideal with all the other stresses of Wedding planning.  I'm also a firm believer in not being ripped off and those dresses ARE in fact a rip off.  After seeing some of them in the flesh they were definitely not worth £10K upwards.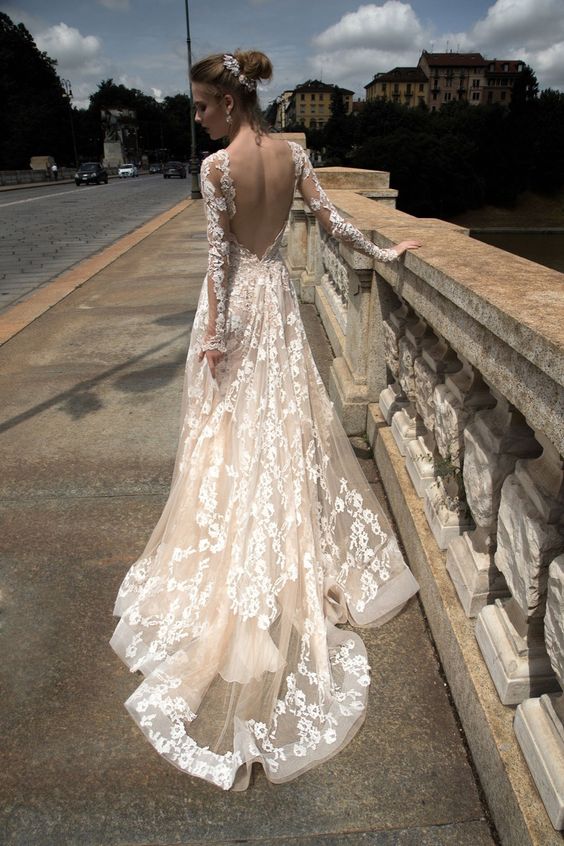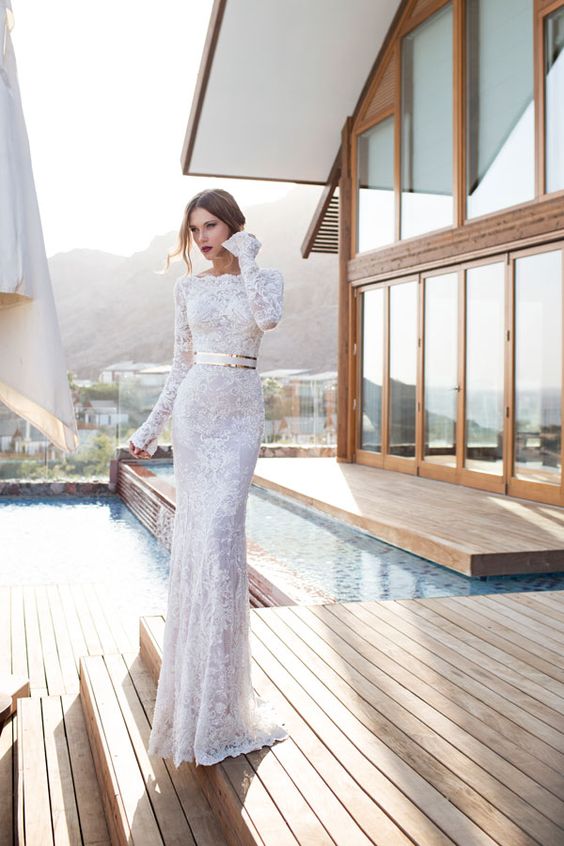 Setting the budget
We were very lucky that my Mum and Dad were covering the cost of our Wedding however it was always in the back of my mind that a Wedding was such a frivolous waste of money, money that could be better spent on actual 'life' things, but as they say 'you only get married once' (mmmm, not sure that's entirely accurate these days but let's go with it).  The budget set for my dress was £5K which is a pretty incredible amount, but, I knew we would never be spending that on a dress that you wear for one day, I just couldn't.  What I would say is before you set a budget for your dress, do your research first so you know roughly how much these things cost, because that feeling of bitter disappointment is just another added headache of the Wedding process and it will be much easier to deal with when you have a realistic outlook on things.
Booking Appointments
So the research started to find a dress in the style I wanted but for a fair price.  The hours spent trawling the internet for 'The Dress' was really quite ridiculous and actually this task was more difficult than it sounds.  Every site I went on was full of the big pouffy 'Princess dresses' and I knew that they were not for me.  As it turns out long lace figure hugging dresses are pretty hard to find despite them being the most 'pinned' dresses on Pinterest (Someone's missing  a trick here!).  I had heard so many horror stories about people having their dresses made from scratch that this was never an option for me so the search continued.  In the end I decided to book a few appointments as some Bridal boutiques in London so we could get the ball rolling.  Just as a warning some Bridal boutiques (the posh ones like Browns) charge a fee (around £35) to go and try on dresses so if I were you I'd make sure that you have the budget for these places before booking an appointment.  Secondly a lot of boutiques have a limit on how many people you can take along to your try on sesh, I found most of them were a maximum of 2 people.  In most cases it is not like we see in films, sorry to burst your bubble, there was no champagne and some of the service was pretty shoddy.
My Experience
I booked what I liked to call a 'test run' at a Bridal Boutique in Stratford called David's Bridal.  It's actually based in the outside 'Village' area of Westfield and I had passed it a few times when I'd been shopping over there.  As someone that had never tried on wedding dresses before I just wanted to know how it all worked, what to expect and I didn't want to head into somewhere like Pronovias not having a clue what I was doing.  So we decided to use Davids as the practise run.  As it happens we lucked out with our appointment because the American head office (David's is an American company) were visiting for a few days so the service was, well, American.  They couldn't have been more helpful and of course what every BTB needs when trying on dresses is to be showered with compliments.  We started off by filling out a form with all essential details, Wedding date, venue location, dress size, height blah blah blah.  We were then taken upstairs to the Bridal area (downstairs is for Bridesmaids and prom dresses) where we were met by our assistant for the appointment.  We had a little interview with her, and they ask what sort of dress you're looking for, the budget and what you don't want.  Then off you go to browse the rails and rails of dresses in the hope of finding 'the one'.  If you've given the assistant a specific style then she will immediately know where they are and will show you those first as a starting point.  As my dress brief was very specific there actually weren't many options, as I said before, it turns out these dresses are few and far between.  She pulled out a few and I have to admit I was pretty replaced by most of them.  I remember feeling really disheartened as I thought this process (even though this was just my 'test run') would be really fun but I immediately found it stressful and started to panic that I wouldn't find a dress.  I tried on a couple she had pulled out, one by Truly Zac Posen and another by Galina Signature.  It's also worth me mentioning that none of these dresses will fit you perfectly, they are sample sizes but obviously when you find 'the one' they will be tailored to your body or made to measure in some (posh and expensive) cases.  So it's more than likely that they will use bulldog clips to pull in the dresses you try on to give you a better idea of fit.  I wasn't in love with either of the dresses I tried on so I had another look and found one more to try.  This one was much better and because of all the emotions I thought I fell in love with it.  I think this is a common mistake amongst BTB's to get carried away because it's your first time trying on wedding dresses, so just beware of this faux emotion.  
On my first appointment I took my mum with me, and as I said this was just a test run, but I wanted the experience of having the whole wedding party there when I found 'the one'; my Bridesmaid, mum, Simon's mum and Claire, all having champagne and giggles.  I'd booked an appointment at Pronovias for the following day with everyone.  However I began hearing some pretty disappointing stories about Pronovias and their service and as it turns out our assistant at Davids had worked there prior to being at Davids and she had some choice words to say about the quality of their dresses.  Of course she wanted some commission so she was on the 'hard sell' but her opinions tallied up with many other stories I'd been hearing.  Dresses at Davids (at that time) cost anywhere up to £3K max, so actually their prices were very reasonable and they had some well known designer ranges; Truly Zac Posen, White by Vera Wang and Oleg Cassini to name a few.  Pronovias was a different story, their dresses started at around the £2K mark and that was for own-brand basic, and I mean basic.  I later looked at their dresses and I have to be honest, what our assistant said was right; the quality is nothing for the prices they charge and the service you receive.  Of course everyone's experience is different, I can only go off my own and what I heard and of course if they have the dress you want then go for it, go for it full speed!  
Back to this dress that I now thought was 'The One'.  The wise words of my mum still resinate in my head as this could have been an epic mistake to settle on the first 'ok' dress I found…'Lets go to Nando's and think about it' and go to Nando's we did.  At the time of trying on the dress I remember feeling very irritated that my mum was flitting around me like a nat with a smartphone taking an incessant amount of pictures of every single detail of the dress, but I soon became pretty thankful she did this.  As I've said, it's all very emotional and overwhelming trying on wedding dresses and it's hard to keep a level head so your feelings about a dress can be somewhat distorted, or untrue.  As we sat down and tucked into some Piri Piri we assessed the million pictures of this dress my mum had on her phone.  We found ourselves saying 'we could ask if they could change this' and 'we could do this with this bit' and then it dawned on us that we wanted to change so much about this dress that it wasn't going to end up being the dress I'd tried on, and so the hunt needed to continue.  We decided to book another appointment at Davids the following day (before our Pronovias appointment) when I had arranged for everyone to come so we could get their opinion on this dress and give it a definite thumbs down.  I also have to add that the service was so great on the first day that it really did feel like the experience you see in films (minus the champagne, my mum was miffed about the lack of champagne ha!).  
The following day we're back at David's and I've now got my Bridesmaid Sarah, my mum and Claire along for the ride.  Just to make it a little more fun (for everyone else that is) I tried on some princess dresses, my mum cried, I told her 'no way' and we moved on.  I then had the dress in question to try on for the scrutiny of my expanded audience.  It was met with faces of 'meh' so instantly the decision was made that this was not in fact 'the one'.  Claire being Claire took it upon herself to act as my own personal stylist and hit the rails grabbing dresses she thought I should try on.  She came back with about 3 dresses and plonked them on the rail outside my fitting room and said 'try them!'.  There's no messing around with this girl and credit where credit is due because if it weren't for her I wouldn't have found my dress.  On the hanger it looked nothing, but I will never forget the look on their faces as I emerged from the dressing room.  I had yet to see myself in a mirror but their faces said that I looked the shizzle!  When my reflection came into view it sent shivers down my spine and a rush of excitement and emotion pulsed through my body, and this solid as a rock facade crumbled as I began to cry.  I knew that if a dress brought me to tears (in a good way) then that would be 'the one'.  I was then swooped upon by about 5 assistants and some of the American head office crew who could clearly smell a sale, before I knew it I had a veil on and a bouquet and some random glass bell in my hand.  Now what happens next makes me cringe even to this day.  Americans are over the top with service and that's great but us Brits are pretty simple (and borderline miserable bastards), we just want what we want with minimal fuss.  Minimal fuss was not an option you see because it's an age old tradition at Davids that when you find your dress you have to ring this fucking bell for all to see and all to stare at.  With tears streaming down my 'ugly crying face' I reluctantly rang the bell, and Claire, as usual filmed the whole bloody thing.  I get it, they want to make you feel 'special' and in their eyes that's the way to do it but in my honest opinion that was super-cringe and tacky to say the least.  And just when you think you can get rid of that fucking bell they give you one in your little goodie bag, oh joy.
So I now had my dress and my veil chosen after only trying on about 6 or 7 dresses in total, all in the same shop.  In hindsight maybe I should have had another Nando's and gone to some more boutiques but I loved my dress and I was happy with it, and to be honest I actually didn't want the hassle of doing that whole thing again and going through all those emotions.  I called Pronovias and cancelled the appointment we had for the afternoon and we went and had lunch.  The dress was ordered and paid for on the day with a maximum wait of 12 weeks (as they're shipped from the US), as it turned out it arrived very quickly after 2 weeks.  I took the veil away with me as they hold those in stock in the boutique.
Unfortunately my second visit to David's was not so positive and I do feel like I need to share this with any of you BTB's that are considering going there as it's just something to monitor.  As I've said, on our first 'choosing the dress' visit we lucked out with the American's being there, so to be honest I'm not sure if that was a true reflection of their normal service, as they were probably all on their best behaviour and top form to impress the big wigs.  My second visit was to collect my dress which had been ordered in from the States.  This was my actual Wedding dress which I'm now going to see, feel and try on for the first time.  As Simon's mum couldn't make it to the first appointment I brought her along to this one, and again Sarah my Bridesmaid (Simon's Sister).  As my own mum wasn't there I felt so much pressure and I don't really know why because Simon's mum is the least judgemental person I know and would have said I looked beautiful even if I were in a bin bag.  But still, I wanted to impress, after all I was stealing her son from her.  We arrived at Davids and I gave my name at the reception desk and we were asked to take a seat.  The boutique, which is actually more of a store is pretty huge, like all American things, the bigger the better.  With that obviously comes more choice because they can house more designs, and as I mentioned earlier they have Bridesmaid dresses and prom/evening dresses downstairs with fitting rooms and then a much nicer serene Bridal area up stairs which you access by a rather impressive sweeping staircase.  I was really excited to take Simon's mum upstairs and re-live the bridal experience we'd had the first time around.  An assistant came to see us and rather then guiding us up the grand white stairway to heaven we were led to the dingy fitting rooms at the back of the ground floor.  At the time I felt a pang of disappointment but was more excited to try my dress on and for Simon's mum to see it for the first time.  Well, these fitting rooms were not bride worthy.  They were much smaller, the light was terrible and there was not as much privacy as in the Bridal area upstairs.  And by not much privacy I mean as I emerged from the fitting room, wearing my actual Wedding dress for the first time ever I was greeted with the sight of a toddler in a buggy eating Wotsits, yes Wotsits, you know those cheesy bright orange little morsels of deliciousness?  Don't get me wrong I could eat Wotsits until the cows come home but when their remains are smothered over the face and hands of some infant with zero restraints on his buggy my mind imagined the worst.  This Wotsit covered child remained in the backdrop of my mirror throughout the entire trying-on session.  The appointment was very rushed and the assistant was not dedicated to me, she kept wandering off when someone asked her a question about a prom dress leaving me nervously standing there glaring at Wotsit* face.
As it turns out you have to take your dress away with you and bring it back for your first fitting which I had booked for a few weeks time.  I wasn't aware of this although I do understand that they probably haven't got the room to house 100  million wedding dresses but I just wish I'd been a little more informed so I could have prepared a safe place for it to be stored so soon.  So ok, not a huge problem, and actually I was quite excited that I could take it home and try it on whenever I like so off to the front desk we go whilst they 'wrap it up'.  Now I would assume that by the term 'wrap it up' that would entail maybe some protective tissue paper, a nice padded hanger to keep it's shape and obviously a Wedding dress bag/carrier.  NO.  As it turns out 'wrap it up' actually meant to roll my Wedding dress in a ball (yes really) and shove it into a rather small plastic carrier bag.  I wash shocked, Simon's mum and sister were shocked but like good little British people we didn't complain, we mooched off for lunch and then when it had finally sunk in what had just happened we expressed our outrage…to each other ha!  I wish I'd piped up and said something at the time because that really took the whole 'special' feeling away from the Wedding dress experience and actually when I think about my Wedding dress story, that's the part that sticks in my mind.  When I returned to the store with on my first fitting I made a big complaint and from then on I have to admit, I was treated like royalty, but it's a shame that it took a complaint and a horrid experience to get back on track and get the service you would expect for paying over £1500 for a dress.
*This post was not sponsored by Wotsits*
Cost of my dress: £1600 (plus alterations, see below)
The Veil
I tried on 2 veils with my dress, both cathedral length which just means they're really long and trail behind your dress.  The one I didn't pick had the most gorgeous lace around the edge which actually made it heavier and probably would have been easier to walk with as it wasn't as likely to blow around in the wind.  However the lace trim just looked a little too much with the lace of my dress so I opted for this one which was not as dramatic.  My veil cost £300 which I was pretty shocked at seeings as it's literally a bit of net curtain that you stick on your head but hey ho.
The Shoes
This is where the problems began so if like me you're tall then take note.  When trying on my dress they gave me a pair of sample shoes just so you get the whole Bride vibe.  The shoes were nothing short of hideous (for my taste) and I had fully planned on a pair of Jimmy Choos, comfort had nothing to do with it, they were going to be my little taste of luxury.  The sample shoes had a 'heel' of about 2 inches which is never something I would ever wear, with me it's either 4″ plus or flats, there's no in-between for dressy shoes.  My Choos arrived and they were beautiful, almost 5″ in heel height and actually pretty comfortable for the 5 minutes I had them on in my bedroom.  The problem came when I took the shoes with me to try on my dress.  You have to take your shoes with you so they can begin to adjust the dress to fit and the shoes make all the difference to that.  I'm 5ft 9 and my dress was probably a couple of inches too long when I was barefoot, I had not taken this into consideration at all.  I popped on my new Choos and slipped into my dress, I could instantly feel a draft on my ankles.  As I walked out of the fitting room to the mirror I died a little inside, my Choos, as beautiful as they were, were on full show.  Men won't understand that women will pay over £500 for a pair of shoes and actually we want them to be hidden but this is the case for your wedding day (unless of course you're after a shorter dress a'la Olivia Palermo…Swoon!).  The dresses from Davids come as a sample size and are then adjusted to fit your body, but they cannot be made longer so just bare this in mind if you are vertically blessed (or cursed) like me.  In the end I had to buy the most hideous bridal shoes which had a 6cm heel (com! See holding in the picture below), they cost about £30 and I threw them in the bin on my Wedding night.  I had another pair of gold high heel sandals for the sake of pictures which were kindly gifted by Kurt Geiger.  I sent the Choos back as £500+ was too much on a pair of shoes just for a picture…even for a blogger 😉
Fittings
In total I had 2 fittings; one when the dress arrived which was probably about 2 1/2 months before the Wedding and another about 2 weeks before the Wedding as I had lost weight.  The total cost for fittings was around £280 and I have to admit they did a good job.  I also had a major drama where my dress was ripped about 5 inches right along the front (sorry mum this is the first you're hearing of this), a total accident which almost caused me to go into a state of meltdown and when I took it in to them their response was 'don't panic, we've seen worse than this'.  As I complained about the terrible service I received on my second visit to David's I wasn't charged for the repair of the dress and I have to admit when I collected it 2 weeks before the Wedding I couldn't even tell where this rip had been, it was like magical fairies had danced on it and the rip had simply vanished!
In terms of weight loss vs weight gain this is a tricky one because every BTB is different.  For me the stresses of the Wedding caused me to lose weight despite not changing my diet in the slightest.  In fact my McDonalds/KFC intake probably trebled as I was comfort eating, getting me some of those happy endorphins from eating utter shite.  Although my dress was only picked up 2 weeks before the Wedding I still lost a little more weight and I wouldn't say it was baggy but it was slightly loose in some areas but that couldn't be helped.  In all fairness I probably could have had one more minor fitting a week or even a few days before the Wedding just to tweak it but the difference was so minor that I wasn't actually that fussed.  But my advice is that you should try on your dress at least twice a week as you get closer to your Wedding so that you can keep on tracking with the fit.  Minor alterations the closer you get to your actual date can be done within an hour so there's no need to fret about time.
I hope I've covered everything in this post, as I've said everyone's experience varies but this was mine from start to finish. If anyone has any questions about David's Bridal or anything else please do leave me a comment and I'll get back to you x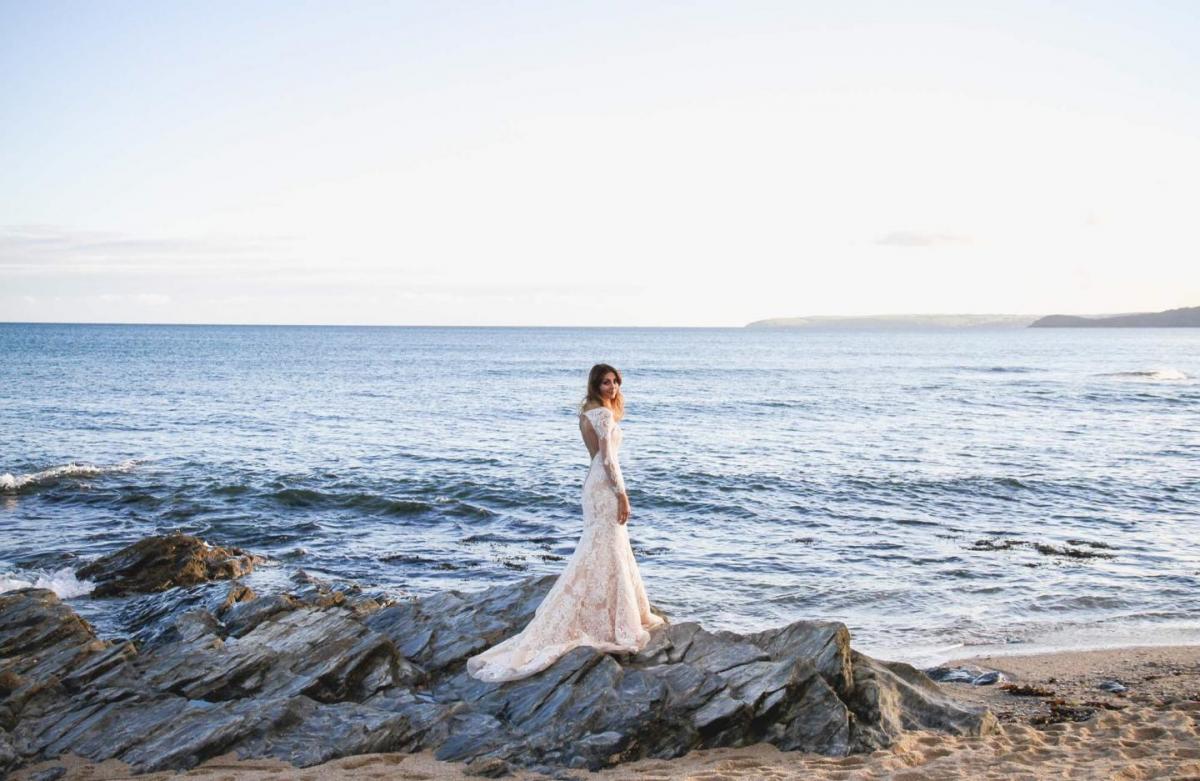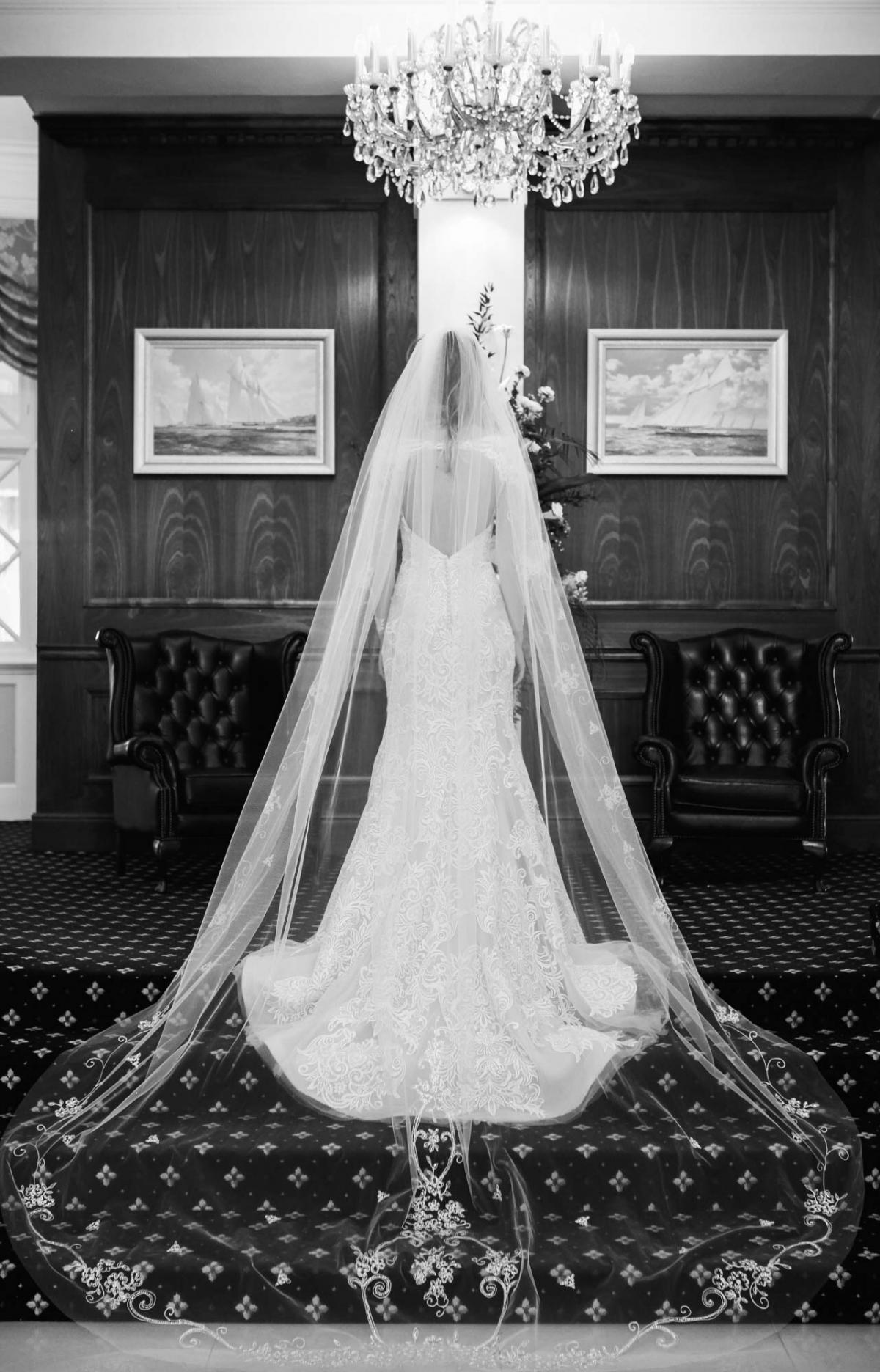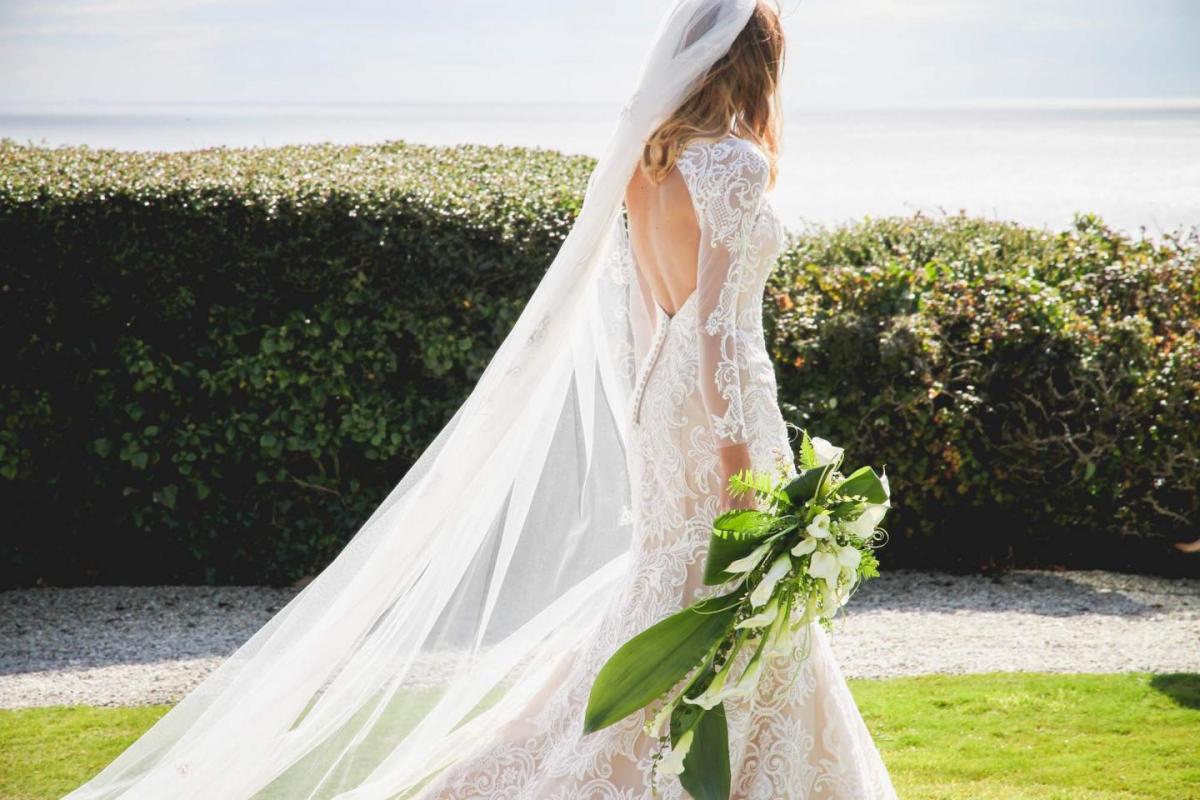 Wedding Photography by Victoria Walker
Shop the Post