If you follow me on social media then you will have seen that I went to Greece a few weeks back with Olympus for the launch of their new PEN camera, the EPL-8.  I'm sure you all know by now how much I love the EPL-7, which I've had for around 2 years.  This camera changed my life and it changed the world of blogging because finally there was an affordable camera which was capable of producing DSLR quality images with a whole range of lenses, and THAT flip up screen made Instagramming a piece of white-balance-perfect cake. 
Keep reading for more info on where you can get the EPL-8 before anyone else, but I only have a handful left so you'll have to be quick!
Aesthetics
First things first, there are 3 colours to choose from with the EPL-8 (as seen in the floating image below).  I went for the black as my EPL-7 was white and I just fancied a change.  So what's new about the EPL-8?  Well as you can see the design of the camera has had a facelift with premium metal and leather grained finishes.  It's been designed with the stylish shooter in mind, so whether you're vintage, traditional or elegant, there's a PEN for you.  All the dials and buttons are all in the exact same place as the EPL-7 so there's no need to adjust to a new layout and as there seem to be no niggles with the current layout, this pleases me greatly.
If you already have the EPL-7 and maybe bought a few additional lenses then fret not, we don't have an Apple situation where those will now be rendered useless.  You CAN still use all your lenses with the EPL-8, hurrah!  There are also some amazing new accessories which I am dying to get my hands on, these PEN suede 'Outfits' are perfect for this season, and you may remember this Chanel-style chain strap (as pictured) which transforms the PEN into a fashion accessory of it's own.
What lenses do I use with my PEN?
45mm - Great for getting a blurry background, a great lens to start with before progressing to the... 75mm - The ultimate prime lens, outfit shots on this are amazing! Macro Converter - Technically not a lens, can be used on your other lenses for super close-up shots of jewellery or beauty products. 14-42mm Pancake - The perfect flat lay lens and good all rounder for travelling with
FUNCTIONALITY & FEATURES
So what's the difference between the EPL-7 and the EPL-8?  Well if I'm being honest, not a lot.  But in terms of new features Olympus have made a couple of changes.  Taking a selfie and controlling your settings via the flip down screen is now a possibility.  With the EPL-7 you could not adjust the exposure whilst the screen was flipped and now you can with an easy-to-use slider feature. So this is seriously going to 'up' your selfie game. We also have the addition of 'Movie Clips', a handy little function where you can now create edited videos with transition effects and music directly on the camera itself, no software required.  As the world of social media steams on ahead this is a great function for introducing video to your content/feeds without having to spend endless hours editing on iMovie, Adobe or Final Cut Pro.  There are some very minor tech specs which have been improved, a slightly faster processor for one, but none of which will significantly affect your images.  The EPL-8 will now only be sold with the compact 14-42mm pancake lens rather than that bulky kit lens which they sold in some EPL-7 packages.
If you already have the EPL-7 then unless you're a complete tech geek who loves to have the very latest piece of kit then don't worry, your PEN is still valid.  Or maybe you're due for a little upgrade, remember cameras only have a limited life span depending on usage.  However if you have yet to invest in the PEN then I would 100% suggest the latest model, the EPL-8.  Keep reading to see how you can get your hands on one now...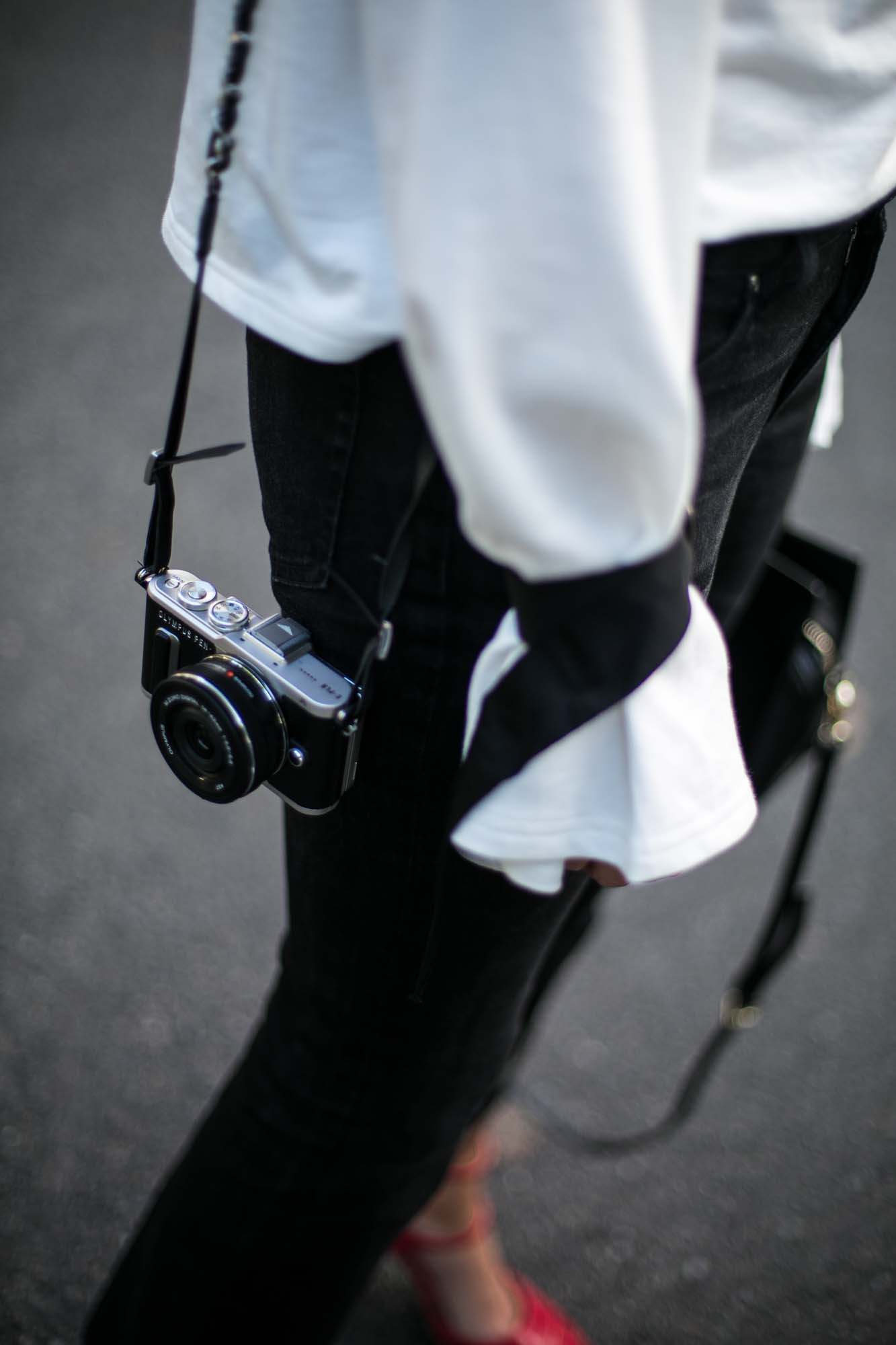 Be one of the first to have the EPL-8
Olympus have kindly allocated me 15 of the new EPL-8, 5 in each colour, for you guys to buy ahead of it's official release.  I only have a handful of these left now so click on the link below to ensure you get your hands on one as stock will be very limited (and very hard to get) in the run up to Christmas.
Outfit Details
Shoes - River Island (Also available in Black & Gold)
Bag - Zara (Sold out but similar here and here)
Shop the Post