I don't think I need a show of virtual hands to know that most of you guys, like me, will be addicted to shoes.  It's a problem we all have to grin and bare 😉  However having recently surveyed the mass sea of shoes I have taking over my house I realised that actually, I don't wear them.  Come Summertime there are certain shoes that are simply my go-to's.  My feet swell when it's hot and so most shoes I own that are normally super comfortable become, errrrr, not so much.  So today I thought I'd run through with you my Top 5 Shoes for Summer, with a little help from my faves at Luisaviaroma.  I love shopping with LVR because they have such a wide selection of designers, some which I find are impossible to find anywhere else.  The bonus is that Luisaviaroma offer FREE express shipping worldwide AND free returns so it makes shopping with them a breeze!  Oh and I should mention they now have the most amazing SALE (up to 50% off) so go and check it out 🙂
Ballet flats are a handy footwear-change to have stashed in your handbag as well as a perfect Summer shoe.  These statement red Chloe flats add a pop of colour to a basic denim/shirt combo and my god are they comfortable.  The ballet flat is so universal and can be teamed with a pretty tea dress, shorts or jeans.  If red isn't your thing these flats also come in Camel (Now in the sale!)
Outfit Details
Jacket – Forever 21 (Old but similar here)
Bag – Saint Laurent (also available in black)
No matter what the season ankle boots always play a key role in my wardrobe.  Thanks to the likes of Sienna Miller (circa early naughties) and Kate Moss the pretty tea dress can be pulled off with a pair of edgy ankle boots; a festival look which we all know and love.  My personal fave Isabel Marant also inspires us to team feminine boho dresses with buckled boots, as I have done here.  These Toga 'Pulla' boots had been on my Wish List for years and they really are an essential Summer (and Autumn, Winter & Spring, haha) staple.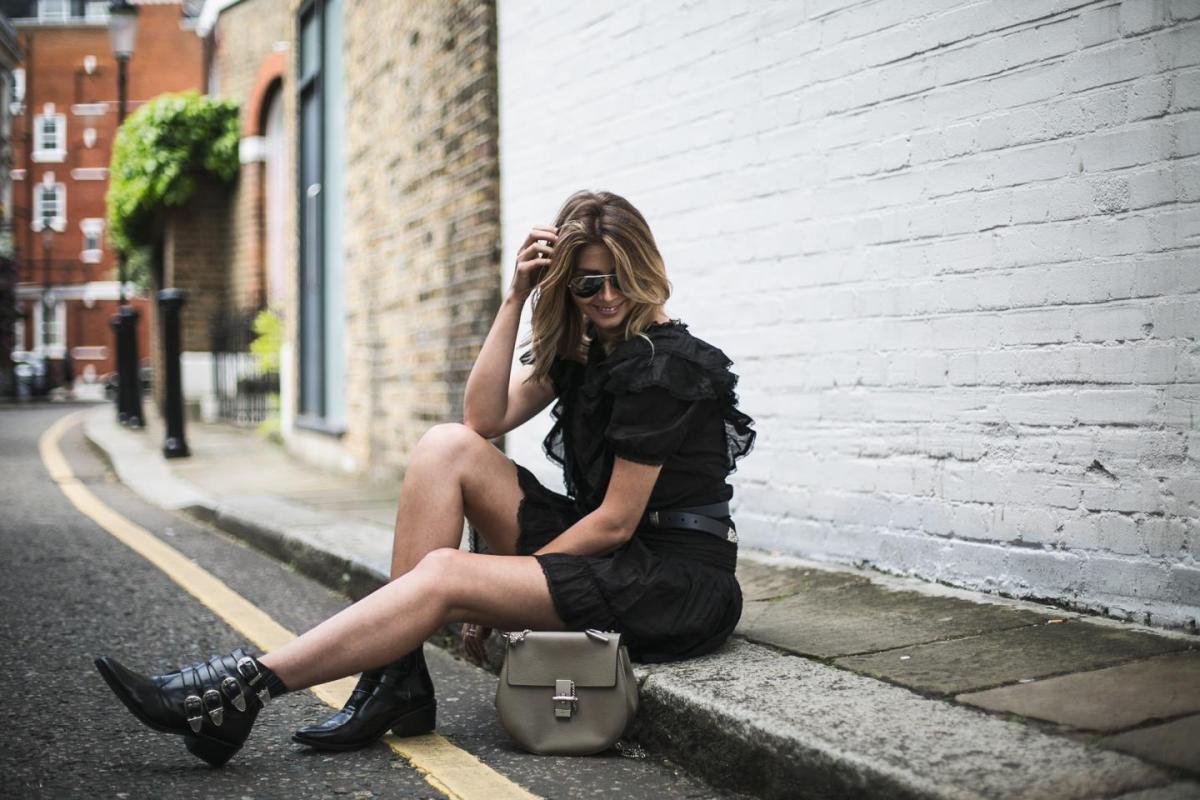 Outfit Details
Dress – Storets (Also available in White)
Whether it be a pair of Nikes or some slip on skaters; a pair of sports shoes are a 'must' for the Summer season. I don't think you guys need me to tell you about the comfort factor of a pair of trainers because this is why we all love them, but over the last few years this casual sporty look has become huge in the fashion world. We've seen editors donning their sneaks with everything from Prada dresses to the trusty jeans/tee/blazer combo and the trend is going from strength to strength with old school brands now becoming the 'must-haves'. For me you can't go wrong with a pair of Converse!
Outfit Details
Jacket – Missguided (also similar here)
Shoes – Converse at Luisaviaroma
These are what I collect the most of because they are great for everyday wear during Summer.  I like to have a few different designs each with a different feel, and of course plenty of variation in colours.  These fringed Saint Laurent sandals are my latest obsession.  I have been teaming them with jeans and a shirt as you can see here and they will definitely be coming with me on my travels over the next few months.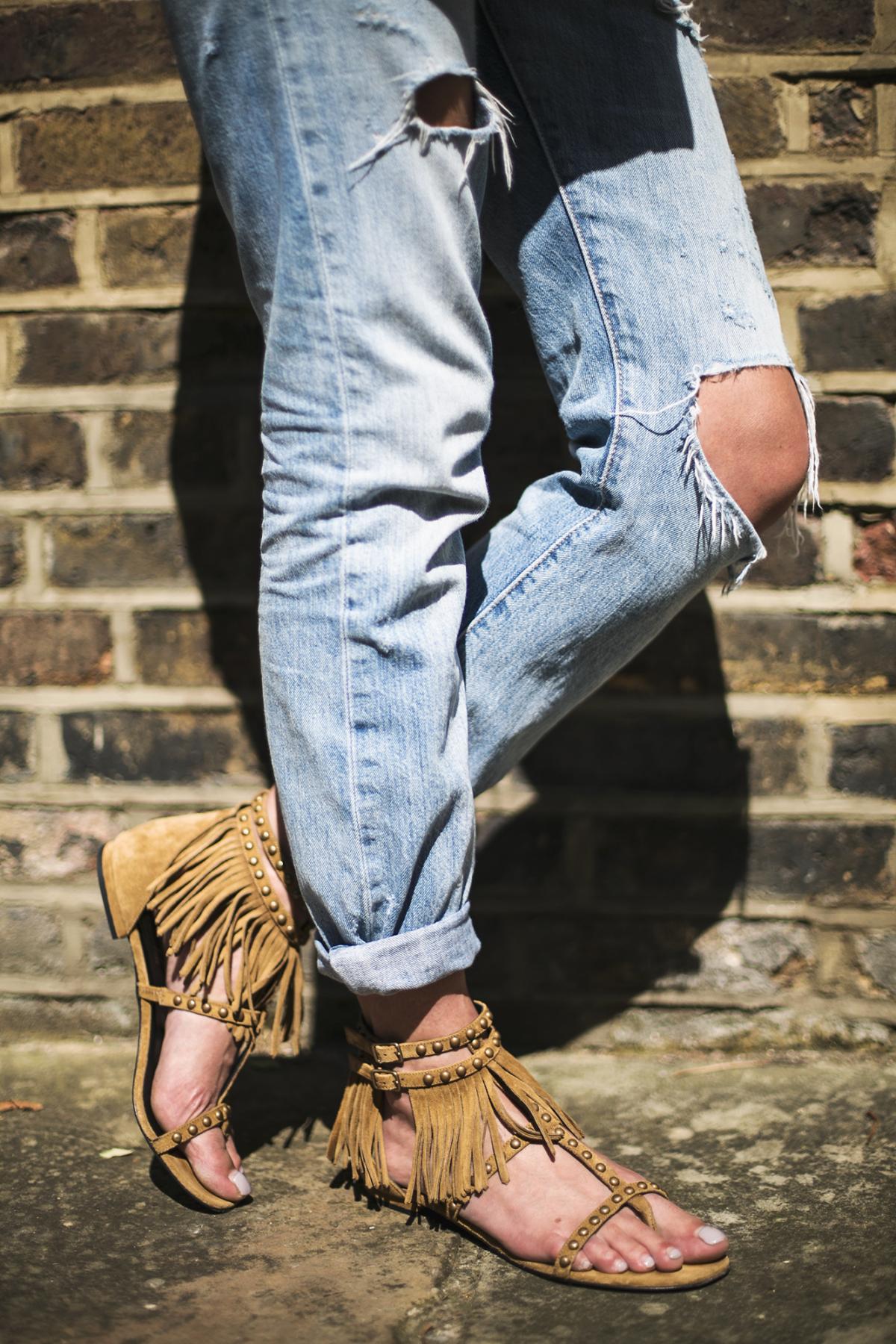 Outfit Details
Sandals – Saint Laurent at Luisaviaroma (also available in Black and Gold)
Bag – Celine
Wedges are the perfect way to add some height to your summer footwear.  These Chloe wedge espadrilles are perfect for teaming with dresses, jeans and shorts and keep outfits looking fit for the season.  The wedge is also the best option is you are attending any kind of event on grass, a Wedding, garden party or a day at the races.  They are definitely a must-have for my summer footwear collection.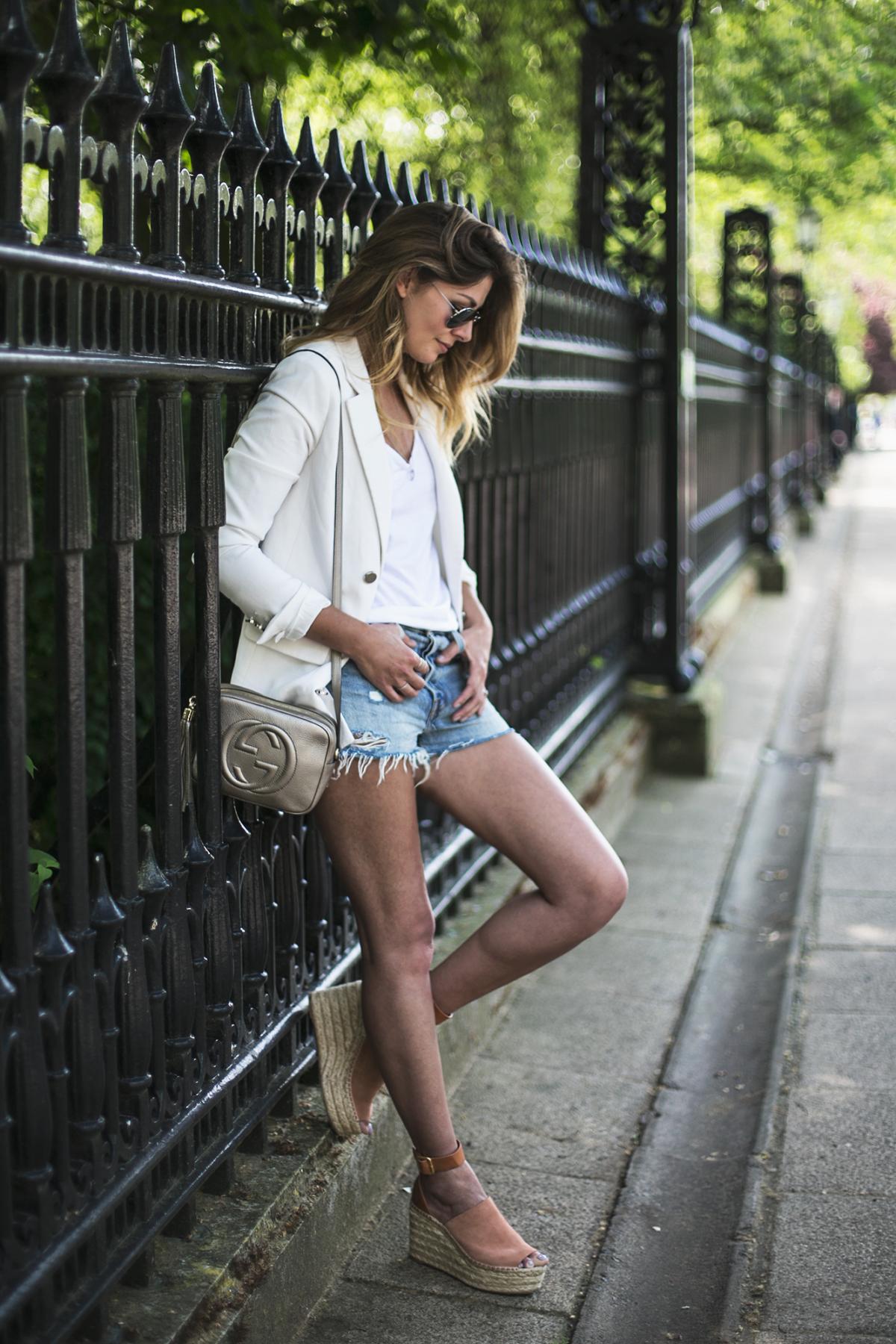 Outfit Details
Blazer – Forever 21 (Old, but similar here)
Wedges – Chloe at Luisaviaroma