I'm so excited to bring you guys this new feature 'EJ Eats' (#EJEats) mainly because it means I have an excuse to go out and eat because it's now "work" 😉  There's been a few changes over the last couple of weeks here at EJ Style and there will be a few more, but it's all good, as I'm bring you guys more content with more variation.  Don't worry, you won't be losing out on those style posts, I'll just be integrating in some lifestyle elements such as EJ Eats.  I'm not going to put a specific day aside for the EJ Eats feature, nor am I going to say it's a weekly or fortnightly thing, it will just be as and when, but if you follow me on Instagram and watch my stories then you'll know that I love food so there will be plenty to come your way.  There will be restaurant reviews from London and of course from everywhere on my travels and if I'm being honest, most of them will more than likely involve a burger...I am 👸🏼 of burgers!
WHERE
For my first EJ Eats we went to the Superheros Diner in Whitehall.  Most of you have probably never heard of this place and if we didn't drive past it every week on the way to our shoot locations then I wouldn't have either, but, I love a diner and so after a day of shooting on Sunday we decided to stop off and have lunch.  In my eyes a diner isn't a diner if it isn't themed, and I must say these guys have the theme nailed.  The diner seems quite small from the outside, located on Commercial Road, just on the Corner of Rampart Street, but as with most London buildings narrow but long.  The downstairs seating area is dimly lit with a green glow and you sit within barred jail cells, if you're lucky, the one next to Heath Ledger as the Joker.  I said to Simon that the owners must have spent a small fortune on props and decor because this place gives Planet Hollywood a run for it's money and for any comic book/superhero lovers out there, this place will have you instagramming like crazy.
 At entrance level there is more light and again more props to feast your eyes and your camera on.  We sat underneath a life-size Spiderman who was just casually perched on the wall, I felt safe...even though he was made from fibreglass.  The theme runs throughout the entire restaurant, including the toilets which sadly in my opinion were an epic fail, and maybe they just seemed like a good idea at the time.  For guys I feel like toilets aren't such a big deal but for girls they can be a deal breaker.  I head down into the basement to wash my hands before our order arrived and as Simon had paid a visit ahead of me he left me with the words 'I can't wait to see what you think of the toilets'.  After heading downstairs and being wowed by the jail scene decor I spotted the neon green glow of the Hulk themed hazardous waste facility, aka the loos.  It wasn't the luminous green atmosphere that offended me but the metal toilet with no seat was another matter.  When we entered the restaurant is was lunchtime although it was very quiet, just one other table aside from us, so there's no excuses for poor hygiene.  I'd say the cleanliness of the toilets could have been better and they've done themselves no favours with having the toilets themed in such a way, they need to overcompensate with a smell of bleach, at least for the ladies.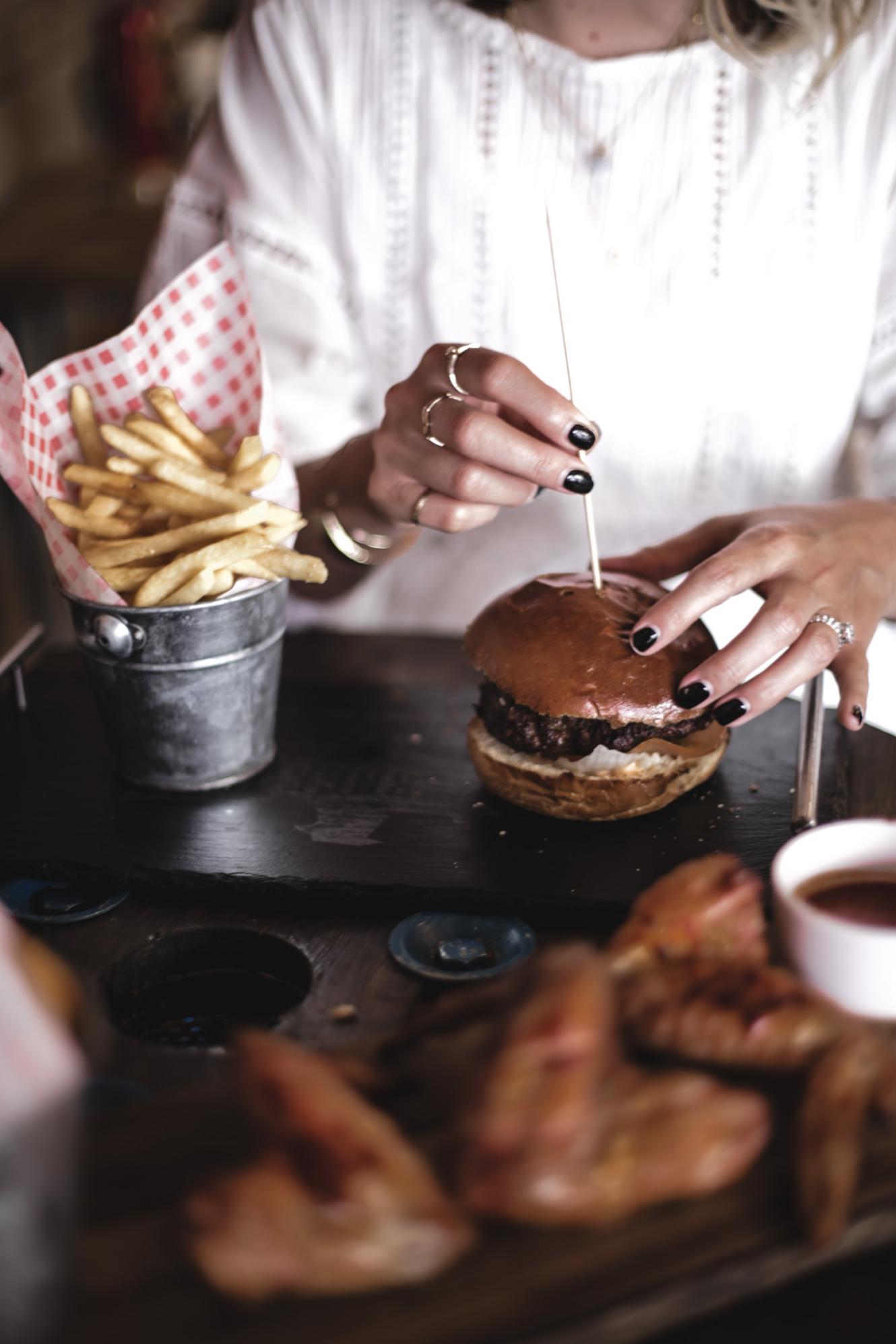 THE FOOD
They have 2 menus, one for breakfast and the main menu for lunch and dinner.  We were too late for breakfast although in hindsight I should have checked out the menu to report back to you guys but cut me some slack, this is my first EJ Eats 😉  If I'm being honest I didn't think the main menu was that varied for a diner, but maybe I've been spoilt whilst on my US travels where everything is bigger and better.  When I spotted the words Gourmet Burgers I was sold on that half of the menu.  I opted for The Gamma Ray Smasher Burger which comprised of a beef patty, cheese, messy cheese, mash paste, turkey rashers, onions and sauce.  You have the option to make your dinner a meal which adds fries and a drink and also you can choose what size burger, the small being a 'Bruce Banner' and of course a double being a 'Hulk'.  I stuck with a Bruce Banner and went for the meal option because you can't have a burger without fries right?!  This was £9.99 which as burgers in London go, isn't bad.  Simon went for the Thors Thunderclap Buffalo Wings (x3) which were humongous with a side of curly fries and a cappuccino.  I may have also ordered a sneaky Oreo & Nutella Freak Shake which cost a whopping £6.50, but man was that good.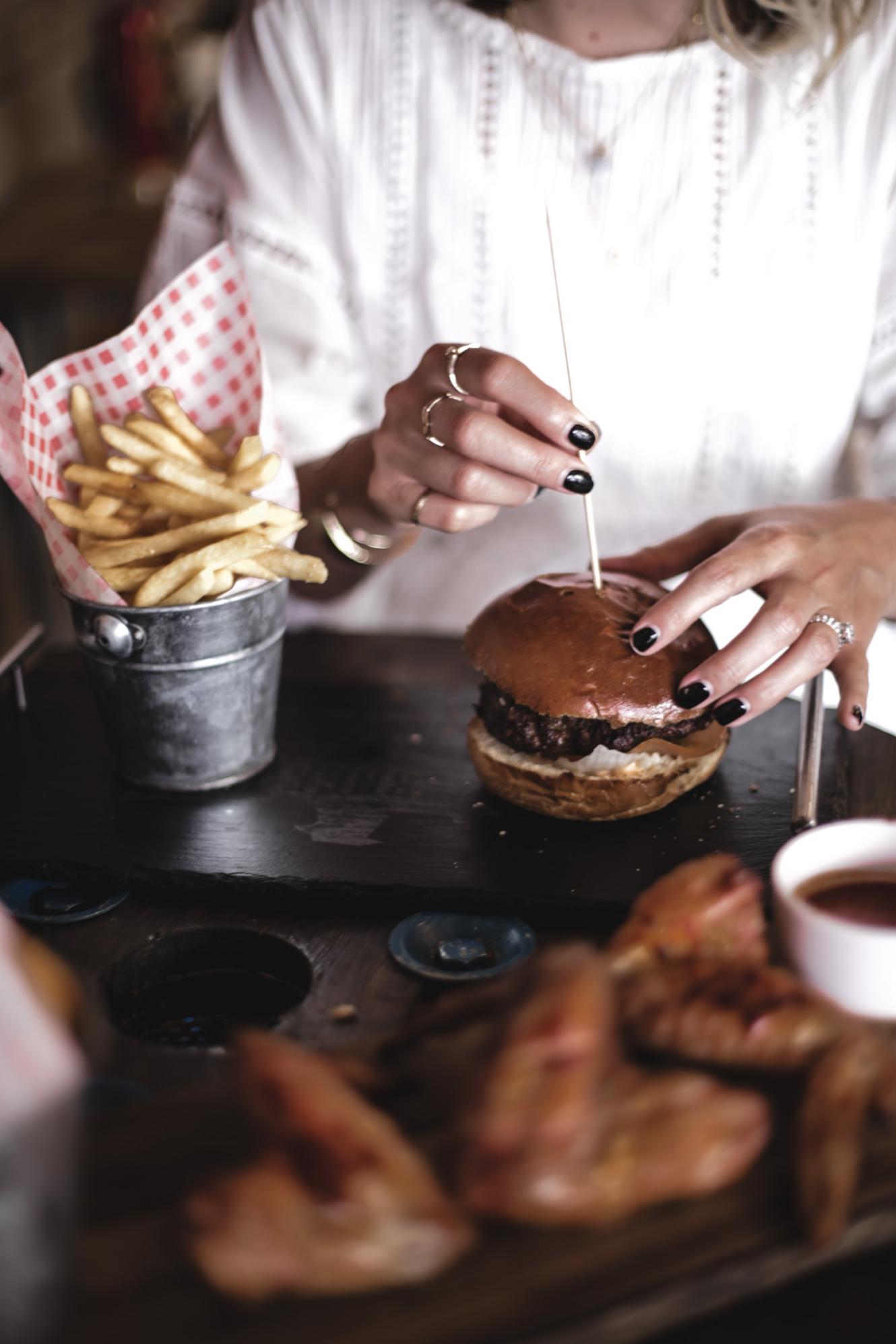 The food arrived within 15 minutes which isn't bad and the presentation was good for a diner.  Fries and Curly fries were served in those little buckets and my burger was served on a slate serving platter with the restaurants logo, again a nice touch.  Simon's giant wings came on a wooden serving platter and they had my tastebuds in a real state of FOMO as soon as they hit the table.  My burger on the other hand was a little, sad.  The meat was well done (I wasn't asked how I wanted it cooked) but luckily I will only eat well done beef so thankfully I didn't need to send it back for extra cooking.  Although I have a feeling for anyone that enjoys a burger "the way it's supposed to be' a little more on the medium side then you might be disappointed.  I wasn't sure what mash paste was but as I dismantled my burger for examination I soon discovered that it wash mash potato, probably about a tea spoon (if that) worth.  Sadly the same went for the cheese and messy cheese of which there was a tiny amount in the middle of the bun.  There was one rather dishevelled piece of lettuce and I wish I'd taken a picture of turkey rasher which was more like 1/6 of a turkey rasher.  I loaded the burger up with ketchup and tucked in.  As I consider myself quite the burger expert I can only say that this burger was mediocre at best which was so disappointing.  Simon's chicken wings on the other hand were delicious, even with the extra hot sauce that he requested, and as were his curly fries.  
SERVICE
Personally neither of us can really fault the service because our experience was all smooth sailing.  You place your order at the counter and they bring your food out to you, simple.  However like I said there was only us and a table of 4 in the entire restaurant and somehow the table of 4 were only brought 3 meals.  The whole situation carried on right until we left and I have to admit I did feel sorry for the poor guy who was rendered burger less whilst his mates all chowed down.  There seemed to be a lot of confusion about the order and one of the guys from behind the counter came out at least 3 times to check what exactly they were missing.  Yes ok, this wasn't my experience but when this is all going on right next to us I did feel the need to report back to you guys.  The staff were polite, from what I could see there were 2 guys working behind the counter and perhaps one in the kitchen, I'm not entirely sure.  I did wonder if we might have got some special treatment as they could see we were taking pictures and therefore surely about to review the place but judging from my burger, clearly not 😂
Shop the Post