I haven't given up on Summer just yet.  We might have had a couple of weeks of not-so-sunny skies but London has a real habit of surprising me with it's weather u-turns.  Now with the forecast looking brighter for the rest of August and yet another Indian Summer ahead of us I'm not packing away my Summer wardrobe just yet.
Today I've teamed up with ASOS to bring you my interpretation of a perfect Summer outfit at a time when shopping for warmer weather can be, well, a little tricky.  June is the month of Summer sales and once those have petered off (around mid July) stores start to bring in their Autumn offerings, and sorry but this can be a bit of a pain in the ass when the sun is still shining and you've got payday money festering away in your bank account   But alas, king of the online shopping emporiums and my all time fave ASOS are here to save us from this 'knitwear-in-August?!' hell.
I think by now you've all come to know that I love a pair of chinos, and whilst browsing the 'New In' section recently I came across these wide leg cropped chinos and into the basket they went.  I needed zero persuading that they should be part of my wardrobe but for every new pair of trews...of course I need a new top, duh!  So off I set on my quest to find something summery and ta-dah, this spotted cami appeared, as if by some sort of ASOS magic.  I'm utterly incapable of heading to the checkout with only 2 items in my basket, my rule of thumb is that I should have at least 4 because who wants a delivery of just 1 thing? Sad times.  I thought I'd jazz up my new found outfit with some new sunnies.  I'd been looking for some smaller sized (not bug-eyed) cat-eye shades for a few weeks and without wanting to spend a fortune on them these ones fit the bill perfectly.  Just to finish off the look and also work that statement earring trend I'm donning these double twist gold hoops.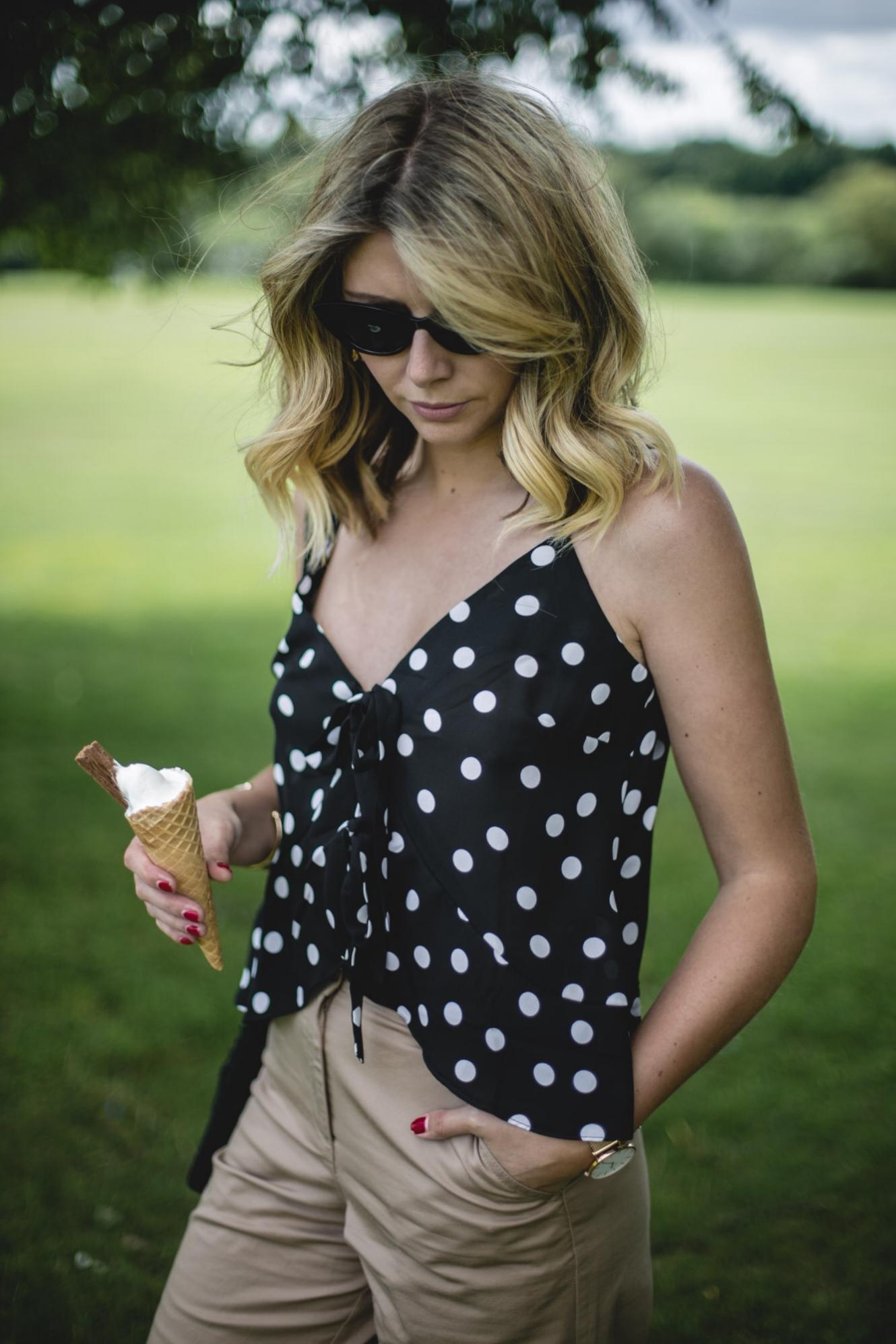 Outfit Details
Sunglasses - ASOS (also similar here)
Earrings - ASOS (also similar here)
Bag - Bought from a Farmers Market but similar here
Shop the Post

This post was created in collaboration with ASOS. As always all words, opinions & images are my own.