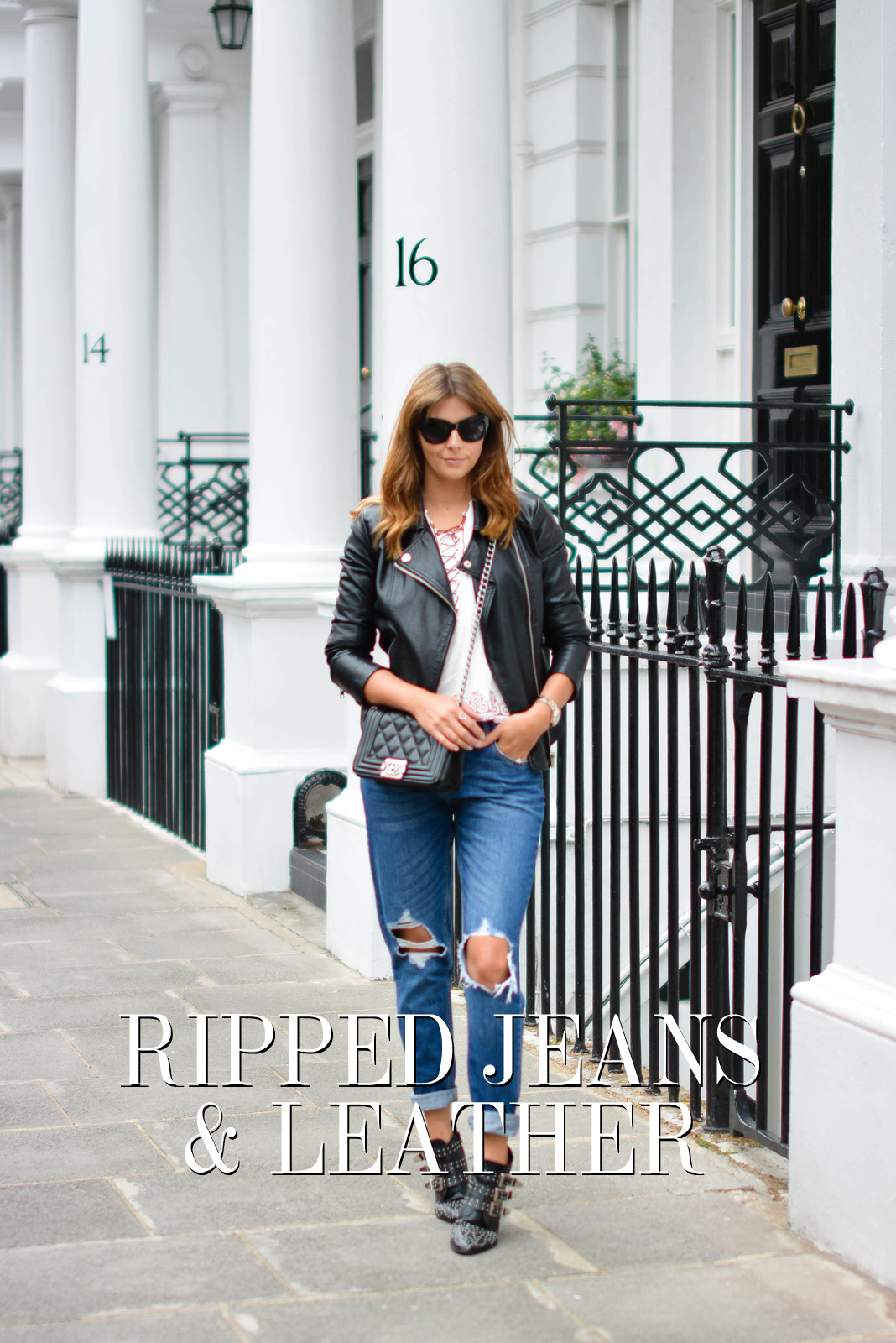 I had a full blown post last week on my love for Boyfriend jeans aka. bfj's so I won't natter on too long about the 100 ways in which you need them in your life, I will however share my tips on styling them for a festival.  Festivals aren't always scorching hot and on these occasions when all you've packed is butt-cheek-baring hot pants and a bralet that you'll wish you had a pair of jeans.
Rule no.1.  They should always be ripped!  This allows for ventilation (always a bonus) and lets face it, they just look cool.  Well at least amongst the generations who appreciate this kind of fashion.  My fiance's Grandad once asked me if I'd been mauled by a jungle cat because he just didn't get my jeans.
Rule no.2.  They look fab with leather.  Doesn't everything? Well yes but in this particular instance the biker jacket is the ultimate partner for your bfj's.
Rule no.3.  Keep them baggy and roll the hems.  It does surprise me when I see girls sporting a pair of boyfriend jeans which they have clearly bought 3 sizes too small so they fit snugly.  Girls, just buy skinny jeans!  Bfj's are meant to be baggy, the clue is in the name.  Rolling those hems, why?  Well it creates at better shape by tapering in the lower half of the leg.
Rule no.4.  Belt them.  Ok so I haven't actually followed my own advise in today's look but trust me, a belt does instantly add extra rock 'n' roll factor to a look
Jacket – Forever 21 (Similar style here)
Top – Romwe
Jeans – Boohoo
Boots – eBay (Similar here also)
Bag – Chanel (similar non-branded version here)
Sunglasses – Forever 21 (Similar here)
Watch – Guess
Ring – Monica Vinader