Skincare.  We all have some form of skincare routine even if it's a very basic one and everyone has a different view on skincare depending on what's right for them and their skin and rightly so because only you know what's best for your skin because you live in it.  But regardless of how basic or intense your skincare routine, there is a correct way to layer your products.
The Korean skincare routine is probably the most complex and also the most indulgent of them all.  It's the 10-step routine and involves, you guessed it...10 steps.  To some of you this might sound crazy but actually they see it as a way of pampering yourself everyday and treating your skin with the respect it deserves.  Admittedly I don't complete all 10 steps of this routine everyday because as I mentioned, skincare is personal and should be tailored to the individual.  I also find that my skincare routine isn't the same every single day, some days my skin might be dry from being in and out of air con or central heating, some days my skin might be more oily than usual, it really does depend on numerous factors.  So I adjust my own skincare routine to suit what my skin needs on that day.
Below is the correct order in which skincare should be layered but do bear in mind that you don't have to use all of these products in one day, adjust what you use to suit the needs of you own skin.
#1 - Make-Up Remover/Oil Cleanser
If you double-cleanse (this is exactly what is sounds like, cleansing twice) then your oil based cleanser should go first.  I use this one by Dermalogica on an average day, it smell delicious and feels like heaven on my skin.  The beauty of an oil based cleanser is that if you wear SPF during the day (which you really should be) it's tough enough to break down the SPF and full remove it from the skin, rather than leaving a slight residue which will only block your pores causing blemishes.  Double-cleansing is also very beneficial if you live or work in a city, I started double-cleansing about 2 months ago and I wouldn't go back.  If I've worn a little more make-up than usual, for example on a night out or a photo shoot then rather than using my oil based cleanser I'll opt for a make-up remover like this one from instead or a Micellar Water, Bioderma is always a must for me.  I apply this to a couple of large facial cotton padsand gently cleanse my face.  You'll notice there is no mention of face wipes at all in this post, I don't encourage the use of them one bit, not only are they incredibly bad for the environment but they are terrible for your skin.
#2 - Foam/Cream/Balm Cleanser
This is step 2 of the double-cleanse or if you just cleanse once then this can count as your first step.  I use this cream cleanser from La Roche Posay, it's mild, never irritates my skin and doesn't dry it out.  My skin is always left feeling fresh and super clean because the second cleanse is almost like a double-check that I've got all traces of dirt and make up off my face.  If you like to see physical evidence of what's coming off your face then I also love balm cleansers; Clinique Take The Day Off and Elemis Pro Collagen are great and used with with a soft facial cloth or a muslin cloth you can see all the grime that's been sitting on your face for the day.  There's no real need to double cleanse if you don't wear make-up on a daily basis, unless you just want to pamper yourself.
#3 - Exfoliator
I use an exfoliator every few days, it really can depend on the week I've had.  I just judge my skin on the day and see if I think I need to exfoliate.  But when I do I use this Black head clearing exfoliator from Clinique.  If I have used some kind of fake tan then I will exfoliate more regularly to ensure an even coverage of the next layer of tan.
#4 - Toner
This was always one step that I used to skip out of sheer laziness but the point of toner is to hydrate your skin after all the thorough cleansing you've just done.  If you've double-cleansed and exfoliated then a toner will soothe and prep the skin for any treatments that you're about to apply.  I now never skip my toner because it also removes excess oil around my t-zone which is one of my problem areas.  As with any skincare product there are lots of different options for different skin types, so if you have dry skin then hunt out a toner which has moisturising qualities (Vitamin E or Rosewater), or if like me you suffer from oily skin or an oily t-zone then try this toner from La Roche Possay.  It comes in the form of a pressurised spray so I simply spray some on a cotton pad and sweep over my face, focusing on my t-zone (and avoiding any areas that might be suffering from dryness).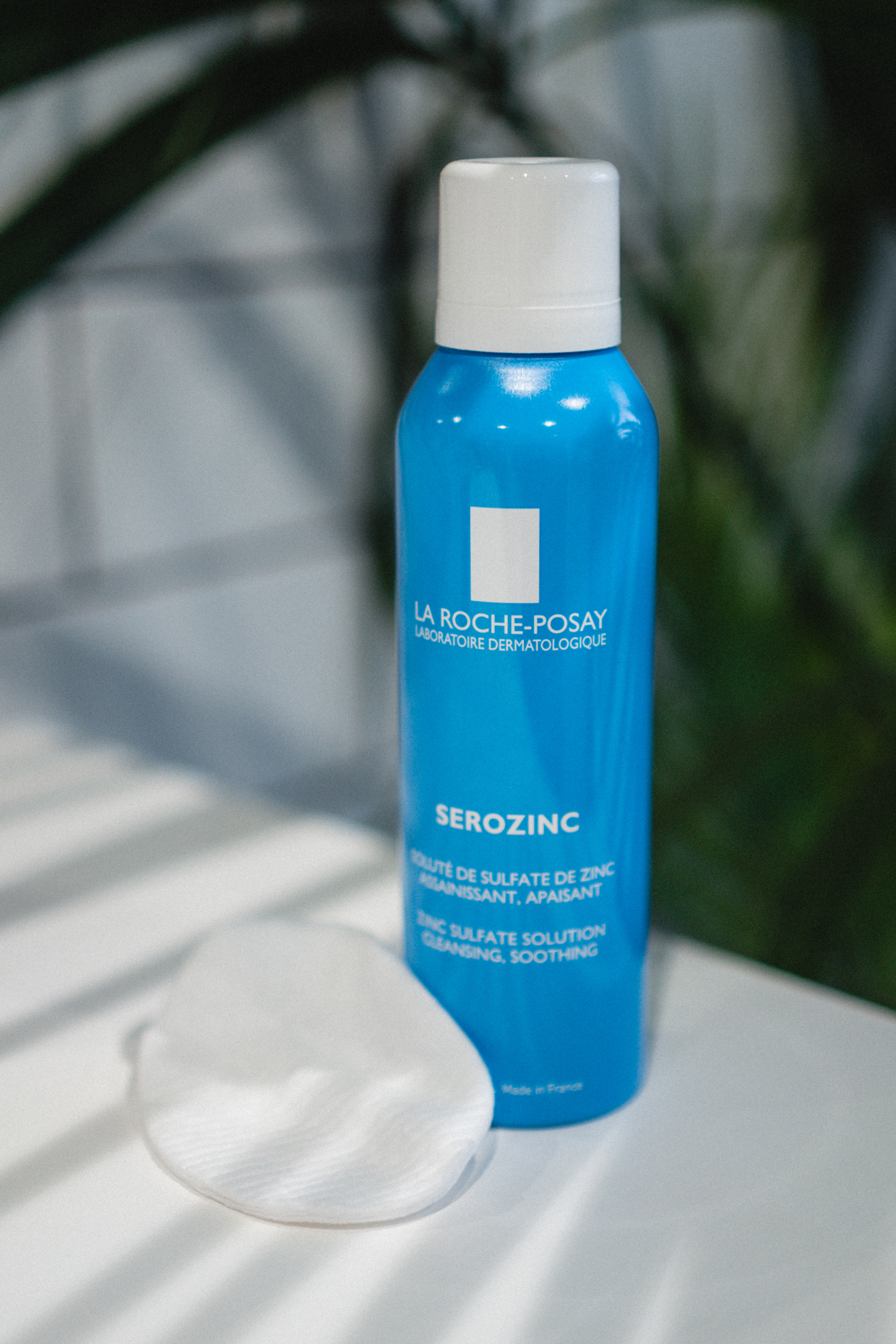 #5 - Essence
This is actually a new product to me, I'd never even heard of essence until about 4 months ago and I certainly didn't know what it did.  It's a huge part of Korean skincare which is where the 10-step skincare regime comes from and technically speaking it's the same as a serum.  If you've ever used an essence before then you'll have noticed that they're normally a different consistency to a serum, more 'watery', somewhere in between a serum and a toner.  With all the new beauty launches being thrust our way these days it's getting harder to tell the difference between a serum and an essence and there will be some cross-overs.  To be honest, I don't apply an essence as part of my daily routine but if I really want to indulge my skin and have a pamper session then I'll use this one from Estee Lauder.  One of the more famous essence products on the market is this one by SK-II, I've yet to try it but it gets rave reviews.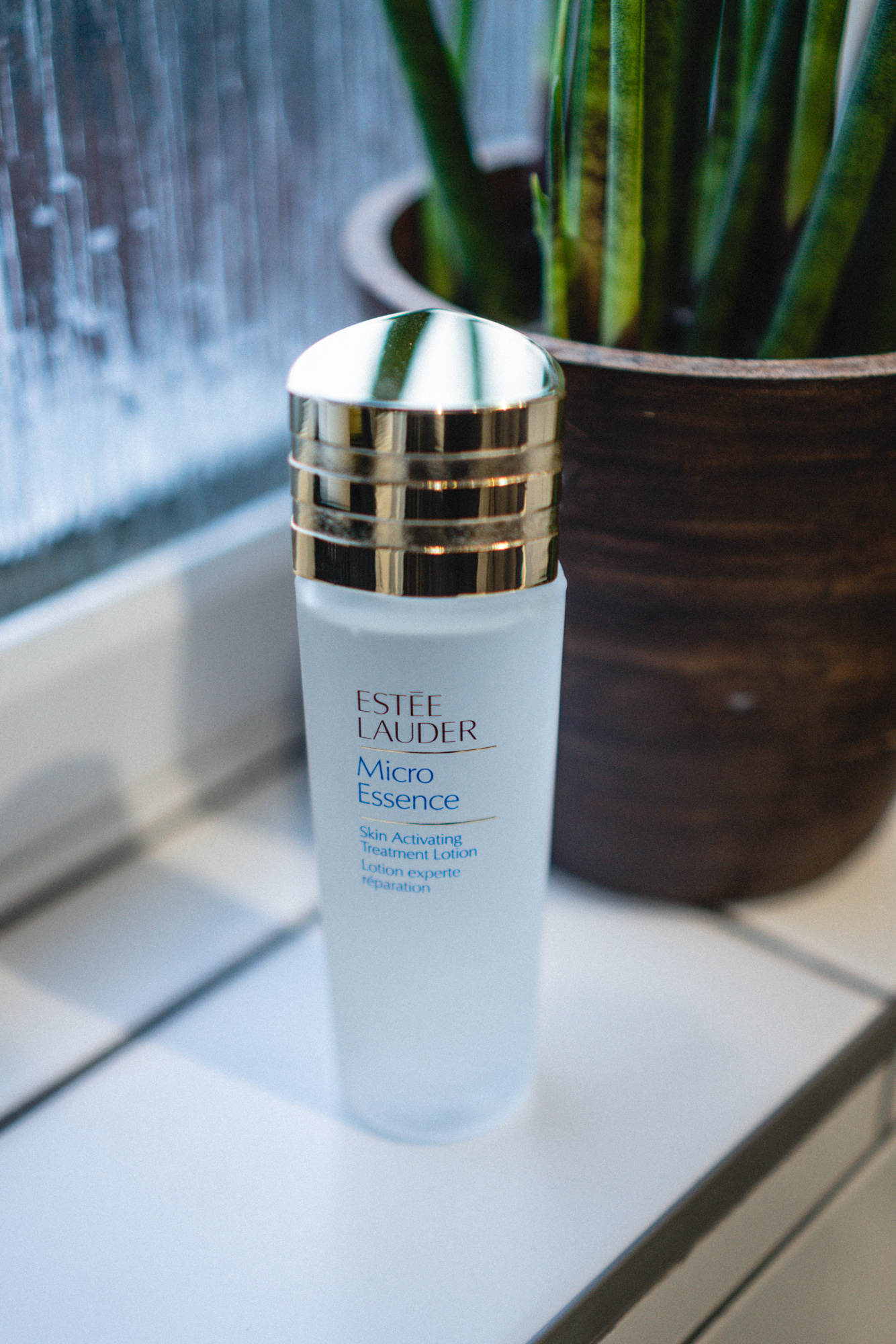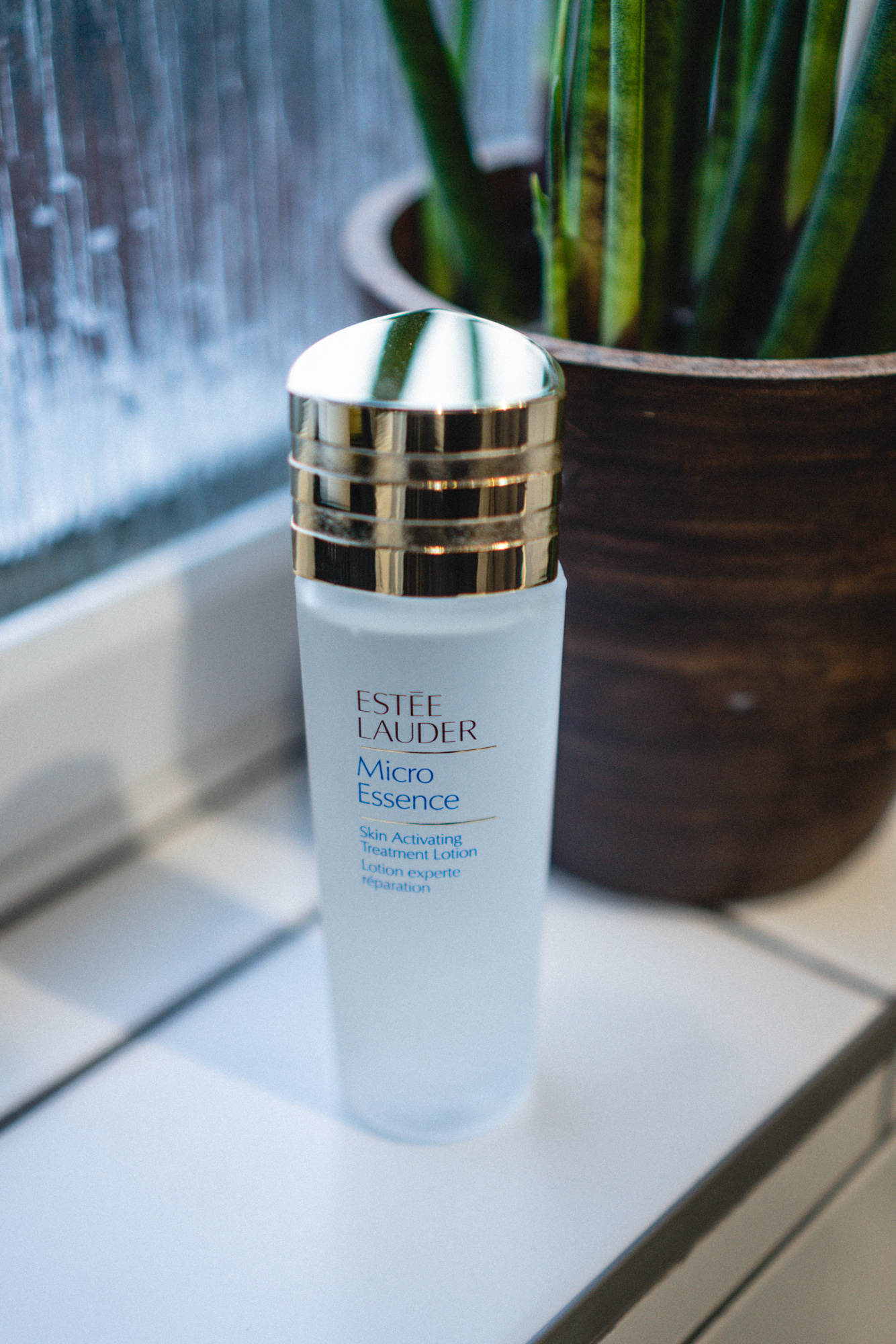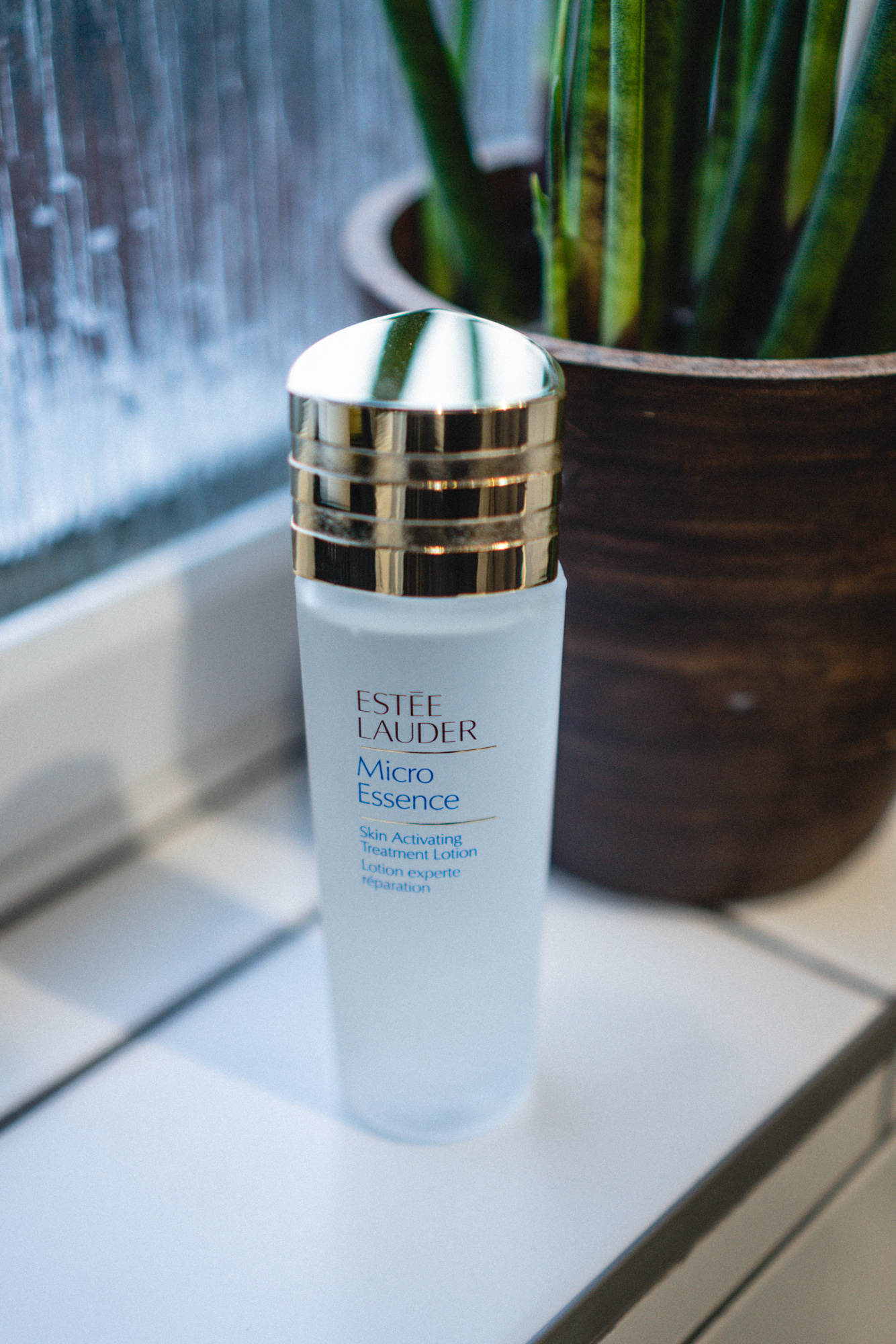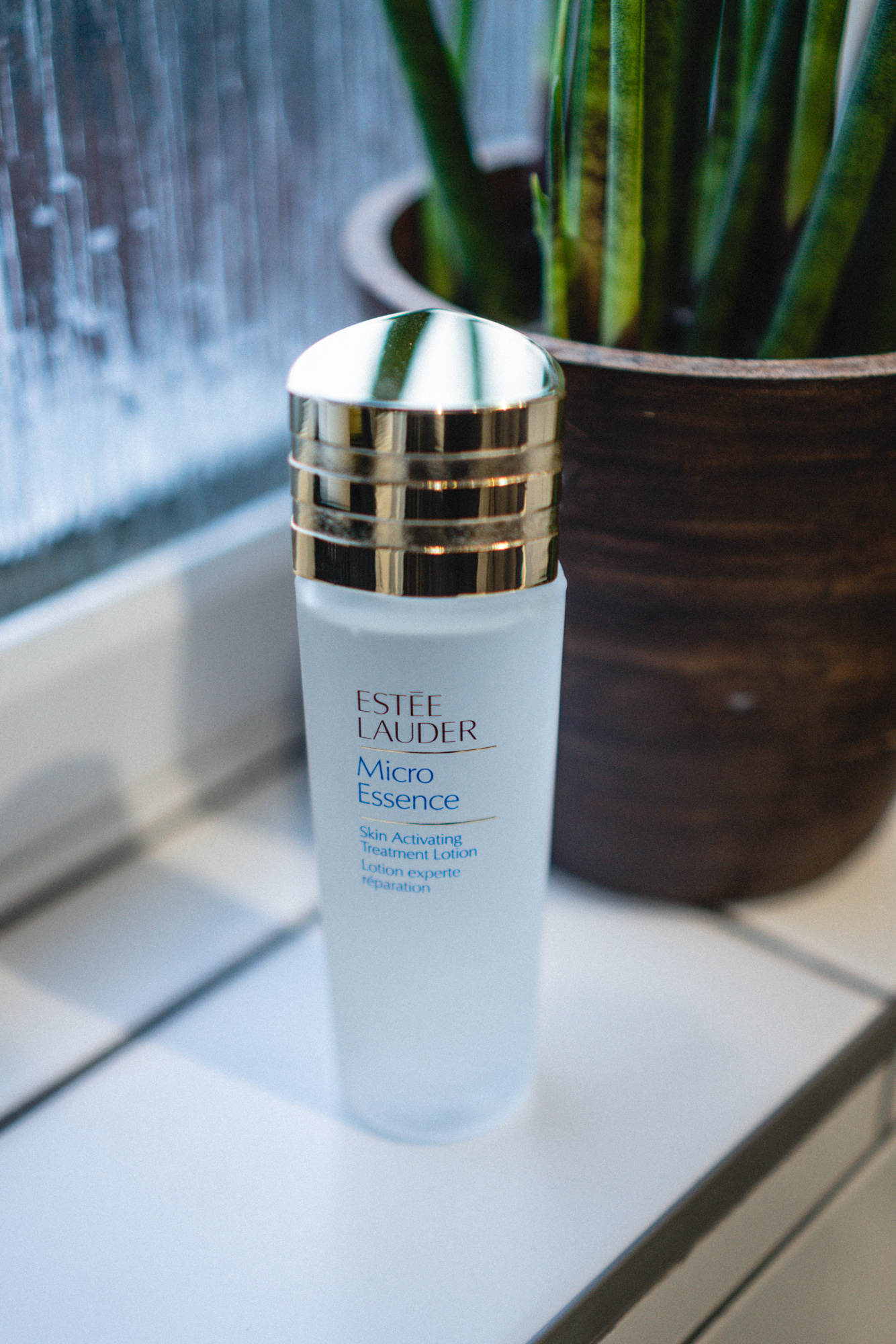 #6 - Serums & Treaments
This is my favourite part of my skincare regime, I'm somewhat addicted to serums and I have a fair few in my skincare collection but the ones I like the most are and I always gravitate back to Advanced Night Repair from Estee Lauder.  There are lots of different serums out there which can treat different things from age spots to pigmentation or redness, just do some research in to what's the best serum for you and your skin type.  Vitamin C is a popular ingredient to look for in a serum as it's a powerful antioxidant and can really rejuvenate the skin.  Serums with Vitamin C can be used both day and night but just be warned that they can leave an orange residue on your pillow if using overnight.  Look for Vitamin C serums in dark coloured bottles and be sure to keep in a cupboard or drawer so that the Vit C doesn't lose it's potency/effect.
Retinoids: Heard this word before but don't know what is it? Well if you're not using a retinoid I would high recommend trying one.  They are somewhat of a miracle treatment for skin especially if you suffer from any acne scaring or like me, years of underlying sun damage from not wearing SPF as a teen.  They also improve the appearance of fine lines and wrinkles and smooth out the skins texture.  I'm currently using these capsules from Elizabeth Arden which are amazing because they have just the right amount of product in each capsule.  Plus unlike many other retinoids on the market because these are in capsule form it means the retinol is 76% more potent because retinol is incredibly sensitive to both light and air.
If using a retinoid serum then make sure you leave about 15-20 minutes after washing your face before you apply this and then apply your moisturiser over the top to prevent dryness and I would say it's best to use in an evening.  Depending on your skin type you should adjust retinoid use accordingly, for example, I use one of my capsules every other night otherwise my skin becomes very dry and can even begin to peel in certain areas like my cheekbones.  Your skin might take a few weeks to get used to it but it's well worth it in the end.
#7 - Face Mask
I love a face mask, and so does Simon.  I use this one from The Body Shop in the middle of the week because I feel like it really draws out any impurities and just gives my skin a mid-week freshen up.  If you have sensitive skin then I would stay clear of this one because it will feel like your face is on fire.  On a Sunday evening Simon and I sit down with a face mask whilst unwinding and watching the telly.  I have a few favourites; Lumene Deep Clean Purifying Mask, Sand & Sky Australian Pink Clay and Rodial Super Acids X-treme Hangover and Simon is a fan of anything that peels off or heats up.  If I'm in a rush then I also like speedy masks like this 60 second  Instamud ™️ pore refining treatment from Glam Glow.
#8 - Eye Cream
This is the most delicate area on your face so whatever eye cream you use just make sure you apply gently and with care.  Tugging and pulling at the skin around your eyes can cause premature wrinkles, and who wants that right? My current fave eye creams are; La Prairie Contour Cream, La Roche-Possay Hyalu B5, Elizabeth Arden Prevage Eye Serum and Estee Lauder Advanced Night Repair.  I apply my chosen eye cream using my ring finger (which is apparently the most gentle finger on your hand, not sure how true that is though) I lightly pat the product in being careful not to drag the skin, focusing on my problem area which are the 'crows feet'.
#9 - Moisturiser
You might choose to have one for day and one for night like I do or if you have a more basic skincare routine then you might be sticking to just one, but it really should be applied both morning and night.  A common misconception about moisturisers is that they hydrate your skin, but technically speaking this isn't possible because moisture comes from inside the body, much lower than a moisturiser can penetrate.  Moisturiser acts as a barrier, sealing in any moisture which is why it's so important to keep yourself well hydrated.  It also seals in all the other products that you might have used throughout your routine and allows them to do their job, especially over night when your skin is regenerating in the comfort of your bed.  I'm currently using this moisturiser during the day as it has an anti-pollution formula and in the evening I've been mixing it up between this Sleep Cocoon from Dermalogica and this Pro Collagen Overnight Matrix by Elemis.
#10 - SPF
I wear a minimum of factor 50 on my face every single day.  As a youngster I barely ever wore SPF and now I'm paying the price.  I'm 33 and I have age spots (also known as sun spots or dark spots) appearing all over my face and after a trip to a Dermatologist who assessed my skin under a super-duper microscope it was made official, I have a lot of underlying sun damage.  I was around 28 when the first age spot started to appear on my cheek and I tried so many lotions and potions that claimed to either diminish or fade age spots but the only product which is working for me are my retinoid capsules (mentioned above).  I could get laser treatment but I'm not quite ready for having a laser on my face just yet.  So if you're still in your 20's then I urge you to use SPF daily if you don't already do so, your skin will thank you later on in life.  If you're in your 30's, 40's, 50's etc then I still advise using one daily to prevent any further sun damage to your skin.  It should be the last step of your skincare routine so there are no other products to dilute the SPF or interfere with it.  Ideally SPF should be re-applied throughout the day but I know that's not always practical for everyone.  I have a few SPF products which I love using, for a great lightweight daily SPF for under make-up then this one by La Roche Possay is ideal, it also comes in a tinted version too if like me you don't wear foundation and prefer a tinted moisturiser.  If you live in a city then this anti-pollution serum/SPF from Elizabeth Arden is incredible, I'm already on my third bottle of this stuff!  I often wear this just on it's own as my base.  If you find a lot of SPF's greasy and you want an moisturiser and SPF combined then I would highly recommend this one from SkinCeuticals.  It was recommend to me by my Dermatologist (at Eudelo) and it's so lightweight, not greasy at all and it helps to fight redness in the skin.  There are lots of foundations/cosmetics which contain SPF so look out for those too, but just beware, SPF causes serious 'Moon-Face' if flash photography is used so try to avoid these if you're going to be at an event, a night out or on your Wedding day.