Winter outfits are often the hardest to keep looking 'fresh' because if you're anything like me, once you find a combo that you actually feel warm in, you'll have to prize it from my firm hold.  However one trick I've learnt over the last few years since turning 30 is investing in thermal underwear…yep, you heard me.  It's not glamorous and not sexy but if it keeps my tits and ass warm then I'm all for it.  By layering thermals under my outfits I've found that it gives me much more freedom to wear the less chunky, less 'giant duvet style' winter clothes.
I've always been a fan of M&S thermals and I've also recently started trying the HEATTECH range from Uniqlo.  This isn't in any way a sponsored post just to make that abundantly clear, it's simply a styling tip that I wanted to share with you all after suffering from lack of stylish and warm winter outfits myself.  I'm wearing skinny jeans in today's look (because it wasn't THAT cold today) and unfortunately they don't leave much room for thermals underneath, they also cling to the skin and therefore don't allow for warm air to get trapped and form heat pockets.  So if it's a warm outfit you're looking for then my top tip is to stay well clear of skinny jeans, instead opt for a straight leg or looser fitting boyfriend jean (or trousers) and then you can pop some thermal tights or leggings on underneath.  As for on top, the same applies, anything tight fitting won't allow for warm air pockets so wear looser layers. Of course keep your tight thermals on as a base, I'm currently loving this cashmere mix long sleeve thermal top and any of the Uniqlo HEATTECH polo-neck t-shirts to wear under my sweaters.  You might have also noticed in some of my recent outfits over on Instagram, I've been layering shirts over my polo-necks or donning two lots of outerwear; a coat over a blazer or a coat over a chunky cardigan.  Loose layers girls, loose layers 😉
One more tip for keeping warm this Winter, but this time coming from my feet.  I often get comments and questions regarding chilly ankles, and as you might have read in this recent post socks are of course a cool way of keeping chilly ankles (and toes) at bay.  However another trick I have up my sleeve, or should I say 'hidden in my shoes' are sheepskin insoles.  So if you can't bear to part with those 7/8th jeans and trousers then give them a try.  Slip in a pair of sheepskin insoles to your trainers or as I've done here, my shiny new brogues and they heat your feet so much that it warms up the rest of your body, and quite frankly you'll be glad of the brisk air blowing around your ankles.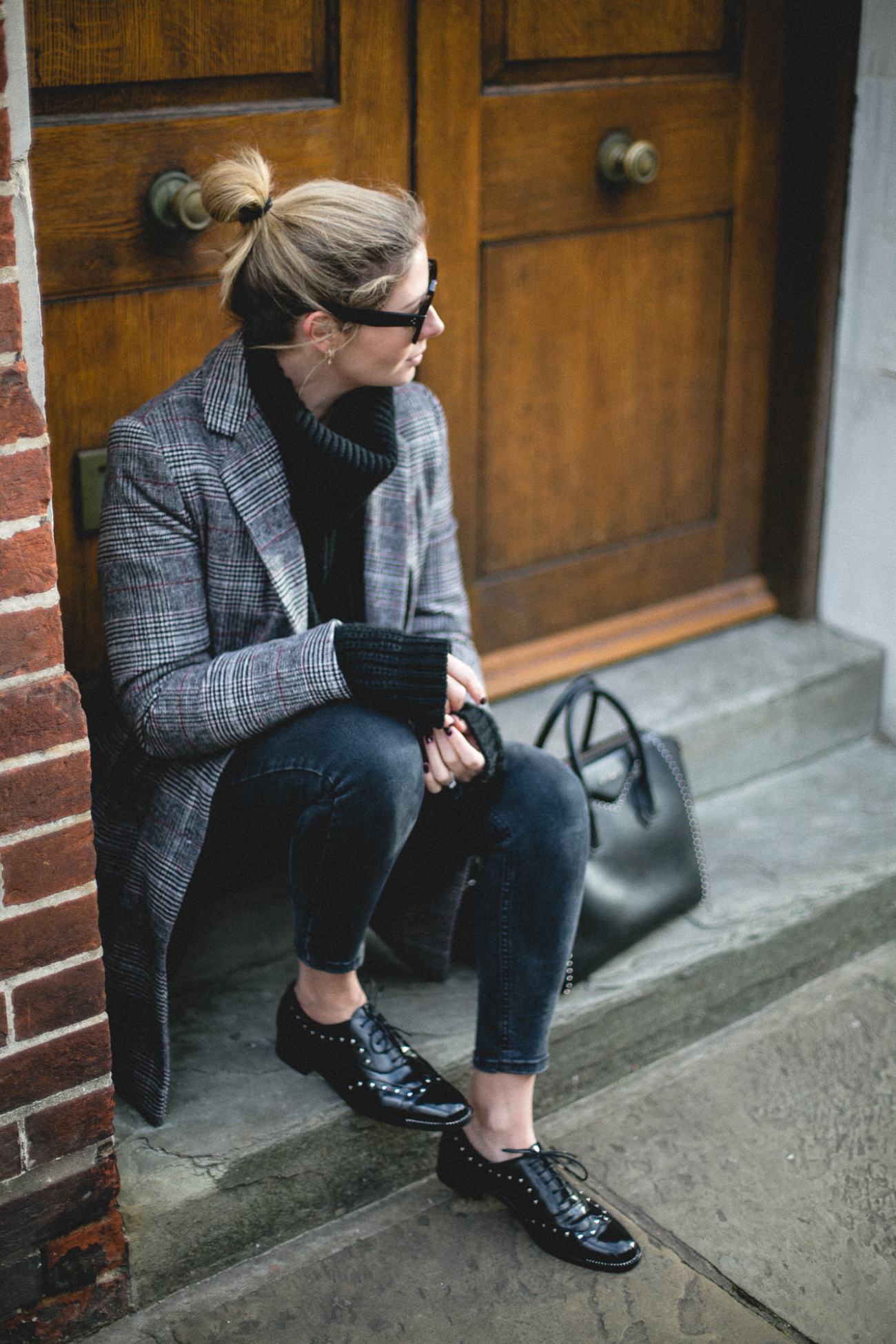 Outfit Details
Shop the Post