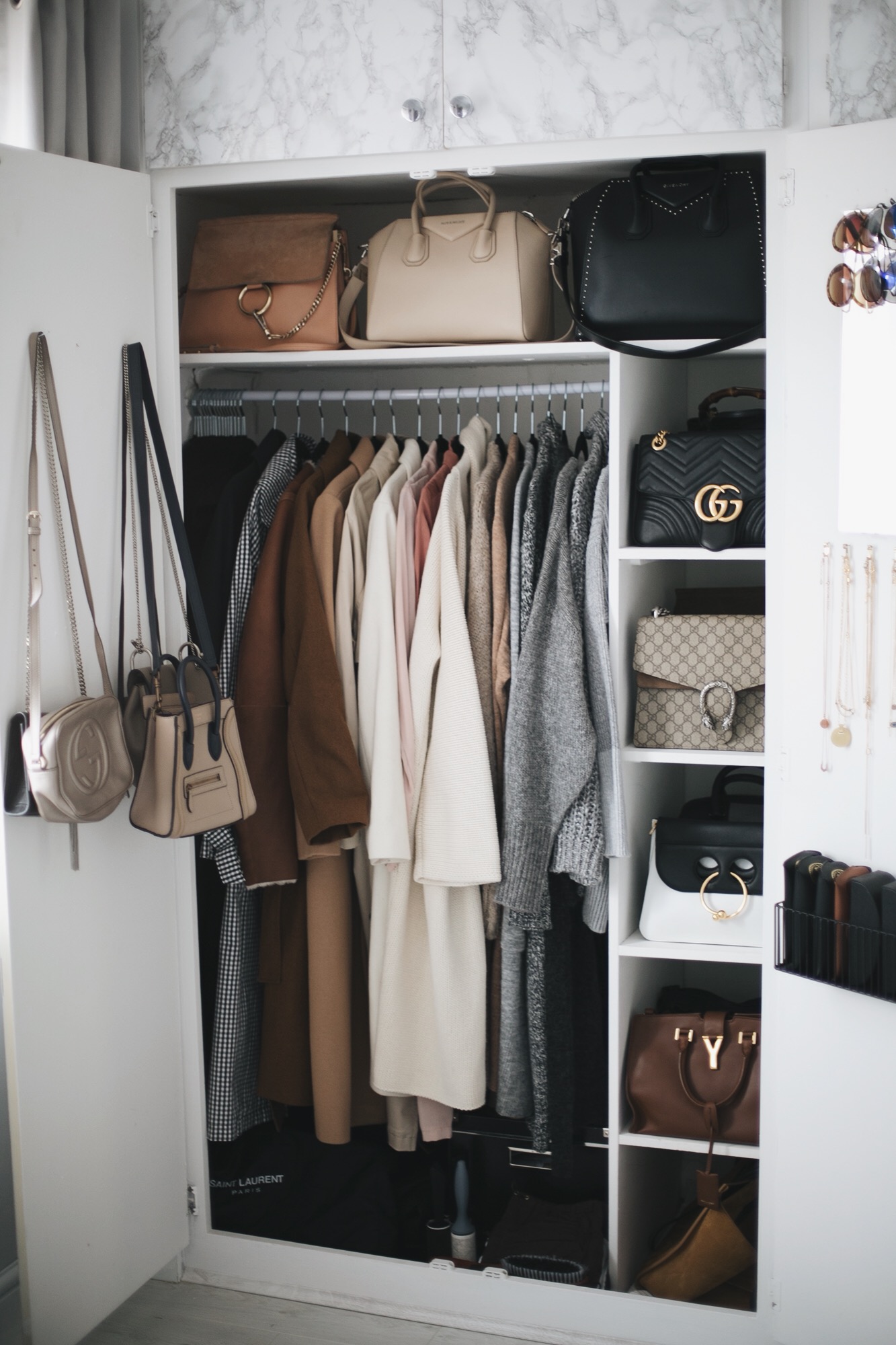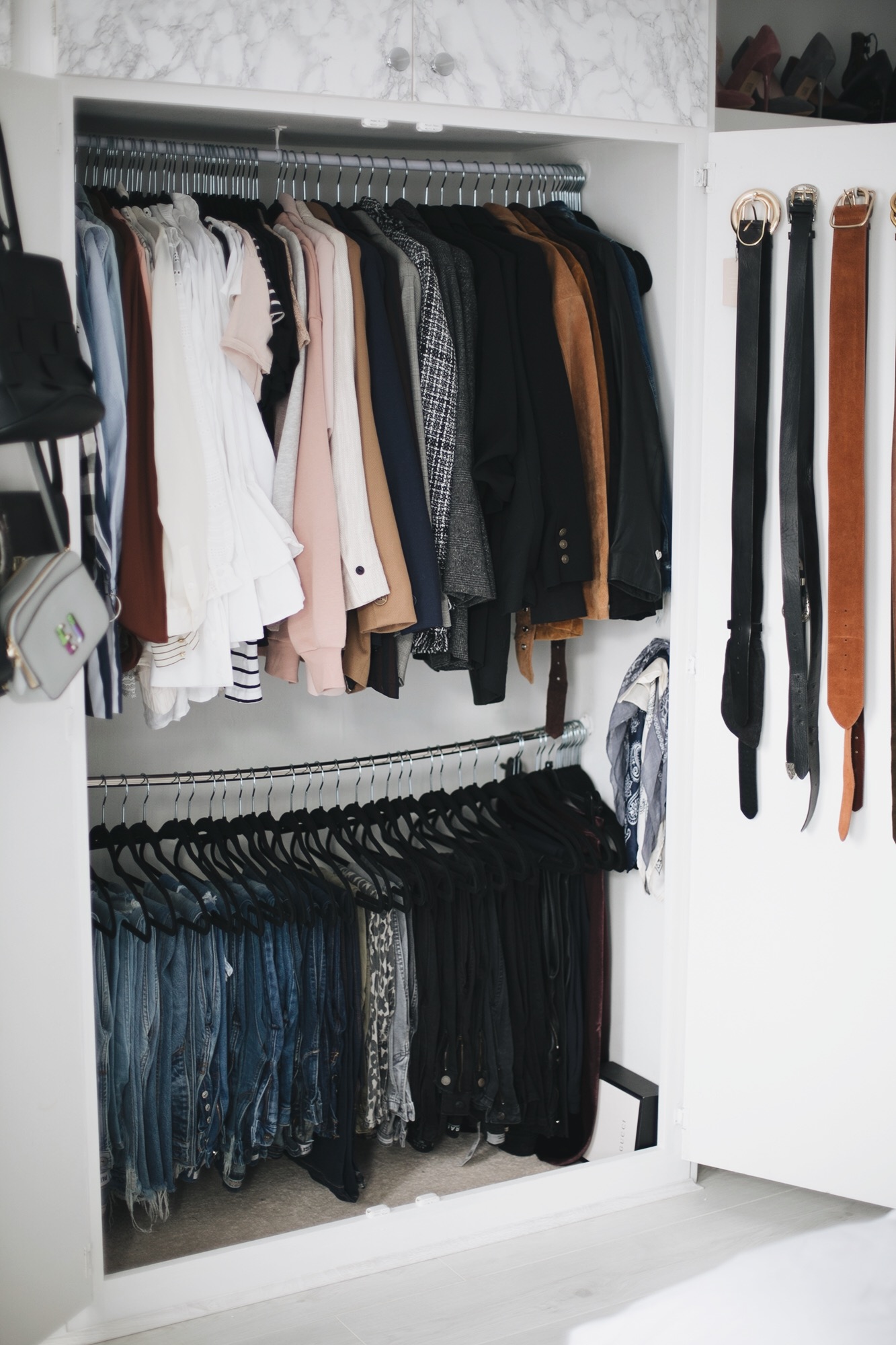 If you follow me on social media then you'll see that I recently had a huge closet detox.  This was the mother of all detox's and my gosh did my closet need this.  I wouldn't call myself a hoarder but I do have a habit of thinking 'Yes, I'll definitely wear that again' and a year down the line...I haven't.  I was pretty brutal with this closet detox, and now I wake up every morning and open my closet doors just have a peek at what I achieved.  An organised closet really does make all the difference to your style and how you get dressed every morning.  Spring is the perfect time to detox your closet, and if like me you have to put some of your Winter clothes into storage and whip your summer pieces out of storage then this can all be done in one fowl swoop.  Hello new closet!  Today I'm going to run you through my method of how to detox your closet and how to make some extra dollar from that 'no pile' to buy those new season pieces you've been lusting after.
STEP 1 -Take it all out
I know the thought of this is daunting as hell but this has got to be done.  You need a clean slate to work with so you can see exactly what's going back in to this spangling new organised closet of yours.  If your space is limited then you can work in sections, maybe try a whole shelf or rail so that that one area is completely clear.  I normally start with jeans because I have a habit of collecting and obscene amount of jeans and this tends to require the most attention when it comes to 'eradicating'.  I keep them on the hangers until it's time to start the elimination process and then I create several piles and work through them one by one before moving onto the next category...
STEP 2 - Make Piles
Once everything is out of your wardrobe you can start going through each category deciding what you want to keep and what you don't.  Be ruthless here guys because I can guarantee you will feel so much better once you've decluttered those closets and eradicated those tops, dresses, jeans that you've been saying 'I just might wear that again' for the last 5 years.  I create 3 very simple piles when going through each category; yes, no and maybe. 
'Yes' Pile
It fits
It's not damaged
It suits/fits in with your style
It's sentimental
'No' Pile
It doesn't fit
It's damaged
It doesn't suit your style
You haven't worn it in the last year
'Maybe' Pile
Not sure if it fits
Similar to something else you own
Need some extra thinking time
Damaged but could be repaired
Once you've completed your 3 piles then you can sort through that 'maybe' pile and try on anything you are unsure of. If it still fits and you love the item then it can be transferred into the 'yes' pile, if not then guys...in the 'no' pile it's got to go. I normally move my huge 'no' pile into my office so I have more room to work with all those pieces which are being kept because now it's all about the fun bit, putting it back in and organising!
STEP 3 - Re-Organise
Now you have all of your 'Yes' piles you can assess the best place for each category to be stored, based on the volume of pieces you now have left.  For me this varies season to season so I often need a little re-shuffle of the layout of my closet.  As I'm currently in the Spring phase my Winter coats have been put away into storage and I now have more room for blazers, tops, dresses (eventually) and an entire rail for my beloved denim collection.  I organise each category by colour running from light to dark.
Stay tuned for a full wardrobe tour (with organisation tips) over on my YouTube Channel next week Subscribe to my Channel here so you don't miss it
Et Voila!
Now you can stand back and admire your hard work, and doesn't that closet look amazing?! But the hard work doesn't stop there because remember that huge 'no' pile you shifted to another room? Yeh, it's still there, so go and get a refreshment and pull up a pew because now it's time to find hidden money in this pile. The majority of my clothes tend to be high street but I do have a penchant for designer denim, the occasional tailored piece, shoes & bags (obviously) and sunglasses. When going through my 'no' pile I make 3 further piles; charity shop, sell, Vestiaire. Yes Vestiaire has it's own pile, and this is the most important pile because this pile is going to make you some money so you can buy that new season bag you've been after. For anyone that's not familiar with Vestiaire they are an online marketplace for buying and selling pre-loved luxury goods. Now for anyone that's fallen a cropper to dishonest sellers on other online marketplaces (not naming any names but you know) then you'll be pleased to hear that with Vestiaire this doesn't happen. You really have got peace of mind when shopping on their site because all items are individually checked and authenticated by their team or experts in Paris before flying off to you. No market stall fakes here guys, we're talking about the real deal only. I am a regular to Vestiaire and I even have the app on my iPhone so that I can scour the 'new in' section when I'm on the train, sat watching the telly, walking the dogs...literally anywhere, it's an addiction tbh. Vestiaire now has over 4 million international users so you can imagine all the designer amazingness that goes up for sale on a daily basis. But of course you need some money to shop all this pre-loved luxury so let's chat about making you some shall we?
Selling with Vestiaire is the easiest thing in life, seriously though.  My preferred method is via the app, just for convenience, but you can also sell via the desktop site as well, just click on the 'sell' tab in the top right corner.  After doing my closet detox I found I had quite a collection of luxury/designer goods to sell so I'm going to take you through the steps of selling via the app with Vestiaire...
STEP 1
Launch the app on your phone or tablet and in the bottom menu you will see the 'Sell' option right in the middle. There will be a series of questions about your item; is it Womens, Mens, Kids or Homewear and then the app will move on to category and brand details for your item. I always try and give as much information as possible when listing an item so that a potential buyer has everything they need to make the purchase. Of course members of the Vestiaire community can send a message and ask a question about your item but sometimes time is of the essence and items sell very quickly so just be as clear as poss.
STEP 2
This is where you need to take your pictures of the item you're listing. For the first image you need to lay the item on a white backdrop (bed sheets or a towel for example). As you may have seen when browsing Vestiaire, the thumbnail images (the ones that draw you in) all have a white background, this is so that the item is clear with no background distractions. Your main image should be the best possible image of the item your selling, this is the image that will attract your buyers so make sure it's clear, in focus and fills the image frame. You the have one more compulsory image to upload, so this could be of a different angle of the item, i.e. if it's shoes then take a picture of the soles as a buyer will always want to see just how worn they are. I would never advise just uploading two images, I upload as many as possible so that I can get all details of the item. Don't forget to get close up shots of any scuffs/marks/damage to an item as buyers will be much more likely to buy something if they can see exactly what they are getting.
STEP 3
Once all your images are done you can write your description, again being as thorough and descriptive as possible.  Give dimensions of bags, state any damage, if it comes with a box/dustbag then also mention that.  Now onto naming your price.  This is where the team at Vestiaire have made our lives that little bit easier because the last step before submitting your item is a rather handy calculator.  Simply input your desired figure and it will magically calculate the amount of money that you will receive if the item sells.  Or if you haven't got a clue about how much you should be selling an item for the you can also use the Resale Calculator which will ask a series of questions about your item; Brand, category, style, fabric etc and it will suggest a price structure based on past and present similar items for sale.  Now you're ready to submit your item to the Vestaire team for approval.  Provided the item meets all the requirements then it will be live on the site within 24 hours.
Super easy right?  However, if you're just one of those amazing superwomen type people that have the busiest schedule on earth and, well, quite frankly you just don't have time to be faffing about be apps then you could always use the Vestiaire Concierge Service.  At present it is only available to those in the Greater London area but you can email the team here with a list of your goods which you wish to sell and they will come and collect them from your home and do all the leg work for you.
HEAD TO THE DETOX DAY POP-UP
If you have just detoxed your wardrobe for Spring and you have some luxury items that you want to sell then you can drop them off at the 'Detox Day' pop-up in the Donna Ida store in Chelsea, London on Wednesday March 15th.  The Vestiaire VIP Concierge team will be in store all day so you can drop off your pre-loved designer pieces without the fuss of selling them yourself.  You can also shop new season Donna Ida with 10% off.
Shop the Post

This post was created in collaboration with Vestiaire. As always, all words, opinions and photography are my own.