A few weeks back I was invited to Marbella to experience the luxurious Puente Romano Beach Resort & Spa.  I took Debs my photographer along with me so I could make use of such a gorgeous setting a shoot plenty of content for you guys and of course we had a few giggles along the way.  This was my first time to Marbella and I have to admit I went with a slightly negative view.  I assumed 'Marbs' was all about Towie, orange people walking around in high heels and swimsuits, getting wasted on cocktails.  Although I went in October which is considered the end of the season, I didn't see any of these stereotypes.  I'm sure there are some resorts where you can go to see such sights but for me I just wanted to relax, take some pictures and eat plenty of good food.  Sadly we did experience one day of rather torrential rain (but we made good use of the spa!) which is simply bad luck because Marbella only receives 20 days of rain a year.  Obviously they need this rain to maintain their micro-climate but this did prevent us from heading to the golden mile of Puerto Banús where all the super yachts and super rich flock.  I'd heard this is quite the sight to see but this just gives me an excuse to return because after having stayed in Marbella at the Puente Romano, my views have changed and I would quite happily make this a holiday destination of mine.  Now I know we're fast approaching Winter and so this post may bum you out with Winter blues but now's the time to get booking next year's getaways...
A huge 'Thank you' to the Resort Management and staff for their hospitality during my stay
Relax
With 3 outdoor pools (plus a children's pool) there's no shortage of places to soak up those rays.  The Beach Club pool is located on the beach and is maintained at 26 degrees all year round.  It's like slipping into a warm bath!  Here you can also find day beds and the Sea Bar Grill which is conveniently located on the doorstep.  
The Central pool is like taking a dip in a hidden oasis.  Located in the middle of the beautiful gardens this 'quiet area' is perfect for some relaxation time.  The organic cafe; Rachel's, is also located here where you can try some her exquisite cocktails and a range of salads, pastas and sweet treats.
The main pool is still rather modest, which I appreciate because it prevents overcrowding in peak times.  You can grab a bit to eat from the pool bar, and if I were you, I would definitely sample the chicken club sandwich.
Puente Romano is a spa resort so obviously they have a spa, and my what a spa it is!  With an infinity pool overlooking the ocean through a screen of cascading water the spa has to be one of the most relaxing places I've ever been to.  Fully equip with a sauna, steam room and jacuzzi it's the sort of place you can while away the hours.  They offer a range of treatments from massages and facials to collagen rejuvenation treatments.
If it's the sound of the ocean and smell of salty air that you love then you'll want to head down to the private beach.
Where To Eat
The Resort of Puente Romano is home to 8 incredible restaurants (Including a Gluten free restaurant and bakery).  It also boasts a pool bar, an organic cafe, a chocolatier and it's own nightclub.  Essentially everything you could ever need, is within the resort itself.
On our first night we dined in the Sea Grill, located along the shore with gorgeous views and sounds of the ocean.  The food was nothing short of delicious, even for someone with such a simple palette as myself, I didn't struggle to find something that I liked.  Their speciality as you can imagine is seafood but unfortunately I can't eat seafood so you'll have to take Debs' word that it really is amazing cuisine.
On our second night we had cocktails (mocktail for me) at Bibo and ate at UNI, a Japanese restaurant that changed my whole view on Japanese food.  We experienced a tasting menu so all in all we had 7 courses and each one surpassed the one before.
On our last day before heading to the airport we decided to chill out by the pool and enjoy some last rays of sun alongside the poolside grub.  Burgers and club sandwiches are two of my favourite things, and these did not let me down. YUM!
Breakfast was the best part of my day.  A very well stocked buffet would welcome me each morning; fruit, cheeses, meats, hot cooked breakfast, toast, gluten free options, cereals, omelettes, doughnuts (you know I was all over those), there was just everything you could possibly imagine.  I could have stayed at breakfast all day 😉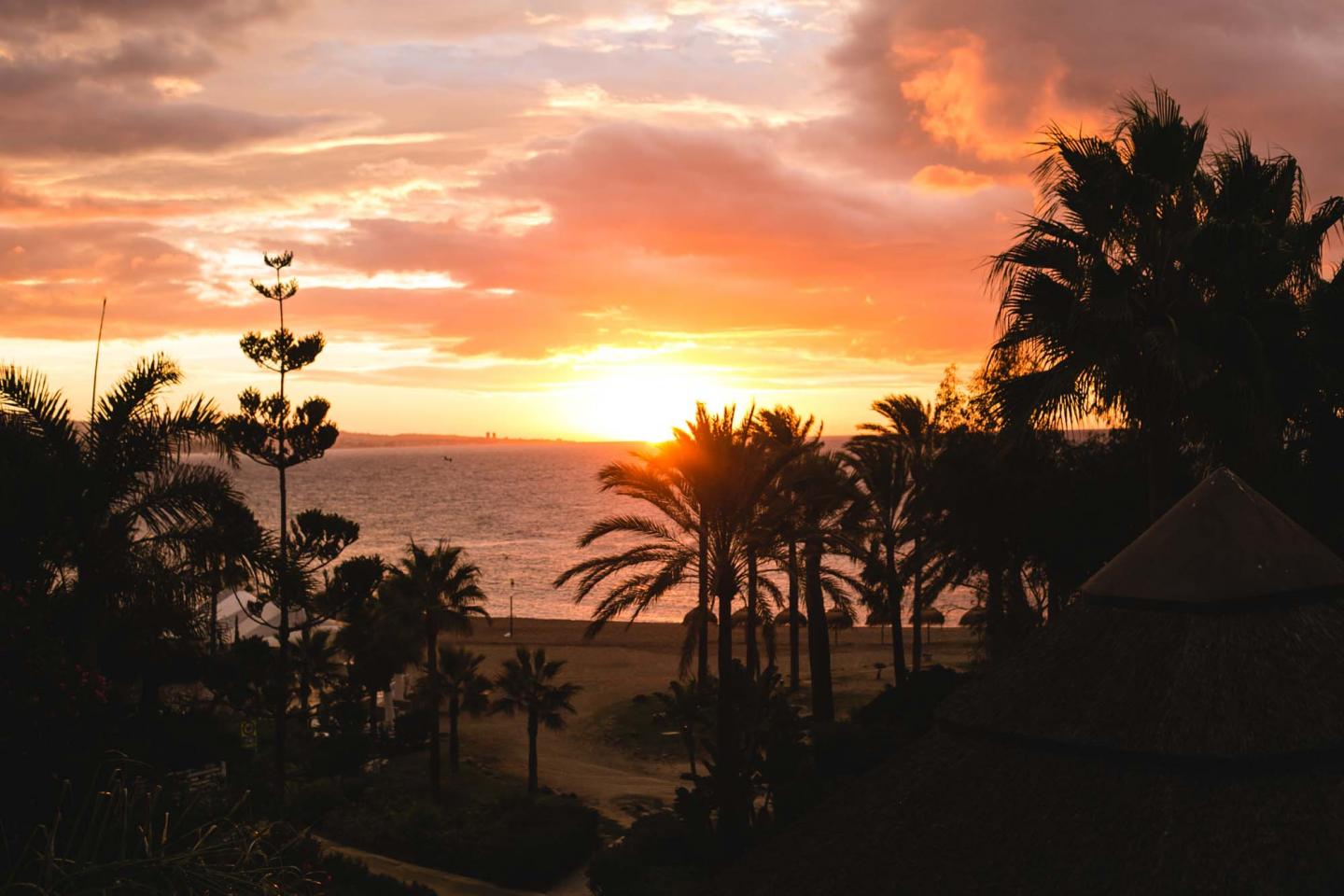 Accommodation
If you follow me on Snapchat then you'll have seen the full 'room tour' and how incredible our 2 bedroom, sea view suite was.  We had a walk-in wardrobe, a huge terrace area with a view to die for and we each had our own spacious bathroom complete wth jet powered spa bath and electric blinds for privacy.
The grounds of the resort span quite a distance and it wasn't until we were given a full resort tour that I realised how huge this place is.  There are golf carts and drivers at hand for those who want to save their shoe leather...and of course for lazy people like me 😉  Along with all the dining options, pools, bars and spa, Puente Romano also boasts it's own tennis club.  With 10 courts in total, including a centre court seating 2500 people, impressive right?  If you're a gym bunny then you'll love their fitness suite, but naturally, I stayed well clear of this area and went straight for those pool burgers.  Pilates and yoga classes are also available.  And if water sports are your thing then the usual activities, jet skis, banana rides, water bicycles and sailing an all be arranged for you and they run from mid April to October.  If you want to be seen doing the 'IT' water sport of the year, Paddle Boarding, then guests staying at the Puente Romano have full use of the boards...even if just for an Instagram op.
In the heart of the resort are the Botanical Gardens; home to over 400 botanical species from across five continents.  The scents and colours are designed to awaken the senses, not to mention the 'instagrammable' backdrops they provide. 
Shop the outfits
Monochrome Crochet Bikini - Missguided
Straw Hat - H&M (Similar here)
Shop the Post