It's at this time of year where we all want to reinvent ourselves and hair plays a big part in that.  In 2015 I finally did what most of us deem the impossible task in life, I found my perfect match, in hair salons that is.  Finding the right hair salon is like finding the right man, you have to experience some true disasters before finding that perfect match.  Once you have it you don't even want to let it go.
I've heard plenty of hair horror stories over the years and I've also experienced many of my own which is why I can be a little smug now because I am in a fully settled relationship with my salon.  It's my most asked question on Instagram, 'Where do you get your hair done?', so I know I'm in the right place if you guys all want to know.  So if you're looking to find your perfect salon this year then there are a few elements which I think are hugely important when finding the perfect match...
I go to Sassoon on Kings Road.  Natasha does my cut and Matt works his colourist magic by creating the perfect balayage.  He also encourages me to change it for the seasons even when I'm not quite brave enough...but I trust him, and he's always right.  TRUST, this is key with your hairdressers, you need to trust them and this can take time but it's so much easier to start building trust when the salon you go to has an incredible reputation. 
Honesty is always the best policy and this includes with your hairdressers.  We all now how a trip the hairdressers goes, we search Pinterest for hours collating a board of our fave inspo pics, maybe we settle on one that is just perfect.  Off we stride full of confidence that when we emerge from the salon 3 hours later, we will look exactly like that picture.  More often than not this is not the case.  I myself have had experiences where I have felt full of confidence all throughout the colouring experience right until that point when they start drying your hair and you can begin to see the results;
In my head: 'Holy shit that is NOT what I asked for, F***, F*** F*** what do I do?'
*Stylist shows off Finished Result*
Stylist: 'Do you like it'?
Me: 'Yes I love it thank you so much, it's great'
In my head: 'I look like a badger I'm going to go home and cry'
We've all been there.  I remember the first time I went to see Matt, I told him that I wanted to go full on blonde right away, I had dark brown hair, remember those days?  He was honest and realistic and told me the facts, it wasn't going to happen.  Because although we think stylists and colourists are miracle workers and can create absolutely anything we ask, the reality is that they aren't.  What you need is someone that will be honest and tell you if that is actually do-able or not and why.  With Matt we went blonde bit by bit over the last year and every time I've been so happy with the results.  Was I gutted when I first sat in the chair and he told me no? Yes, but am I glad that he didn't just do what I'd asked so my hair would have been orange, yes.  Honesty, it really makes a difference.
The salon you visit has to make you feel comfortable.  It's about everything from the lighting, to the staff, to the layout of the salon.  I remember when I was a teenager and this very trendy salon had just opened up in the little town in Cornwall where I grew up.  Things like this were exciting when you live somewhere that remote.  I went in for a colour and a cut, a complete transformation before the new school year started.  The salon wasn't huge but it had the biggest window at the front, which was not covered in information, posters, or blocked by a display of styling products.  It was just a big ass window and there was a styling station right next to it.  Well you can guess where I was plonked, right in that sodding window which faced out onto the high street, bustling with people.  I remember holding back the tears as I sat in the window with foil stuck all over my head under some giant heated spaceship as a group of kids from my school stood and laughed.  I was mortified and although I have much more confidence than my 15 year old self and that wouldn't bother me now, it is about feeling comfortable and stress free.  I love the whole experience when I go to Sassoon.  They know me as soon as I walk in the door, I chat with the receptionist whilst I get my gown and then I'm led to my first station (no where near a window) where Matt comes to see me.  In Winter I have a cup of tea and in Summer I'm sat with a diet coke whilst we have a natter and discuss what we're going to do with my hair today.  I can't describe the feeling other than to say I just feel at ease.
Yes ok this might seem obvious but I think far too many of us, especially us Brits, are too polite and hide what what we're really thinking.    When your shown the end result you have to really LOVE it, and if there is something you're not so keen on then speak up because they will fix it.  I have never come away from Sassoon feeling anything other than love for my hair.  But if you have a salon with all the above qualities then this should be the feeling you get every single time you visit.
I know there's a few of you who have already head off so Sassoon upon my recommendation and thank you for sending me pics of your new hair!  But if you would like to give them a try you can find a full Salon directory here with all their salon locations not just in the UK but also the US, Canada and Germany.
Why not try their Prestige Cut & Care service which offers you the full holistic salon experience with a nice little saving (handy on those purse strings after Christmas eh guys!):
A personalised cutting service
Tailored conditioning treatment
Take home shampoo & styling product
(with a £15 saving on those products)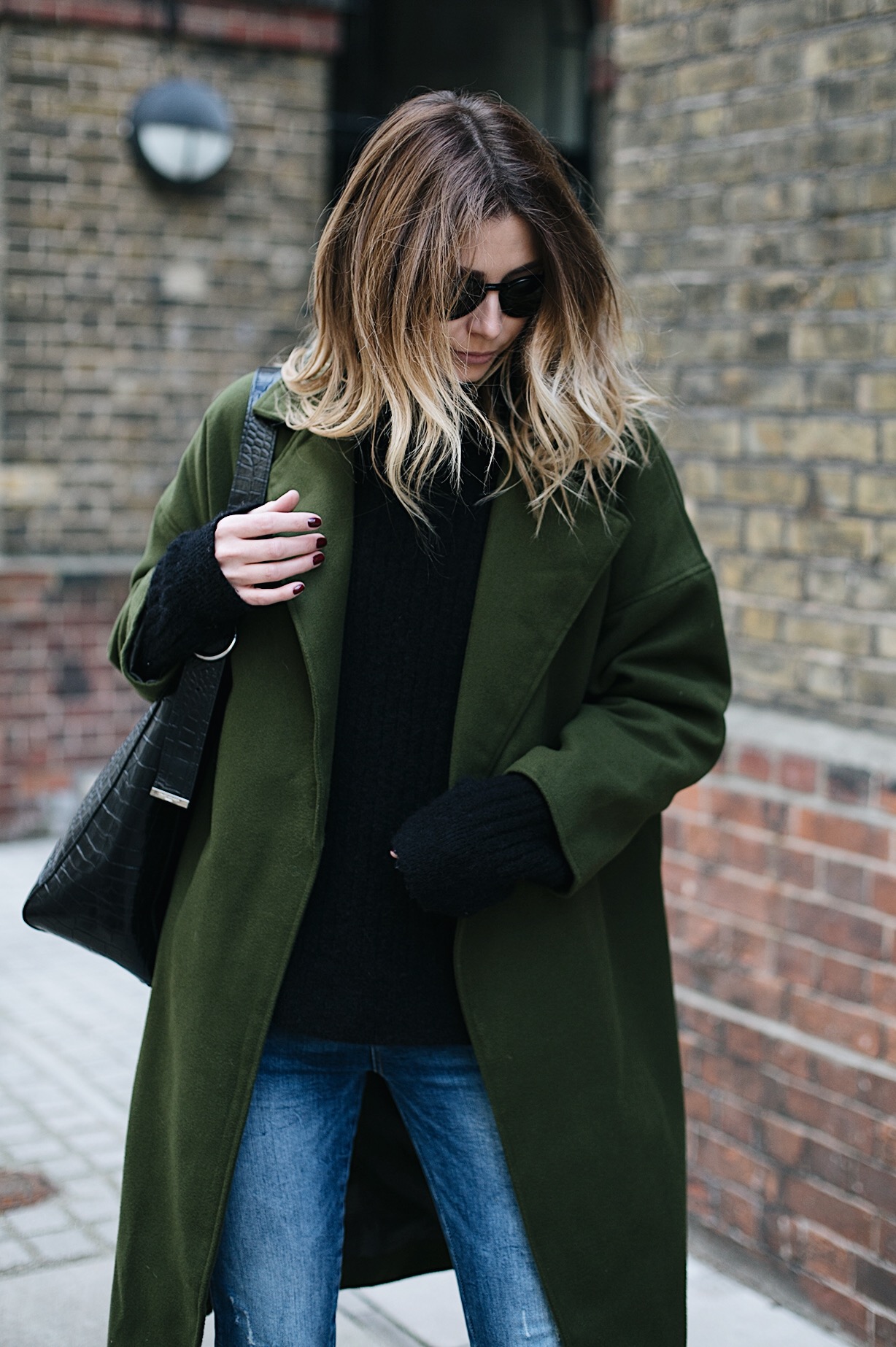 Outfit Details
Coat - YesStyle
(I'm wearing a size L)
Jeans - Zara
(Sale so may be sold out, but similar here)
Sunglasses - Rayban via Sunglass Hut
Shop the Post