When I caught wind of this collaboration I can't even begin to tell you how excited I was.  Dune being one of my go-to shoe brands and Rupert Sanderson being one of those designers who's designs I just swoon over, until I glance at my diminishing bank balance and 'add to Wishlist' they go.  I feel like we all need to hold hands, sing and skip down the street together because alas, now we can afford to have Rupert on our feet!  You all know how much I love a British brand or designer and my love for Rupert Sanderson stems from that same passion.  Born and bred in London (BIG UP!) he learnt his trade in my neck of the woods, East London, the famous Cordwainers College to be precise.  Then after spending some time in Italy observing how the real shoemakers do it, he released his first collection.  Rupert has gone from strength to strength winning award after award for his designs, rightly so, and now it's time to widen the audience by collaborating with one of Britains leading shoe retailers.
This collaboration with Dune launched on Saturday with 6 styles in a range of colour ways.  There's literally something for everyone from Bowie-esque sandals to classic courts and I'm telling you now, your feet will thank you for investing in a pair, as will your wardrobe.  The whole point of investing in designer/high end pieces is the wearability and versatility and these are two qualities which run throughout the collection.  In today's post I've styled up 3 of my personal favourites from the collection; 'Princess', 'Gracehill' and 'Ella'.  I actually found it really hard to settle on only 3 outfits for this post because everything I tried on with these shoes I loved.  I had outfit ideas overflowing so there will be plenty more to come 😉
Check out the full #DuneLovesRupert collection here
Have you even seen a shoe more beautiful?  When I first laid eyes on these red satin courts that's exactly what went through my mind.  The 'Princess' courts have everything you could ever want from a high end shoe (with a much more affordable price tag); WOW-factor, leather soles, luxury fabric and comfort (yes, really!).  The scalloped edges really set these heels apart from any other and as the name suggests they certainly have an air of royalty about them.  Available in classic black satin, champagne or this bold red this is a heel you need in your collection.
Shirt - Jaeger  |  Jeans - Dr.Denim  |  Bag - Zara  |  Necklaces - Missoma  |  Sunglasses - Rayban
For those of you who are, shall we say, scared of heights 😉 the 'Gracehill' low block heel is the one for you.  With the same luxe satin and detailed stitching as the 'Princess' courts, this lower heel is incredibly wearable and hopefully as I'm demonstrating here...pretty versatile.  Satin often gets branded with the 'evening/occasion wear' stamp so I wanted to style them in a casual look for Spring just to showcase their versatility.
T-shirt - H&M  |  Trousers - H&M  |  Bag - Gucci  |  Necklaces - Missoma  |  Sunglasses - Rayban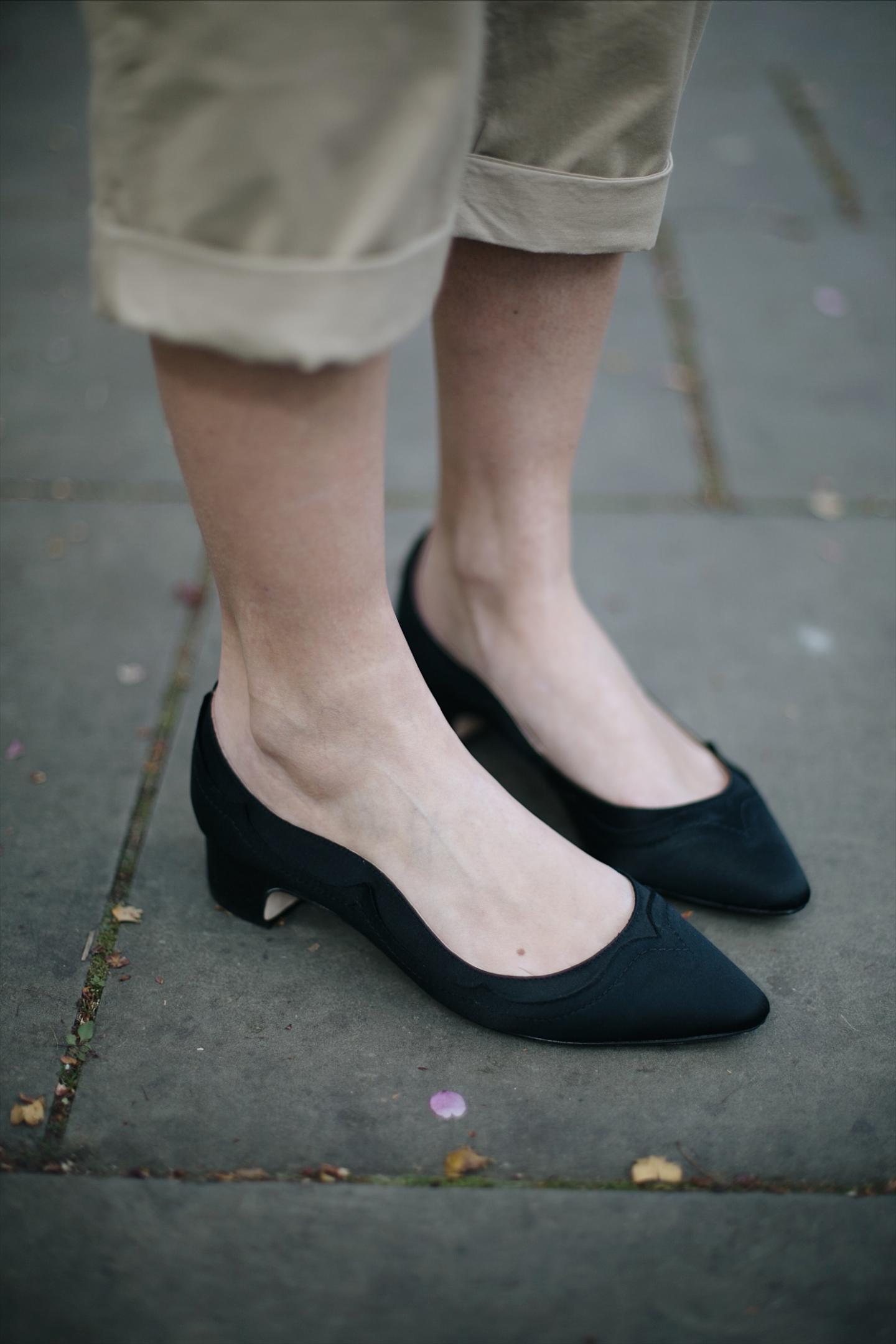 There's a lot to be said about a classic shoe, I am a big fan!  The 'Ella' courts are just that, a classic, but doesn't this block heel give them a modern twist?  Not only that but a block heel is much more wearable and adds a higher level of comfort in comparison to it's skinny competition, the stiletto.  Available in cream and black kid leather these courts are definitely a must-have if you're searching for that 'I want to wear it with everything' shoe.  I've already collated a whole bunch of other 'Ella' outfits in my head so, spoiler alert, there will be plenty more to come.
Blazer - Zara  |  T-Shirt - Isabel Marant  |  Jeans - Levis  |  Bag - Simon Miller  |  Necklaces - Missoma  |  Sunglasses - Rayban
Shop the Post

This post was created in collaboration with Dune.  As always, all options words and photography are my own.