Hello you lot, I hope you all had a fabulous weekend and if you ran the London Marathon I hope you've got your feet up today 👌🏼
I often think to myself how many different combinations of 'The Usual Suspects'; jeans and a t-shirt, have I worn over the years? Hundreds, probably thousands.  But you know what? If it works stick to it.  There's nothing wrong with sticking to what you know (and love) you just need to have a little creative license to mix it up from time to time.  There will always be a new pair of jeans and a new t-shirt over the horizon so the options are endless.  I'm currently in no mood for new jeans (although I wonder how long that will last?), because these cropped flares give me life right now.  I can't believe how many of you have bought them from my recommendation but I'm sure as hell glad that I could be of service because they are by far the best pair of jeans I've ever owned (sorry Levis).  I have't touched on the sizing very much in my previous posts but they do come in 2 leg lengths which I think is why I love them so much because for me it's very hard to find a pair of cropped jeans that are in actual fact cropped to the right length.  I'm quite tall, just over 5ft 9, and most standard leg lengths tend to cater for a 31-32″ inseam, this for me is no good.  So when it comes to cropped denim they are more like shorts which means that for years, I have indeed fashioned my own by buying standard length jeans and trimming off the bottoms.  This is a great solution but when you're spending £100+ on a pair of Levis, taking to them with a pair of scissors can often be quite a daunting experience.  So all hail Dr. Denim and it's leg length choices 🙌🏼 I'm wearing a 27″ waist and 26″ length, if you'r shorter then you'll want to go for the 24″.  If you can't find your size in stock then you can also try the Dr. Denim site here.  Now I've touched on the hems before but I'll mention again that these frayed hems become better with washing and wear.  You can see from my posts of the past couple of weeks how these hems have gone from raw to rugged and now they are just perfect.
Right let's have a little chat about the rest of today's outfit.  It wouldn't be a jeans and t-shirt combo without the t-shirt so today I'm wearing this 'nibbled' (full of holes in a cool way) tee which admittedly I do own in all 4 colours.  I've layered this cream double breasted blazer over the top to add my usual touch of tailoring and my Gucci belt to make it a not-so-basic look.  I felt like this outfit needed a pair of heels so my trusty (and so bloody comfortable) Jimmy Choo 'Romy' pumps were the perfect choice.  Finished off with my Saint Laurent 'Chyc Cabas' and some Missoma jewels this look is probably one of my favourites from this month.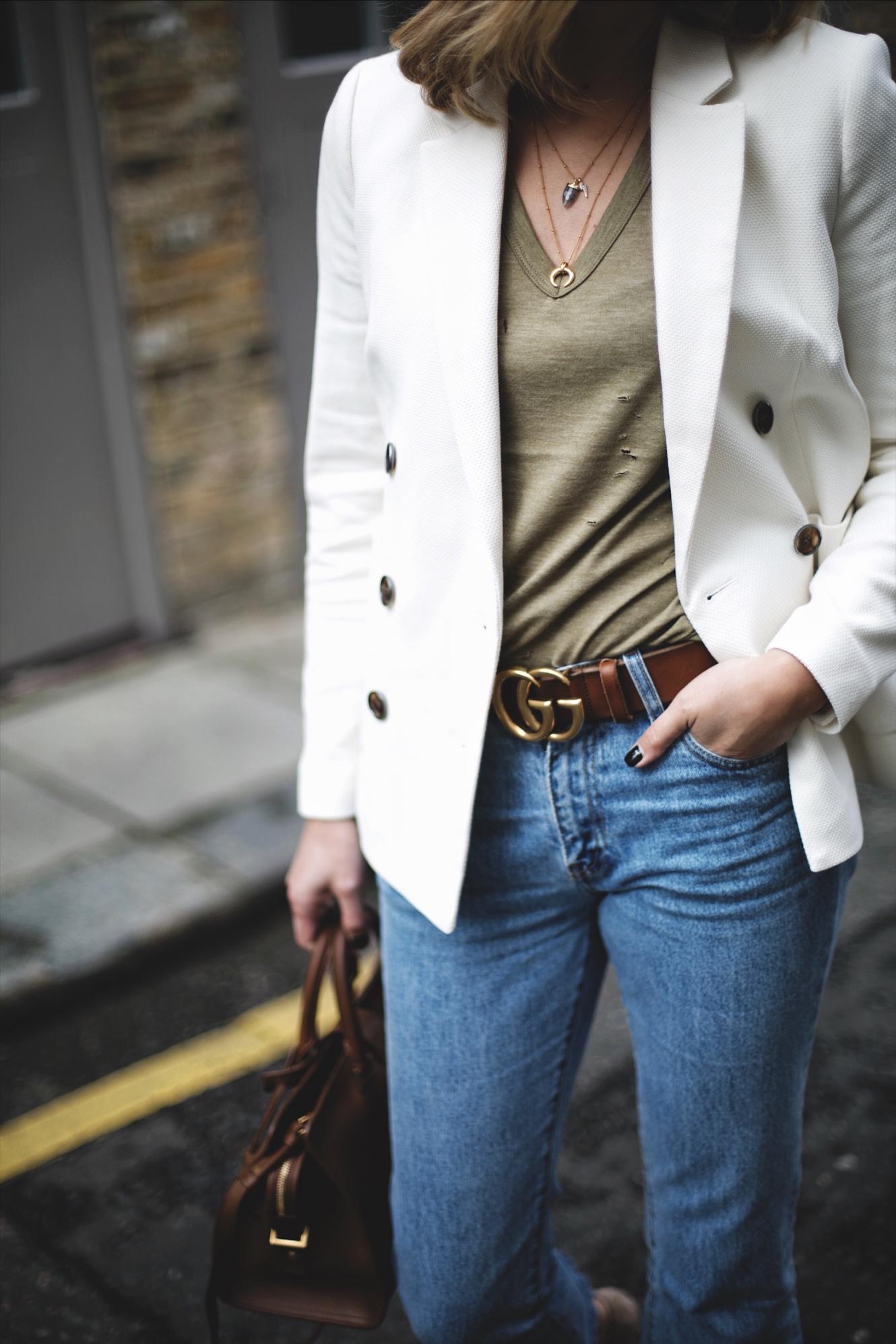 Outfit Details
Jeans – Dr. Denim (hems fray more after you wash & wear them)
Bag – Saint Laurent at Bicester Village
Pave Lightening Bolt Charm (worn on necklace) – Missoma
Shop the Post