If you watch my stories on Instagram then you'll have seen that over the last few weeks Simon and I have been giving our bathroom a little makeover...ok, with a little help from the professionals too.  I've never had a bathroom that I've deemed as dreamy and after all the renovations we did on the rest of the house back at the start of the year our bathroom felt very under par.  
A few weeks after we finished renovating the lounge, stairs and bedrooms, I raised the issue of the bathroom with Simon.  We'd already gone through 2 months of disruption, 10 tonnes of dust (that's still settling now) and some hefty knocks to our bank account but it really bothered me that our one and only bathroom looked dull and grim to say the least.  We moved into this house 5 1/2 years ago and we began decorating room by room, it took us about a year to get most of the rooms done, bar the kitchen which will be our next big project, but first we need to save some pennies for that.  I think we can both admit that we grew out of our initial decorating and design pretty quickly so this year was the year of the home facelift.  Our bathroom is located off the stairs in between our ground floor and first floor, we have a very odd layout in this house which I'll show you all soon enough in a House Tour video.  It just seemed to me that the bathroom was tarnishing all the work we had done on the other 2 floors so I suggested we look at giving it a little makeover, not a full refurb because there were elements which we liked.
One problem we suffer with in this old house (built in 1800's) is damp, and we've spent a pretty penny sorting this out throughout the house all bar the bathroom.  There was no extractor fan in our bathroom so when having a lovely hot shower or bath the steam would hit the walls and this is when mould would start to form.  It was a constant cleaning nightmare!  I suggested to Simon that we tile the rest of the bathroom to make it easier to clean and Simon suggested that we get an extractor fan fitted to help with the mould/damp issue.  It was a fleeting discussion because as with most people these days, life happened.  For a couple of weeks our bathroom plans were pushed aside as we worked on my YouTube channel, a full time job in itself, until one day when I received an email from Topps Tiles.  They had seen all our home renovations from earlier on in the year and wanted to work with me on a potential project if I had anything in mind.  This email came by fluke and was just at the right time because this fuelled the bathroom project to start up again.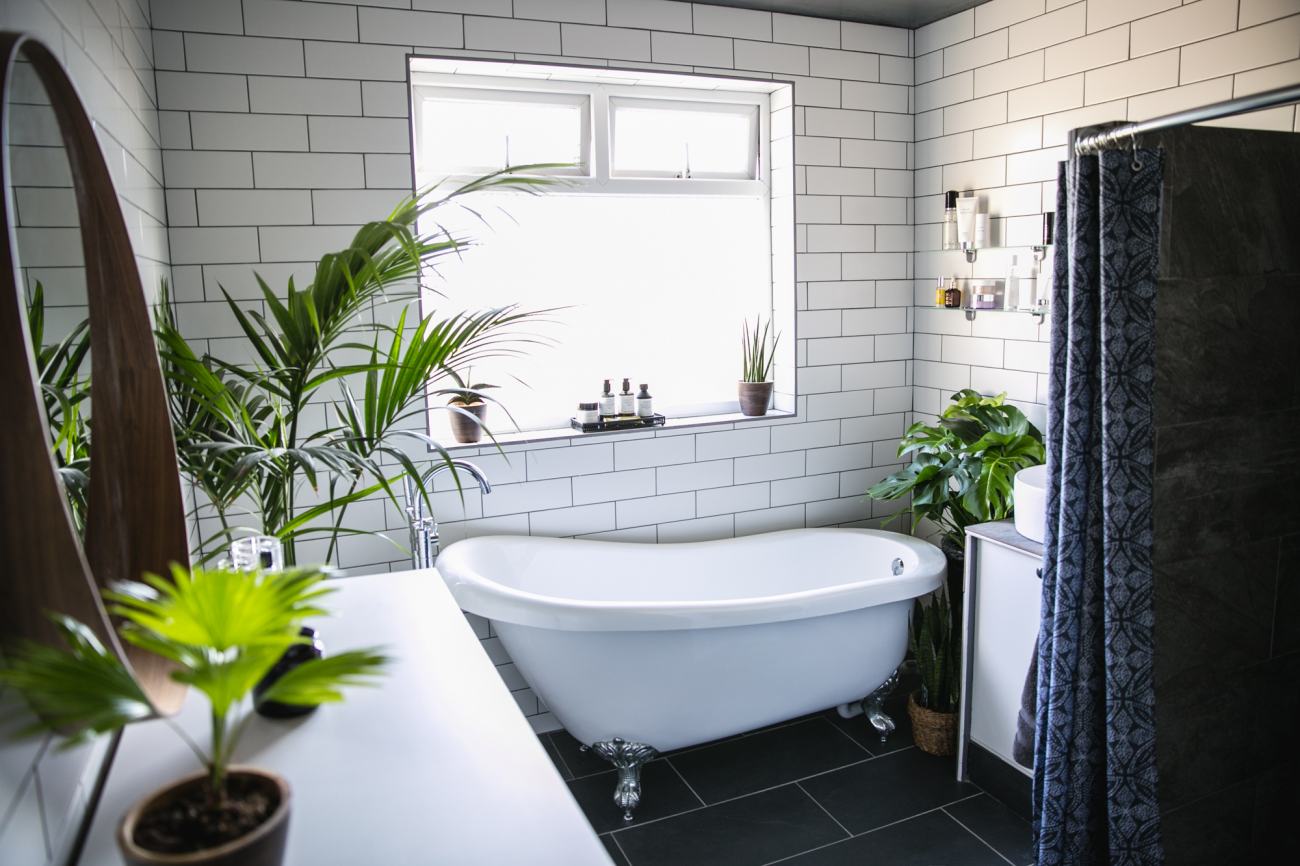 So after a visit to Topps Tiles we decided on these white subway tiles (Linear in White Matt) with a contrasting grey grout (shade: Cement) and we opted for matching trim around the shower and window.  Our bathroom is a reasonable size, 27m2 and it took a single tiler 4 days to complete.  Just to give you guys an idea of cost, you can use the Topps Tiles calculator here to see how many tiles you would need and our tiler cost £980.  He was recommended to us by our local Topps Tiles and I would definitely advise using one of their recommended tradesmen (they have a board full of business cards in each branch) because we've been victims of rogue traders before and it wasn't good I'll tell you that.
I'm so happy with the result, and Topps Tiles have been incredibly helpful, the staff at our two local stores couldn't have done any more for us and we'll definitely be heading back there when we decide to start the Kitchen renovation.  As for the finishing touches, I've created this post to show you what elements I think are most important within bathroom to make it aesthetically pleasing and of course, organised. So I hope you enjoy this post and if you scroll down to the bottom you can watch our video diary of the makeover from start to finish ▶️
PLANTS
I absolutely adore greenery in my house. There's just something that I find relaxing about having plants everywhere and as a girl who grew up in the countryside, this is a nice way to get some nature into a London home. Of course plants have their health benefits as well, they purify the air so the more plants, the cleaner your air.
MIRRORS
After spending hours upon hours on Pinterest looking for bathroom inspo I very quickly became obsessed with round mirrors.  We have 2 round mirrors in the bathroom now, both perfectly positioned to reflect the light from the window to make the room look bigger and brighter.  Plus they're both great spots for doing my make-up!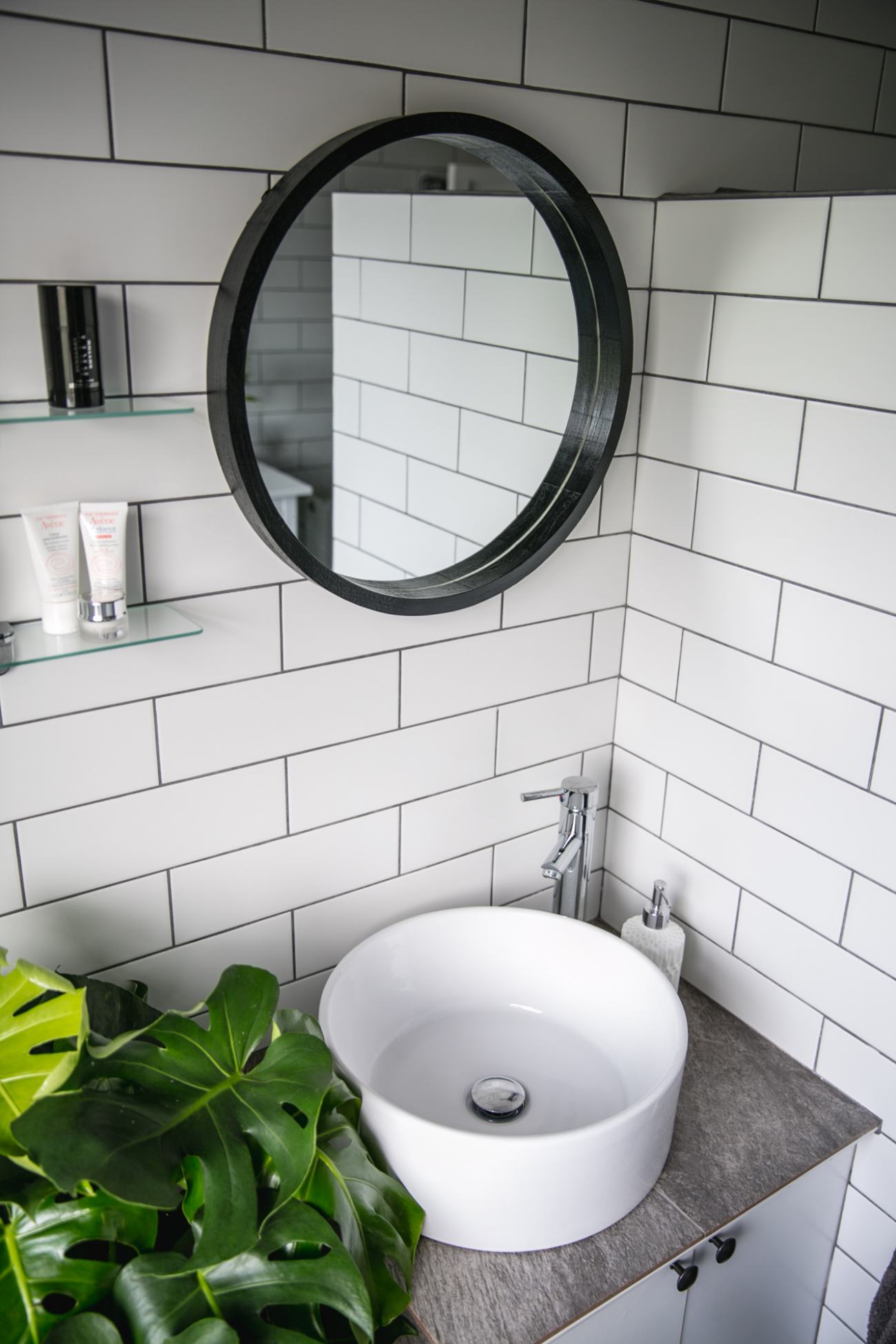 STORAGE
Regardless of if you're a blogger or not everyone needs storage.  Women are known for being meticulous hoarders of beauty products, and I'm proud to say, I'm not exception.  I know a chest of drawers isn't the 'norm' for a bathroom but they work brilliantly for storing towels and all those beauty essentials.
PRODUCTS ON DISPLAY
Yes they might collect dust and require daily cleaning but there's just something very cool about having some of your beauty products on display.  I created a fragrance wall so we could see exactly what fragrances we both have and of course for guests if they want a little spritz of something they're spoilt for choice.  We added 2 more shelves beside the basin which hold our most used products and we can change these around as we like.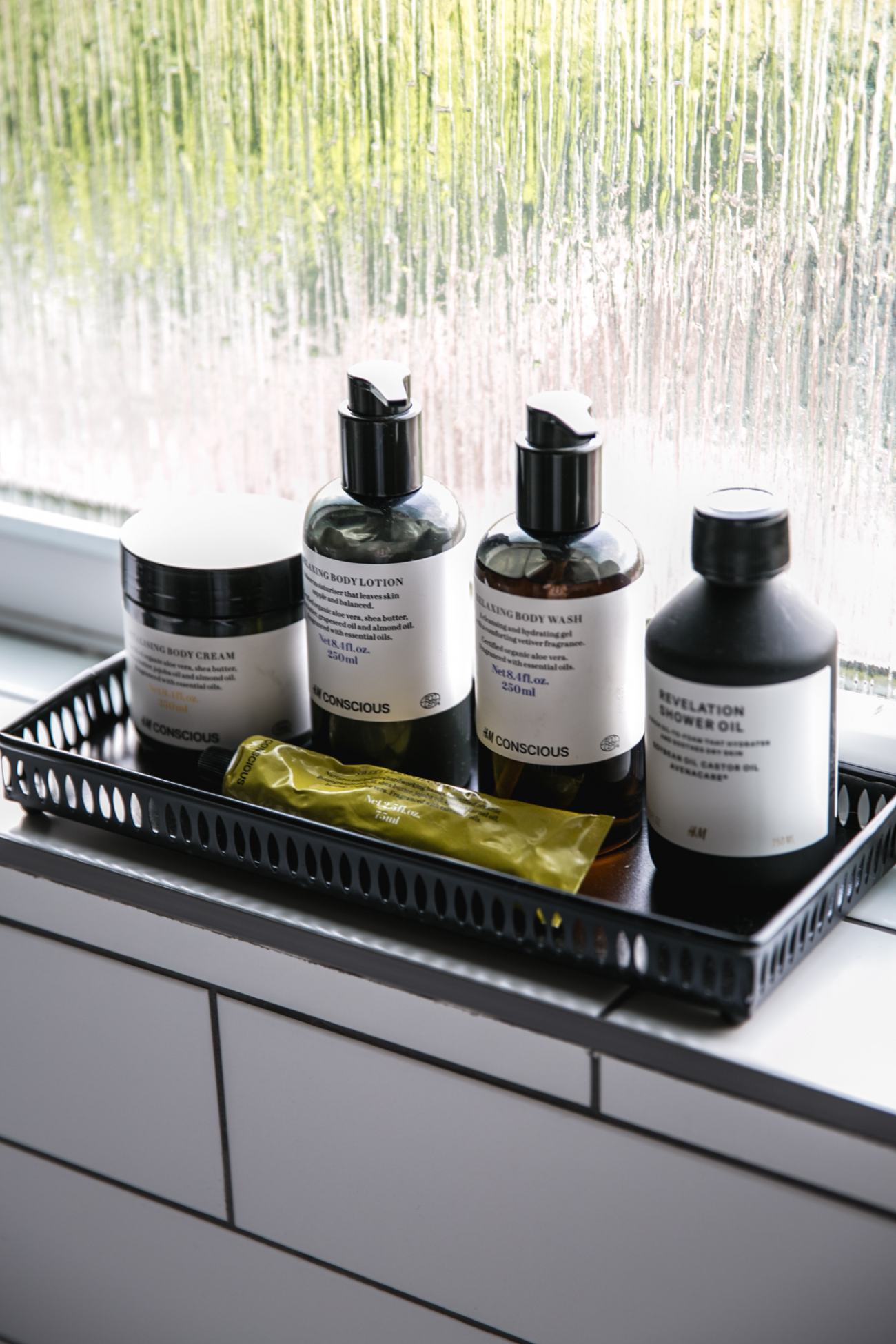 This post was created in collaboration with Topps Tiles.  As Always all words, opinions and photography are my own.