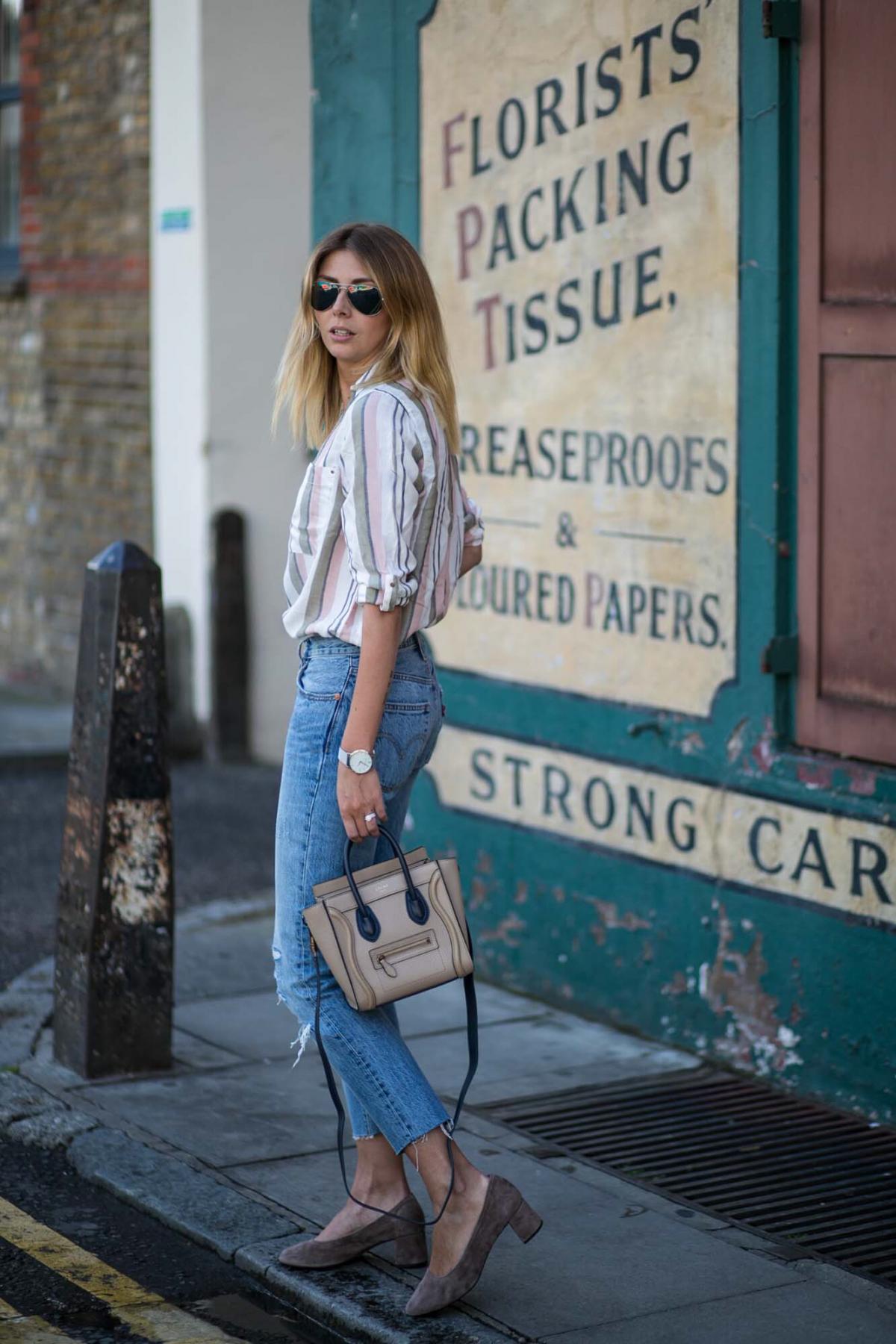 Shall we even discuss yesterday's weather?  OMG how hot was it?  We've gone from one extreme to the other, my garden thermometer read 39 degrees and I don't know how accurate that was but the fact that my skin was melting off my bones tells me that it was pretty darn hot.  Yesterday's attire was as minimal as possible and as the day went on I shed more and more of my clothes, until I just sat in my kitchen with our back door open in nothing but my pants.
Today's look was from slightly cooler times last week, I sure as hell couldn't have worn this yesterday.  Although having said that this pastel stripe shirt is very light weight and breathable, with some loser fitting jeans or shorts this could be a potential hot weather outfit.  But last week I opted for my new favourite jeans, Levis 502 CT customised.  I can't even express to you the love I have for these jeans, I mean look at them, and look at my arse!  It's never looked so good in all it's years of existence.  
I'm a massive ambassador for Levis, 501's in particular.  They are a pair of jeans which I encourage anyone and everyone to invest in for their wardrobe.  But are Levis jeans worth it I hear you ask?  In short, YES.  I have a few pairs of vintage 501s and I always buy these from eBay, and of course my trust 501 boyfriends which I practically live in.  I went shopping last week and I decided I was going to treat myself to a new pair of Levi's, and when I entered the store I realised they were in sale…bonus!  I sorted through the piles of endless denim and selected a few sale and non-sale pairs to try on but the choice was made as soon as I had these on and buttoned up.  They have a slightly cropped leg with a raw hemline, busted knees and a few other distressed details and teamed with that 501 arse lifting fit, THEY. ARE. THE. DREAM.  
This is my first pair of CT's so I want to pass along my sizing advice.  I would normally take a size 27, my boyfriends are a 27 and all my vintage styles are also a 27 but in these I had to go down 2 sizes to a 25.  So guys you will need to size down to get them to fit like this, or if you want them baggier then stick with your normal size.  They are currently on sale for £57.50 and I've found the exact style here with plenty of sizes in stock.
Outfit Details
Shoes – Next (Now in the sale)
Shop the Post