At the end of June I went off on a little adventure with Emu Australia and a group of the loveliest women I've ever met, including these babes; Lauren, Anneli and Camila.  Our destination was Paphos, Cyprus and having not visited Cyprus in 15 years I was super excited for this trip.
After an early morning flight we arrived in Cyprus with the whole day ahead of us, exactly how I love to travel as I really begrudge wasting half the day when I could be exploring (ok, and taking copious amount of pictures).  Our airport transfer pulled up to the very slick looking Almyra hotel & Spa and instantly I was in love!  The hotel is split between more traditional hotel rooms and villa blocks with their own private roof terrace (see here).  Once settled into our rooms we naturally wanted to absorb some of the glorious 32 degree heat and catch a few rays.  As I had literally just got back from my trip to LA not even 24 hours earlier I was eager to have a little sun-snooze and maintain my Californian tan.  Me and the girls met up and decided to hunt out the pool area as there was rumour of an amazing infinity pool, and you know what happens when you get a group of bloggers near an infinity pool...a full on photoshoot with zero awareness of any confused onlookers (aka the other hotel residents).  Photoshoot in the bag we set about the sun loungers and just relaxed for the afternoon.
I was knackered after so much travelling so I slept incredibly well on our first night.  We all met for a delicious buffet style breakfast and Annali attempted to encourage me to eat a little healthier...I don't even need to tell you guys that that was not happening haha.  Myself and Lauren, both self confessed junk food lovers went straight for the full english, and my god was it good.  We gave ourselves the excuse that we had a rather full day ahead of us and therefore we needed 'fuel' to see us through...
A tour of some of the surrounding areas of Paphos had been arranged for our first day and we were all feeling pretty chipper about seeing some sights and taking some amazing photos.  Little did we know 'a tour' was just playing down the experience of the day.  Our tour guide arrived from Eco Tour Adventures and after not even 30 seconds we all knew he was a character.  If you watched my Snapchat from the trip then you'll have seen plenty of Andreas in my snaps.  I love people who are full of character and he was bursting with it and I have to admit that was one day that I will never forget.  The great thing about Andreas' tours is that he tailors them to you and your group so you can experience the things that you want to.  As he's a local he knows everything about the area and can advise you on places that you want to go or if like us we'd done a bit of research before hand and demanded he take us to a waterfall, he will do just that.
We all piled into his giant off-road Jeep and off we set to our first location.  After about a 25 minuted drive we arrived at Panagia Trooditissa Monestary.  This is an abandoned Monestary but is very fascinating to walk around and it sure does provide an excellent back drop for some photos.  Andreas is like a giant vault of information (as we came to learn throughout the day) and he gave us some history on the Monestary before we jumped back in the Jeep for the next leg of the tour.  He took us off-road into the rough terrain of the Cyprus countryside in search of this bloody sheep thing which are incredibly rare and endangered.  As he was relaying a few of his tales, 3 of them scarpered across the road ahead of us.  I don't know who was more excited, us or him...probably him to be fair haha.
Time for another pit-stop and we pulled up to the cutest little cafe in Salamiou to experience some authentic Cypriot coffee.  As I'm not a coffee drinker I opted for a diet coke but I did watch how the coffee was made and I have a feeling if you're a coffee lover then you would really love that stuff.  We sat down in the shade of some trees while I attracted all the stray cats, as per usual.  Andreas wouldn't let me stuff one in my bag so we went off in search of a venetian bridge and a waterfall instead, gutted.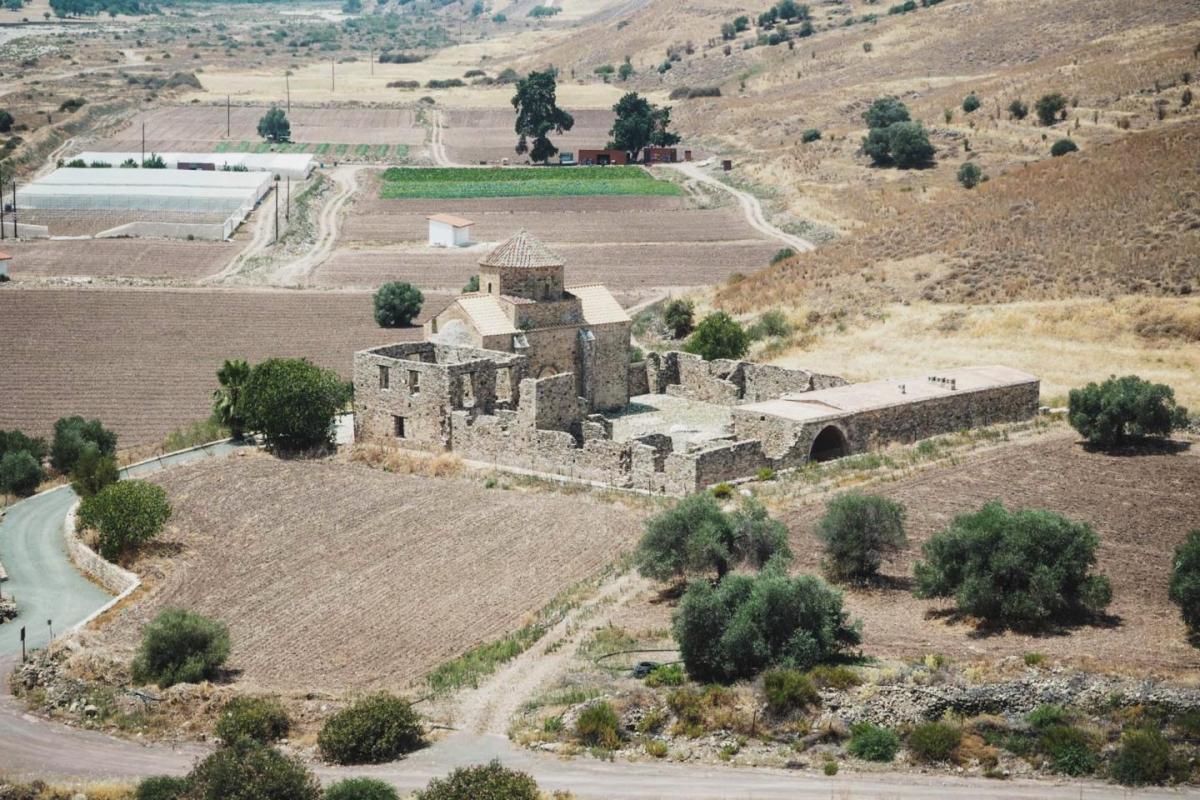 When we arrived at one of the Venetian bridges we arrived to a little more than we bargained for.  A newly married couple were having their Wedding photoshoot right on the bridge, and I must admit it was quite a beautiful location to have your Wedding photos done.  These bridges are very historic and you can rely on Andreas to give you all the back history, you can also rely on him to bring the snacks and drinks.  He whipped out a giant cooler filled with water bottles and homemade lemonade which his mother makes especially for his tours, I mean, how cute is that?!  
As I mentioned earlier we had requested to go to a waterfall, Lauren has stumbled upon an amazing picture of a waterfall in Cyprus on Pinterest but Andreas poo posed that idea as it was a man made waterfall which quite frankly he found disgusting, he's all about nature you see.  Instead he took us to a collection of mini waterfalls and after a bit of a treacherous climb which I think almost gave him a heart attack at the sight of us all clambering across rocks in our Emu Sandals (great sandals but not meant for rock climbing haha) in search of the picture perfect spot.  We had to explain to him what bloggers were and that we would do anything for the perfect shot/location, he was confused to say the least but this amused us.
Andreas really likes you to experience real and authentic Cyprus so he had arranged a lunch for us in the small village of Lofou in a very traditional tavern which was run by three generations of the same family.  Some of you might be wondering if I managed to get a burger and the answer is 'yes'.  Served in a pitta rather than a bug it was actually one of the best burgers I've ever had and it certainly filled the gap and fuelled my body for some more exploring.  Something about Cyprus which is quite sad is that all these tiny villages are pretty run down and most of the house are unoccupied.  Andreas explained to us that the dwindling population of theses towns and villages is down to popular culture, as the younger generations have grown up they have moved to larger towns or cities where there are more jobs, more money and probably where the wifi lives.  Although having said that our little Taverna had wifi and plug sockets, winning!  Many of the small towns and villages have closed schools, shops and businesses and probably within the next 10 years many of them will be abandoned altogether.
After a little afternoon kip on a secluded beach we began the journey back to the hotel.  But there was time for one more stop for Gelato at the Rock of Aphrodite.  This is the birthplace of the goddess of love and it sure boasts one hell of a sunset.
On our final day we were off to visit the mosaics which were only a short walk away from our hotel.  The heat was pretty intense and there is no air conditioning in each of the buildings where each of the mosaics are, and sadly there aren't many trees around the site either so make sure you take plenty of water and even an umbrella for shade.  After a few sweaty pictures we were defeated by the heat and wanted nothing more than to lay by the pool with a frozen cocktail, so that's what we did and what a perfect ending to our trip.
Thank you to Emu Australia for hosting such an incredible trip, and to the Almyra Hotel & Spa for their hospitality.  A special thanks must also go to Andreas from Eco Tour Adventures for really entertaining us, putting up with our girlie antics and keeping us hydrated and well fed throughout the day.
Shop the Post